National Parks, Where History and Rivers Intersect
As Charles Kuralt said, "America is a great story, and there is a river on every page of it.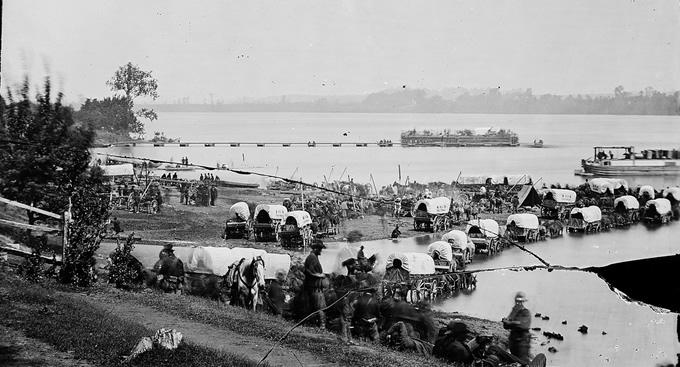 My friend and colleague Sinjin Eberle and I have a debate about National Parks. He's a westerner, at home in the great expanses of the west, always in awe of the magnificent landscapes, the rushing rivers, the deafening quiet, and the humbling topography of Zion, Dinosaur, or the Grand Canyon.
Well, ok he has a point. But I'm here to speak for the east.
We've got some natural beauty in our National Parks here: the first rays of sunlight to strike America every day land upon Cadillac Mountain in Acadia National Park. Dolphins frolicking at dusk along Cape Hatteras National Seashore is something you can't see in the Southwest. And I know my friends in South Carolina will argue that Congaree National Park has some of the coolest flora and fauna this side of, well, anywhere.
Even with all that, there's a different kind of majesty that National Parks protect, preserve, and share, and that's history. As Charles Kuralt said, "America is a great story, and there is a river on every page of it." So I'm here to take you on a tour of just a few of my favorite National Parks that have rivers and history.
Antietam National Battlefield
Walk the Miller's Cornfield at dawn, following in the footsteps of Hooker's I Corps as it opened the bloodiest day in American history. End your trip in the evening, crossing the Burnside Bridge over Antietam Creek, named for the Union IX Corps Commander who frittered away the lives of his soldiers by trying to force the crossing of the narrow stone span (which still stands today) in the face of determined Confederate fire.
In between, you will join with the thousands who annually become Antietam Partners because they discover that they "value the sacrifice and serenity that is Antietam."
Shiloh National Military Park
In southwest Tennessee you will find one of the best preserved and most haunting of all the Civil War battlefields owned by the National Park Service. If you go, make sure to walk Fraley's Field at first light.
Imagine how the soldiers of the 25th Missouri Regiment must have felt when they found that the woods in front of them were not empty, but in fact filled with Confederate General A.S. Johnston's Army of Mississippi. And also make sure you arrive at the northern end of the park, at the bluffs overlooking the Tennessee River, as night falls.
If you're quiet, you can hear the distant echoes of the wounded and panicked men of General Grant's Army of Tennessee lying along the shore, while General Buell's Army of the Ohio disembarks from their boats by torchlight at Pittsburgh Landing, arriving just in time to save Grant's army, and the nation.
Fredericksburg and Spotsylvania Military Park
More than 100,000 Americans were casualties at the First and Second Battles of Fredericksburg, the Battle of Chancellorsville, the Battle of Salem Church, the Battle of the Wilderness, and the Battle of Spotsylvania all of which are commemorated and preserved by this national park.
During the Battle of Fredericksburg in December, 1862, U.S. troops crossed the Rappahannock River under fire, and the view of their subsequent doomed assault on Marye's Heights led General Lee to utter his famous quote: "It is well that war is so terrible, or we should grow too fond of it."
Cross the river yourself and climb the heights in their footsteps, or hike your way through the tangled underbrush of the Wilderness, and feel the weight of history on your shoulders.
Lowell National Historical Park
History isn't all bullets and battles. It's the story of ordinary men and women most of whom led ordinary lives and did ordinary things. But when you look back through the lens of time, the ordinary often appears to us as extraordinary.
Many of my relatives sailed across the ocean from Ireland to find religious and economic freedom in America. They found it in the water-powered mills and factories of Massachusetts, and while we would probably be horrified at the conditions found in an Industrial Revolution-era factory, they were grateful to escape famine and oppression and to have the opportunity to build their futures in the Land of the Free.
Lowell NHP is the monument to the birthplace of the Industrial Revolution in America, and to the men, women, and children who lived and died in it. It's a park commemorating not just the Industrial Revolution, but the people behind it.
Minute Man National Park
It's where, one could argue, America began, with the Shot Heard Round the World fired over the Wild and Scenic Concord River at Old North Bridge.
You can get chills down your spine standing by "the votive stone" near the "dark stream" and reciting Emerson's Concord Hymn.
These are just a few of the great National Parks where history and rivers intersect. But what's great about these parks is that they are not just static fields or buildings. They are places of learning and reflection.
Most of the major National Parks have Junior Ranger programs where kids are encouraged to answer questions, to think about what they are seeing and experiencing, and to learn lessons that go far beyond what they get in the classrooms. My daughter has been "sworn in" as a Junior Ranger at three parks so far, Gettysburg National Military Park, Antietam National Battlefield, and Independence Park in Philadelphia. She declared to me just last week that she wants to earn her badge at all the Parks, so we've got some work ahead of us!
These Parks are her legacy and the legacy of all who come after us, as they are the legacy of those who came before us. Not just all Americans, but all people – past, present and yet to come – who yearn for and believe in freedom are the inheritors and guardians of Old North Bridge and what it represents. The battlefields around Fredericksburg, at Shiloh, and at Antietam were painful steps toward fulfilling the promise of freedom and equality to all. And the triumphs and tragedies of the working class people who brought their talents from distant shores and struggled under tremendous odds to build a better life are captured in the mills and waterways in Lowell.
If you love rivers and you want to feel history come alive, #FindYourPark! And bring a friend. 
Now it's your turn
What's your favorite national park? Have you been able to celebrate at it this year?