Wear your love for rivers
Grow the movement to protect rivers — one T-shirt at a time.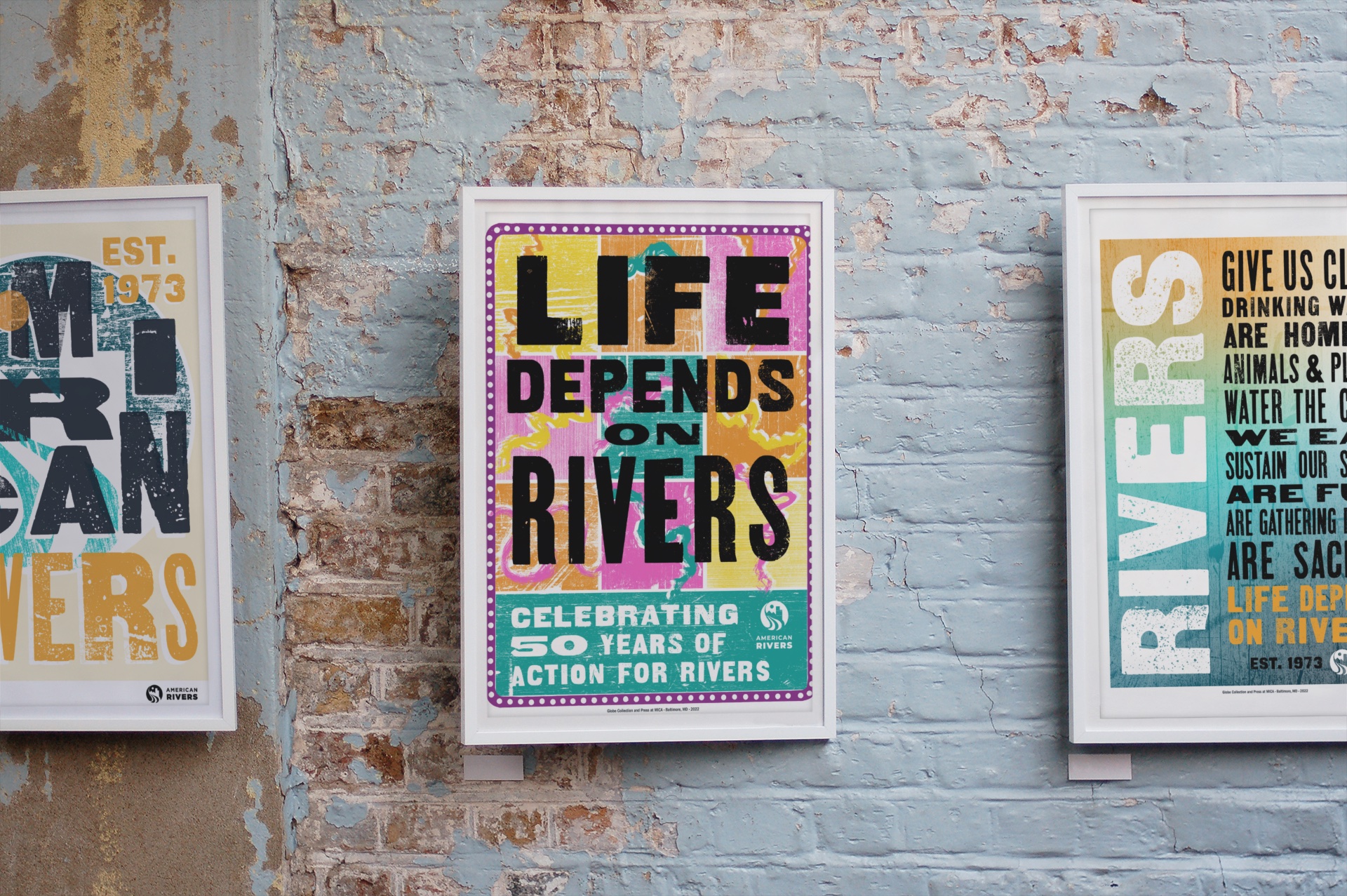 For our 50th anniversary, American Rivers is teaming up with five artists on original works that explore how important healthy rivers are to the future of humanity and nature.
Globe Collection and Press at MICA helps us kick off our five-part limited-edition art collection. For 80 years, Globe posters promoted musicians such as Tina Turner, Aretha Franklin, and B.B. King. Globe's iconic fluorescent background colors and bold black wood-type lettering became its trademark, recognizable across the country, both for spotlighting R&B and rock and roll music artists and now for raising awareness about voting and civic discourse.
The posters Globe produced for American Rivers use wood blocks from the collection's archive to remind us of our deep connections to rivers and the importance of healthy rivers and clean water in our lives. Over the coming months, American Rivers will release additional exclusive artwork by Jade Schulz, Robert Hodgin, Susana Sanchez, and Sarah Uhl. To learn more about the Globe at MICA, read our Q+A here.
Click here to view and purchase items from the full collection.
Much of our drinking water comes directly from rivers, and clean water contributes to our health. Natural river habitats support thousands of plant and animal species. Our farms and cities depend on abundant river water for growth. For many of us, rivers offer recreation and a way to connect to nature.
Our rivers are threatened by climate change, pollution, dams, and increasing droughts and floods. Perhaps the greatest threat to our rivers is simply lack of awareness of how important they are to our lives.
American Rivers tackles these challenges head on. We have 50 years of experience tackling river issues coast to coast. But we can't do this work alone: That's why we are championing a national effort to protect and restore all rivers, from remote mountain streams to urban waterways.
You can be a part of the movement to protect, restore, and preserve the rivers that people and nature depend on. Learn more at www.AmericanRivers.org/50vision.