This is a guest blog by Catherine Schoeffler Comeaux.
"Throw me something, Mister!" is the official cry of Mardi Gras parade watchers lining the streets of Lafayette, Louisiana begging for beads during the weeks of fun and foolishness leading up to Lent. Revelers go home with loads of plastic jewels but also leave the streets covered with discards and debris. Much of the abandoned lightweight litter drifts into storm drains that lead directly to the Bayou Vermilion.
The Bayou Vermilion winds 33 miles through Lafayette Parish. Paddlers take to the bayou as an intra-urban getaway, fishers enjoy angling for catfish along its banks, and boaters regularly buzz about on the calm waters.  Once considered one of the nation's most polluted rivers, today it is a cultural and economic asset thanks to restoration efforts; however, litter is still one of the insults the bayou continues to endure. The Mardi Gras parades, with their encouraged hurling of loose plastics, are a dependable contributor to the litter and waste that afflict the waterways. Two local Mardi Gras krewes, the social clubs who put on the parades, have started taking action to change the situation.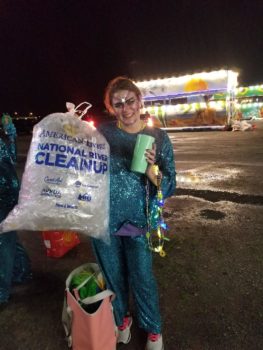 The Krewe de Canailles (pronounced dah Kah-NYE), which means mischievous in Cajun French, has taken a fun, up-bayou approach to the recurring Mardi Gras runoff. By asking its members to replace plastic trinkets typically thrown with unique eco-throws handed to parade goers, the Krewe de Canailles is trying to stop the problem at its source. Paul Kieu, co-founder of the krewe, explains, "All of us in the krewe love canoeing, kayaking, and having fun on Louisiana waterways, and we see all sorts of plastic trash every time we drive past a coulee or up close while on the water. While we all love traditional style parades, we wanted to be unique in ours to minimize our impact on the streets. We encourage our marchers to hand their throws to the people on the street rather than throwing, in which case people often leave them on the ground."
The Krewe of Rio has partnered with Lafayette Consolidated Government's Project Front Yard initiative to pilot a new process for Mardi Gras parades. Volunteers help reduce waste by collecting cardboard and plastic packaging before the parade. The volunteers then follow the "last float" which gets loaded with discarded beads and litter in the wake of the festivities.  In the past two years, aided by the bags provided by American Rivers, 55 volunteers collected 700 pounds of plastic film, 10,140 pounds of beads, and thousands of pounds of cardboard for recycling and reuse.
Mardi Gras attracts visitors from all over the country to passé un bon temps, and Mayor-President Joel Robideaux's goal is to make a great first impression. "Lafayette presents a family-friendly Mardi Gras experience to parade-goers every year. We want to continue the tradition of showcasing our food, music, and culture to visitors during the season, while also being mindful of what we leave behind after the festivities are concluded. This partnership [with Krewe of Rio] is an excellent way to highlight our community's commitment to the beautification of our city."
The success of these efforts has caused many other krewes to ask the question, "What can we do to make Mardi Gras cleaner?" Thanks to American Rivers for being a part of this movement to nudge the traditions of Mardi Gras in cleaner greener direction so that preventing excess waste and litter becomes the standard practice of Lafayette's Mardi Gras celebration.
—
The day after Mardi Gras, Lent arrives and springtime cleanup efforts begin with opportunities to reflect on how we as a community can better reduce our waste and control litter. The University of Louisiana at Lafayette will encourage community members and students to participate in The Big Event on March 30th when hundreds of volunteers will clean at bayou side parks and along coulees. The following week, Lafayette Consolidated Government in partnership with the Bayou Vermilion District will host their 35th annual Trash Bash when paddlers and boaters will be on the water removing litter.
For more information about the history of the Bayou Vermilion, paddle trail maps and upcoming bayou related events, visit www.bayouvermiliondistrict.org.
Catherine Schoeffler Comeaux is a Recycling Clerk for Lafayette Consolidated Government. She also serves on the Bayou Vermilion District Board of Commissioners.