Collecting 1 million pounds of trash in a single day takes dedication. And people — 8,000 to be exact. Such huge numbers are why we are tipping our hats to the Ohio River Valley Water Sanitation Commission's (ORSANCO) annual River Sweep event. Every June, River Sweep mobilizes volunteers to the Ohio River and its tributaries, fringed by 3,000 miles of river shoreline.
"It's not our volunteers' trash that they're picking up," says Lisa Cochran, who coordinates the event for ORSANCO. "But they are willing to come out and get dirty and take this responsibility on. They have special hearts."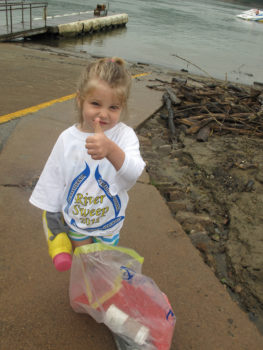 Cochran describes the Ohio River as "everything a river can be." It supplies local communities with transportation, drinking water, recreation, fishing, boating and beauty. "It's part of the community here."
Back when River Sweep first launched nearly 30 years ago, the Ohio—which is the lifeblood for six cities—was a dumping ground for large items like water heaters and cars. Though they no longer find appliances in the river, volunteers do have a new challenge: single-use plastics.
"You drop a pop bottle in the parking lot and think, 'Oh well.' You don't think it's going to make it down to the Ohio River. We get people out to River Sweep because, just like American Rivers says, when you connect people to rivers, they protect rivers."
For information about a river cleanup near you, visit www.AmericanRivers.org/Cleanup.