Poll: Montanans Support Dam Removal to Recover Sturgeon
Scientists say the best chance to restore endangered pallid sturgeon on the lower Yellowstone River in eastern Montana is to remove Intake Diversion Dam.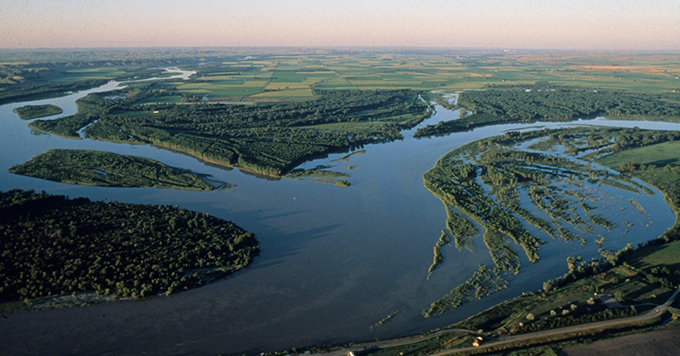 When it comes to recovering federally endangered pallid sturgeon in the lower Yellowstone River, a strong majority of Montanans support removing an existing diversion dam that has been implicated in their demise.
That's according to a new poll that was commissioned by American Rivers and its conservation partners and conducted by Tulchin Research last month. The pollster interviewed 400 likely Montana voters and has a margin of error of +/- 4.9 percent.
Among the key findings of the poll:
81% of Montanans support efforts to protect the pallid sturgeon, a prehistoric fish that was added to the endangered species list in 1990
By a 64-21 margin, Montanans support removing the Intake Diversion Dam to recover pallid sturgeon and replacing its function with irrigation pumps to meet the needs of farmers
By a 51-26 margin, Montanans support removing the Intake Diversion Dam even after being told the cost to do so could be three times higher than the cost of building a new dam and bypass channel
By a 62-20 margin, Montanans would be more likely to support an elected leader who supports removing Intake Diversion Dam to recover pallid sturgeon
The poll comes at a pivotal time, as a federal appeals court recently lifted an injunction that was blocking the U.S. Army Corps of Engineers from building a new $59 million concrete dam just above the existing Intake Diversion Dam. The sole purpose of the proposed new dam is to divert water from the river into a canal that irrigates 54,000 acres of cropland in the Lower Yellowstone Project.
As part of the project, the Corps wants to build a two-mile-long bypass channel that it hopes pallid sturgeon and other fish will use to get around the dam. But most fisheries scientists who have studied this issue are skeptical the bypass channel will work. They point to the fact that no artificially constructed bypass channel has successfully passed any sturgeon species anywhere in the world.
Since Intake Diversion Dam and five other upstream diversion dams were constructed on the lower Yellowstone River early in the 20th century, the pallid sturgeon population has dwindled because they can no longer access historic spawning habitat.
To successfully reproduce, pallid sturgeon need long stretches of free-flowing river so their hatched embryos can drift downstream and gradually mature into juvenile fish. Currently, the hatched embryos drift downstream into Lake Sakakawea, an artificial reservoir on the Missouri River, where they perish due to a lack of dissolved oxygen in the water. Removing Intake Diversion Dam would give pallid sturgeon access to 165 miles of historic habitat.
Biologists estimate there are only 125 adult pallid sturgeon left in the lower Yellowstone River and the adjacent Missouri River below Fort Peck Dam. Government scientists have long said that the key to their recovery is removing impassable barriers such as Intake Dam that prevent them from accessing their historic spawning areas.
American Rivers hopes the Corps will hold off on building the new dam and bypass channel and instead work with conservation groups and Montana's congressional delegation to explore other options for delivering water to the Lower Yellowstone Project so Intake Dam can be removed. One promising option currently under consideration is piping water from Fort Peck Reservoir into the Lower Yellowstone Project.