Capturing the Legacy of a Fish Advocate and Citizen Scientist
The Memory of Fish, a documentary about one man, the wild salmon he loves, and his fight to free Washington's Elwha River is now available for streaming, download, and purchase.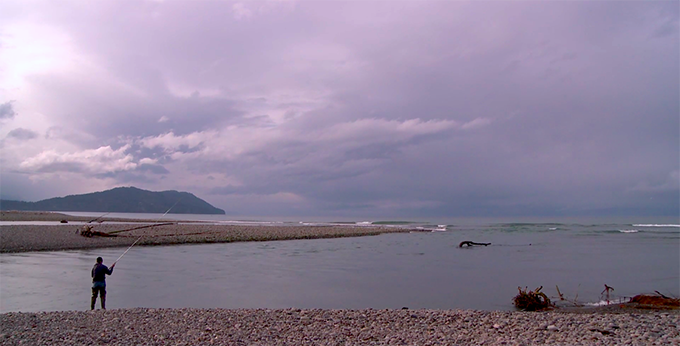 Over the past decade, there has been a growing movement across the United States to remove dams that no longer serve their intended purposes. While history might indicate otherwise—the U.S. led the world in dam building over the last century—agencies, tribes, individuals, and a myriad of other river stakeholders are realizing that of the U.S. Army Corps of Engineers' catalogued 90,000 dams blocking rivers and streams, many are considered 'deadbeat dams.' These dams that were once at the epicenter of a community's livelihood are now old, unsafe, or simply outdated. More importantly, these dams also have a negative impact on the local environment and economy, by depleting fisheries, degrading river ecosystems, and otherwise altering recreational industry and the jobs it supports.
The entire removal process, from the initial concept or idea to the actual implementation, can take decades. For instance, in Washington State, the physical removal of the Elwha and Glines Canyon dams on the Olympic Peninsula's Elwha River took less than three years to complete in 2014, but the actual planning process began in 1992, after Congress passed the Elwha River Ecosystem and Fisheries Restoration Act authorizing the removal of the dam in order to restore the altered ecosystem.
But what prompted Congress to take action?
The Lower Elwha Klallam Tribe, who for centuries lived off the salmon that ran up the river every spring, summer and fall, had been opponents of the dams since they were first constructed in early 1900s. And there were many organizations, including American Rivers, who were advocating for their removal during the 1980s.
But long before dam removal was on the radar of Congress or any conservation organizations, Dick Goin, a Port Angeles, Washington pulp mill worker and master fisherman, began fishing the Elwha in 1937. Dick's family lived primarily on Elwha salmon, and he felt the salmon saved his family, and that he owed a debt both to the fish and the river. He began a decades-long personal fight to remove the two dams and  allow wild salmon access to the Elwha, as a wild river.
This understated story of Goin's persistence for removal of the dams was captured by in the film The Memory of Fish, produced by Jennifer Galvin. Last fall, American Rivers, along with Galvin, toured the film across the Pacific Northwest, with the goal of inspiring communities near rivers at risk to engage in political action and citizen science.
"Touring The Memory of Fish with American Rivers was an incredible experience," said Galvin from her home in New York. "At the beginning of each screening I'd look out into the audience knowing that some people came because they had something to say about dams; some were there because they had something to say about 'environmentalism' in the Trump era; some were there because they love fishing; and some were there because they knew Dick Goin."
"What always moved me the most was that the movie moved them, helped people feel something for a river and for fish," she said. "It's not easy to see your audience cry, but it does open a new door of dialogue and understanding, especially across heated political divides. Showing an environmental documentary that is a deeply emotional story helps people understand what American Rivers is working so hard to do. The hope is that the tour moved people beyond being simply aware of river issues, like dam removal, to actually doing something about it."
The film is now available for download, purchase, and streaming on Amazon Video, iTunes, Google Play and on DVD. Additionally, the film is available for any organization or person to host a screening, as a springboard for discussion, inspiration, and action. Galvin hopes Goin's legacy will leave a similar impact on audiences as it left on Galvin.
"I wake up every morning these days thinking that the world needs more lifelong citizen scientists like Dick Goin," said Galvin. "The stakes are getting higher for us when it comes to healthy rivers, and an active citizenry requires repetitive, focused, persistent work. This kind of work isn't sexy and usually goes unseen. This was the genius of Dick Goin's fight to free the Elwha – he was persistent, he was observant, and he was never afraid to use his voice. I know that one story like The Memory of Fish can change the story for many other rivers. Dick Goin's legacy lives on through this film, but it's up to us to make it count – for the Elwha River and so many other rivers at risk."
For more information on purchasing, streaming, or hosting a screening of The Memory of Fish, visit: thememoryoffish.com.