We've Got Grit: River Women on Hope and the Year Ahead
Much like rivers, the women of American Rivers are mighty. As we look to the year ahead, we asked those women what gives them hope and what keeps them fighting back, working for healthy rivers every day, despite many challenges.
Eleven years ago I backpacked up the Elwha River and over the Olympic Mountains' Low Divide with two friends, women who also work in conservation. We brought along the account of the Press Expedition, the group of men who hiked and rowed their way upriver in the winter of 1889. We laughed at their repeated journal references to their "abundance of grit and manly vim" and so of course we made 'womanly grit and vim' the mantra for our little adventure.
At the time of our trip, two big dams still blocked the Elwha, preventing wild salmon from reaching the upper parts of the river. Today, thanks to the commitment of the Lower Elwha Klallam Tribe and advocacy from conservation groups, the dams are gone and the Elwha River flows free, mountains to sea. The final chunk of dam fell in 2014. I carry a tiny piece of Elwha Dam in my bag. It may look like just a broken bit of concrete, but I know what it symbolizes.
2017 has been a rough year for rivers and clean water. The Trump administration and Congress are cutting protections for the places we love and the water that flows through our faucets and our veins. Whether it's the drive to repeal the Clean Water Rule, slashing the Environmental Protection Agency's budget, or shredding National Monument protections, the cuts and rollbacks threaten to have long-term impacts for our health, families, and communities. Our country's most vulnerable communities – including black, Latino, Asian, Indigenous, and low-income white Americans – will be disproportionately impacted.
As we look to the year ahead, I asked women who work at American Rivers to share what gives them hope and what keeps them fighting back, working for healthy rivers every day, despite many challenges. Their responses are below.
We're part of an incredibly strong network of people nationwide working for rivers, clean water, public lands, and environmental justice. Together, we're a powerful force. Let's keep telling our success stories. Let's find inspiration in the pieces of busted dams we hold in our hands. Let's draw on our shared strength and build new connections.
2018 is going to be a critical year. We've got grit and vim and we're fired up. Will you join us?
What Gives Us Hope: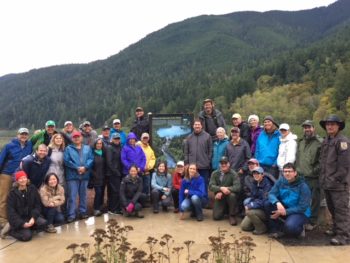 "It has been a tough year, and I'm thankful to feel recharged after spending time on rivers this fall. Our River Council tours on the Elwha and the upper Colorado both focused on hope and possibilities. These experiences were made even more meaningful because I was able to see some of our most generous donors and volunteers witness how their support has/is making a difference."
– Mandy Hughes
Senior Director, Major Gifts
---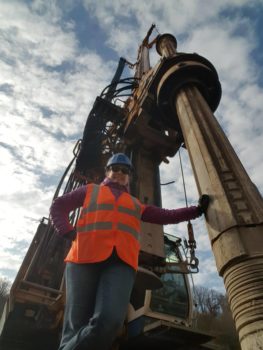 "Every day in my job, I come together with a team of people who truly care what happens to our environment. People who care that my son has clean drinking water, even if they have never met him. People who care that fish and wildlife have access to the habitat they need to thrive, even if they don't hunt or fish. People who value science, and trust in the researched wisdom of scientists to recommend caution when needed. People who will stand up and say they won't tolerate ruining our treasured air, water, and beautiful landscapes for the benefit of a few pockets. As long as I have these people standing by my side, I will show up and fight the good fight. Because I care too. And I believe that together we can do things better and make a difference."
– Jessie Thomas-Blate
Associate Director, River Restoration and Coordinator, America's Most Endangered Rivers
---
"What keeps me going is knowing that what I do helps people – whether that is reviewing a partner's grant proposal, listening to residents' concerns about their drinking water, or figuring out new ways to change policy with likeminded individuals. Every small step is making a difference to me and hopefully to our rivers, streams, and lakes and the people who enjoy them throughout the year."
– Katie Rousseau
Director, Clean Water Supply, Great Lakes
---
"I have always liked the phrase 'a rising tide lifts all boats' – in order to make change, I feel like each of us has a choice, whether we will drive the ship or be a passenger. By working at American Rivers, I feel like I am taking an active role toward ensuring a future I want to see for our planet and our rivers – not just for me, but for my kids, too."
– Jodie Goldberg
Director of Development, Foundations
---
"I find hope in humor. What keeps me going are the friends, family and colleagues that make me laugh and who join me in laughter through some of life's most ridiculous situations. The reality of current decision making patterns in DC is actually quite serious and a bit depressing, but I've found that in my day to day communications and outreach efforts, that seemingly enormous gaps are bridged by humor and an ability to laugh at ourselves and each other."
-Kascie Herron
Northern Rockies Conservation Associate
---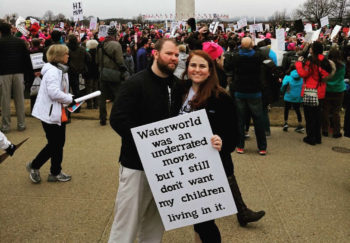 "What fires me up is my generation, the so-called "millennials." Growing up during the age of rapid expansion of TV and Internet gave us a better sense of the world. While we grew up watching and reading stories of terror and destruction from around the world, we also saw the good and uplifting stories as well. Now, I can't speak for every millennial out there, but from what I've seen, and what studies have shown, millennials are more progressive than any previous generation. From basic civil rights, regardless of skin color, gender, or sexual orientation, to animal rights and the environment, there seems to be a gap between what we believe is right and what those in positions of power in the U.S. believe. Just the other day, in the wake of the Harvey Weinstein (et al.) investigation, my brother and I had a discussion about how growing up, we didn't blink an eye at a woman in power. We couldn't imagine any man our age ever trying to take advantage of women in the workplace like those men did… Who knows what the future will hold, but my hope is that my generation will make a positive change."
– Rebecca Long
Marketing and Communications Associate
---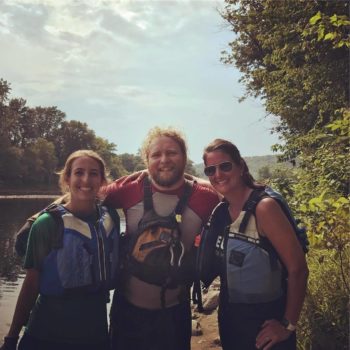 "The people I get to work with at American Rivers are some of the smartest and hardworking I've met and I constantly find myself learning new things from them – about rivers and otherwise. I'm equally inspired by the people I work with outside American Rivers. Through National River Cleanup, I've gotten to know several cleanup organizers and individuals across the country who commit their time and energy to keeping our rivers clean for all to enjoy. I've talked to individuals who go out on their own to pick up trash because they genuinely enjoy it and see the power a single person can have within a community. I've talked to nonprofit staff and leaders who go unpaid and unfunded but continue to host cleanups because they have identified high need areas and engaged community groups. I've gotten to know cleanup organizers who have been holding events longer than I've been alive and don't plan on stopping any time soon. While it can be disheartening to read or watch the news, or see how much trash there is on the side of the road and in our communities, I'm always reassured that we're on the right track when I talk to our staff and cleanup organizers."
– Lowell George
Associate Director, National River Cleanup
---
"The places we work to protect provide us all, no matter what political affiliation, with restoration and balance in an often hectic world. The resolve of my colleagues, our partner organizations and the hundreds of thousands of people who have called their representatives or sent them a letter standing up for the health of our environment give me hope for our future."
– Karyn Bryant
Director, California Major Gifts
What gives you hope? What will you fight for in the new year? We'd love to hear your stories in the comments.