No, President Trump. Hydropower Is Not "great"
Three things President Trump needs to know about rivers and hydropower. Number one: hydropower is not "great".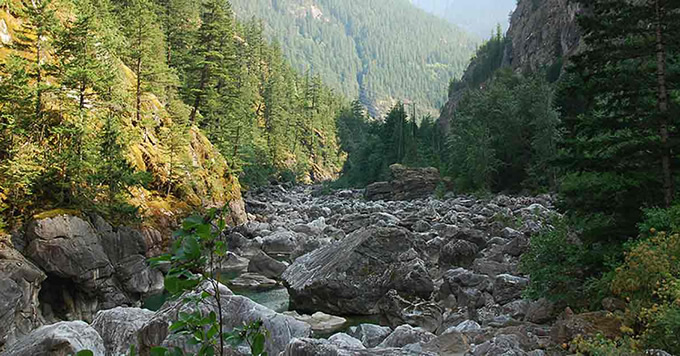 Last month, President Trump talked about hydropower. He said it was "great." Actually, he said it was "great, great." He said "It's one of the best things you can do – hydro."
No, it isn't.
There is a place for hydropower. But weakening safeguards at hydropower dams is a bad idea. And building new hydro dams would come with extremely high costs and would take our country backward, not forward.
Why doesn't it make sense to build a bunch of new hydropower dams?
All the good spots are already taken.
Healthy rivers are our natural defense against climate impacts.
Hydro dams and their reservoirs can contribute to global warming pollution.
Dams damage rivers.
The focus on hydropower in the coming years must not be on building new dams, but instead on maximizing efficiency, responsible operation, and environmental performance.
Here are three things President Trump should know about rivers and hydropower:
1. Rivers are great
Clean, free-flowing rivers are vital to the health and well being of each and every one of us. They provide our drinking water, grow our crops, nourish our communities, and fuel our economy. "America is a great story and there is a river on every page," wrote the late journalist Charles Kuralt. We need to focus our investments on restoring river health, not on weakening safeguards or building more hydropower dams.
2. Dams hurt rivers
A river is supposed to flow. A dam blocks that flow, with major consequences for water quality, fish and wildlife, recreation, cultural resources, and all of the people who depend on a healthy river. Dams are a big reason so many fish and other freshwater species are endangered. Many communities are choosing to remove outdated dams – just last year, 72 dams were removed across 21 states, restoring 2,100 miles of rivers.
3. Last-century energy = losers
Quite simply, dams are 19th century ideas. We need 21st century energy solutions that safeguard rivers and clean water, our most precious natural resource.
There are efforts in Congress to weaken or eliminate clean water protections and other safeguards at hydropower dams. This is about whether states, tribes and citizens will continue to have a say in how dams are operated. It's about the future of dammed rivers nationwide.
Throughout our history, American Rivers has defended rivers from harmful dams. We're not backing down now. Whether it's fighting new boondoggle dam proposals or upholding key safeguards for rivers and communities, we're going to keep fighting for the rivers that connect us all.