Celebrating a Great Year for Dam Removal in 2016
Dam removal benefits public safety, the economy, and the environment. In 2016 72 dams were removed across 21 states.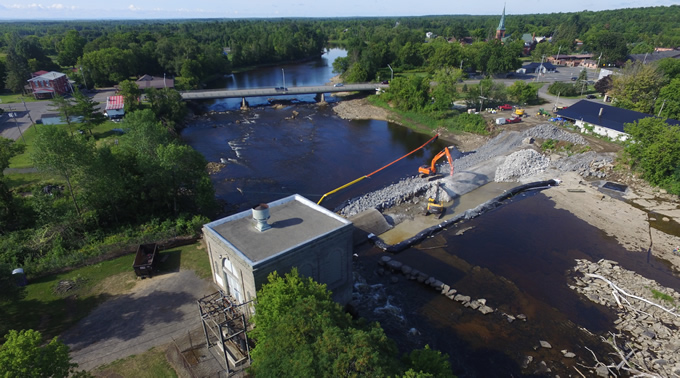 The situation at the Oroville Dam in California right now illustrates the need to seriously consider public safety in dam planning and management. Today we are celebrating all of the dams that were removed in 2016! These former barriers will no longer pose any safety hazard to the public.
Communities in 21 states, working in partnership with non-profit organizations and state and federal agencies, removed 72 dams in 2016, restoring more than 2,100 miles of streams to benefit public safety, local economies and our nation's natural heritage. American Rivers played a role in 18 of the dam removals on this year's list.
Check out our updated interactive map of dam removals!
Dams were removed in the following states in 2016: California, Colorado, Connecticut, Illinois, Indiana, Massachusetts, Michigan, Minnesota, New Hampshire, New Jersey, New York, North Carolina, Oregon, Pennsylvania, Texas, Utah, Vermont, Virginia, Washington, West Virginia, and Wisconsin.
Have you witnessed any dam removals this year? Please tell us about your experience!
In 2016, Pennsylvania had the highest number of removals for the fourteenth year in a row. The top three states removing outdated dams in 2016 were:
Pennsylvania – 10 dams removed
North Carolina – 8 dams removed
Minnesota– 6 dams removed
According to the Association of State Dam Safety Officials, America's dams are degrading faster than they are being repaired, the number of high hazard dams has increased over time, and the cost to rehabilitate dams continues to rise. By 2020, seventy percent of dams in the United States will be more than 50 years old. Aging dams can pose a serious safety threat for individuals and entire communities.
River restoration also delivers economic benefits. A 2012 study found that every $1 million spent on Massachusetts Division of Ecological Restoration projects resulted in 10 to 13 jobs created or maintained. A 2010 study in Oregon found that every $1 million spent on forest and watershed restoration resulted in 15-23 new jobs and $2.1 – 2.3 million in economic activity. The economic benefits of dam removal are summarized in a 2016 report by Headwaters Economics.
American Rivers is the only organization maintaining a record of dam removals in the United States. The database includes information on 1,384 dams that have been removed across the country since 1912. Most of those dams (1,174) were removed in the past 30 years. The list includes all known dam removals, regardless of the extent of American Rivers' involvement.
Highlights of dam removal and river restoration efforts in 2016 include:
Ottine Dam, San Marcos River, Texas
This 108-year old dam was damaged by a storm in 2008 and had been a safety hazard in the San Marcos River ever since. Dam removal restored 39 miles of river, benefitting kayakers and canoeists as well as fish and wildlife. Boaters participating in the Texas Water Safari annual race from the San Marcos headwaters to the coast will no longer be required to carry their equipment up and down a steep incline to bypass the dam. Texas Parks and Wildlife Department is considering adding the restored stretch of river to the paddling trails system for Palmetto State Park. For more information: https://www.fws.gov/southwest/docs/OttineDamNR012016.pdf
Hogansburg Dam, Saint Regis River, New York
Following the decision that re-licensing of the Hogansburg Project was cost-prohibitive, the Saint Regis Mohawk Tribe led the removal of the 281-foot long and 12-foot high Hogansburg Dam. Completion of the project marked the first removal of a federally-licensed dam in the U.S. by a Native American tribe, and the first removal of a hydropower dam in New York State. As the first impassible barrier to fish on the St. Regis River, removal of the dam restored access to 555 miles of stream habitat and returned project land to the Saint Regis Mohawk Tribe. For more information: https://www.srmt-nsn.gov/environment/hogansburg-dam-removal
Shuford Mill Dam, Henry Fork River, North Carolina
The Shuford Mill Dam, formerly a 35-foot tall, 275-foot wide masonry and concrete dam on the Henry Fork River in Brookford, North Carolina, had outlived its usefulness. It was constructed in the late 1800s to power an adjacent textile mill, which closed years ago. Dam removal eliminated the public safety risk posed by the unmaintained dam, improved the local community's access to safe recreation on the Henry Fork River, and restored ten miles of river habitat for fish and wildlife. This project is an excellent example of partnership among American Rivers and other non-profit, state and federal partners. For more information: https://www.americanrivers.org/2016/08/shuford-dam-removal/
Hughesville Dam, Musconetcong River, New Jersey
The removal of Hughesville Dam, the lowest blockage on the Musconetcong River, helps restore fish and wildlife and water quality in this federally designated Wild and Scenic River. Dam removal restored access to two miles of historic river herring spawning and nursery habitat, and will benefit American shad, alewife and American eel. The Musconetcong Watershed Association coordinated work with property owners, engineers, contractors and partners including U.S. Fish and Wildlife Service, the New Jersey Department of Environmental Protection, American Rivers and others. For more information: https://www.musconetcong.org/hughesville
For more information on these and other 2016 removals, please see our full list.