A River Restored in Nantahala National Forest
The Little Buck Creek dam removal, made possible by a robust partnership, improves public safety and expands native trout and other stream species habitat.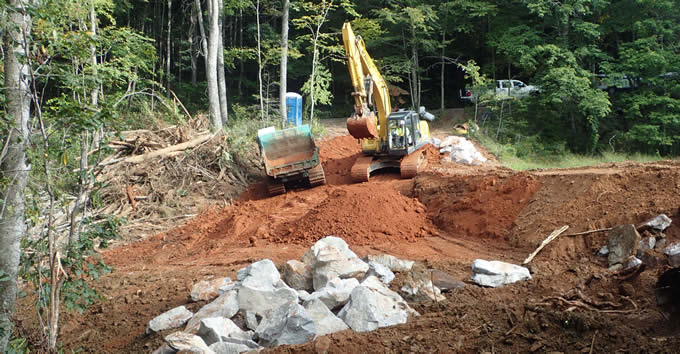 What do you do with an outdated dam that blocks important stream habitat?
Find partners to work together to get rid of it!
The US Forest Service, along with numerous project partners, celebrated the completion of the Little Buck Creek dam removal and stream restoration project in September 2016. The project was located on Little Buck Creek in the Little Tennessee River basin in the Nantahala National Forest in Clay County, North Carolina.
The 30 ft high and 150 ft across outdated pond dam served no present day function and had become not only a public safety concern but also created a barrier to aquatic organisms like trout from accessing important habitat.
The pond dam was lowered and the concrete and steel structure that controlled the level of the pond was removed. The stream channel of Little Buck Creek upstream and downstream of the former pond was reconnected by performing over 200 feet of channel restoration. Large boulders and woody debris were used during the restoration to provide channel stability and to create habitat features.
Southern Appalachian brook trout now have access to new habitat thanks to this river restoration project. "As a part of the mission of Trout Unlimited our job is to expand habitat for trout and salmon. One of the best ways to achieve our mission is to partner with other organizations and agencies just like this dam removal project on Little Buck Creek in North Carolina," said Keith Curley, Vice President of Eastern Conservation with Trout Unlimited.
The project was made possible through funding partnerships between Trout Unlimited, the US Forest Service, US Fish and Wildlife Service, and the Wildlife Conservation Society. The project was implemented by the US Forest Service and the NC Wildlife Resources Commission with support from Trout Unlimited and American Rivers. Backwater Environmental, Inc., a heavy equipment contractor, performed the environmental restoration.
"The goal of restoring aquatic organism passage in Little Buck Creek was achieved through the efforts of the federal, state and non-profit organization's concerted partnership. This project was essential to providing uplift to the aquatic ecosystem which was made possible only through this unique partnership" said Scott Loftis with the NC Wildlife Resources Commission.
[metaslider id=35399]