The Last Trip of the Season
Reflecting on time on the water this fishing season gives a chance to appreciate what special places rivers are.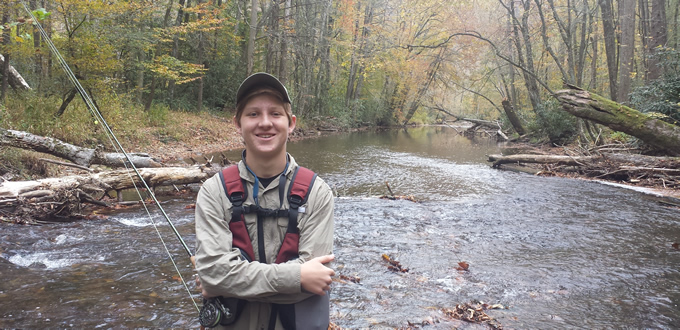 There's a bittersweet feeling about the last fishing trip of the season.
On the one hand, there's the sadness of knowing that I'll have to wait till springtime to get back on the water. On the other hand, knowing that it's the last trip lets me look back on some amazing times and look forward to trips next year that I haven't even planned yet.
Since joining American Rivers, I've had the chance to fish on some spectacular streams, and this year's trips have included several of those. What made these trips even better was being able to fish with some truly wonderful people I've met through the Anglers Fund. For starters, there was the Greybull River trip with Jay, one of the most interesting people I know; Paul, whose quiet appreciation of nature is something to learn from; and Greg, who helped us appreciate his home waters. In addition to chasing the Greybull's beautiful cutthroats, we learned about efforts to bring back the once-thought-to-be-extinct black-footed ferrets, local history with Butch Cassidy, and how grizzlies are expanding their range. We even got a couple cutthroats to take a fly tied in our American Rivers' logo colors, even though there is nothing in nature that looks like that fly. You've got to love cutthroats.
There was the trip to Fish Creek with Dick and Lora, two of the most genuinely nice people you will ever meet. In his mid-80s, Dick is as determined as any teenager to wade out to be within range of rising fish, and his thirst for learning new ways of mending line on the water is inspiring. If I am able to fish half as well as he does when I'm his age, I will have really accomplished something.
And then there was my last trip to the Davidson River with my son Luke and my cousin John a few weeks ago. There's something special about fishing with family, perhaps because we know that the chances are pretty good that we will go again. The river was low even for this time of year, but the fall colors were brilliant – surrounding us with bright oranges, reds, and yellows. Some of the leaves were still on the trees, some were on the forest floor, and some were collecting in eddies and slower water. It was a perfect fall day, with winter clearly on its way.
As the weather gets colder, I'll look back over these trips and others, appreciating the opportunities to fish these beautiful rivers with good friends and to learn more about what makes them special. And soon, as winter sets in, I'll start pulling out maps and guide books, looking forward to the New Year's fishing. (If you'd like to see the places we go on our Anglers Fund trips, please click here.)
I hope that you'll enjoy both looking back over your time on the water this past year and looking forward to trips you'll take next year.
Happy Holidays.