Join Us On One Of Our 2020 Trips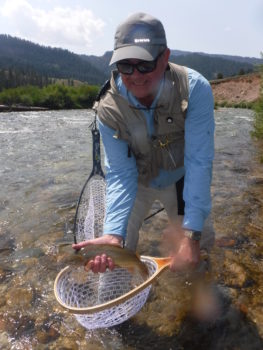 American Rivers is pleased to announce this year's list of fishing trips available exclusively for Anglers Fund members to fish with our staff on rivers we have worked. You will have the chance to learn more about how your support is helping to protect and restore important fish habitat while having a great time fishing with us on a beautiful river.
Please let us know the trip(s) that you would like to go on using the contact information below. We will then be in touch on a first-come-first-served basis to explore dates and discuss costs and logistics. We will make every effort to build the trip around your dates and preferences (wade or float, guides or not, etc.), and many trips will sell out.
Thanks for supporting our work through the Anglers Fund and see you on the river!
| | | | | |
| --- | --- | --- | --- | --- |
| Region | Trip Description | # of Fishing Days | Max # of Rods | Tentative Dates |
| Northern Rockies | Fly fishing for native cutthroats in the lesser known rivers near Jackson, WY, that we helped protect as "Wild and Scenic". | 1-2 | 3 | August or Labor Day |
| Northern Rockies | Fly fishing for big browns and rainbows on Wyoming's Upper Green River and/or New Fork River. | 1-2 | 3 | May – July |
| | Rugged backcountry search for the holy grail of fly-fishing: wild winter steelhead on the Oregon coast or Washington's Olympic Peninsula where we are working to protect 19 rivers. | 1-2 | 2 | |
| Pacific Northwest | Rainbow trout fishing on Washington's blue-ribbon Yakima River where we are protecting the basin's rivers and working to improve flows for fish. | 1-2 | 3 | August – October |
| Southwest | Explore the rugged, wild canyons of the Gila River for rare Gila Trout in Southwest New Mexico, the birthplace of wilderness. | 1-2 | 2 | July – October |
| Colorado | Private fishing on the Crystal River near Carbondale, a potential Wild & Scenic River in our "5,000 Miles of Wild" campaign. | 1-2 | 2 | Summer/Fall |
| Colorado | Guided float fishing on the Upper Colorado, a focus of the Colorado Water Plan we helped to develop. | 1-3 | 2 | Summer/Fall |
| Colorado | Stalk wary Brown trout in the gin-clear water of Deep Creek, which we are working to protect as a "Wild and Scenic River" | 1-2 | 2 | Summer/Fall |
| Northeast | Fish the Batten Kill River near Manchester, VT, where we removed a dam in 2014 to open 6 miles of spawning habitat | 1-2 | 3 | May |
| Southeast | Chase rare Shoal Bass in Georgia's Flint River, where our work helps keep water in the river. | 1-2 | 2 | April / May |
| Southeast | Fish for native Brook trout in the rivers in western NC (will require hiking/bushwhacking to get to the stream). | 1-2 | 2 | April / May |
| Southeast | Guided smallmouth, trout, or striped bass fishing on SC's Broad River where we are working to restore flows and fish passage or on Saluda River where we have improved water quality. | 1-2 | 2 | April or Fall |
| California | Guided Sierra trout fishing either to explore Wild and Scenic rivers in/near Yosemite with a side trip to see our meadow restorations that improve fish habitat and reconnect native Rainbows to their historic spawning habitat | 1-2 | 2 | Summer |
| California | Guided steelheading on the Klamath, where we are actively working to remove four major dams (or on the Trinity, as a back-up depending on weather conditions/fishing). | 1-2 | 2 | November – December |
The timing, itinerary, costs, and guiding of the trip(s) will depend upon your accommodation/guide preferences, where possible, and staff availability and will be finalized with you after receiving input from you and other Anglers Fund members. Note: the costs of the trip can vary greatly depending on guiding requirements and your preferences.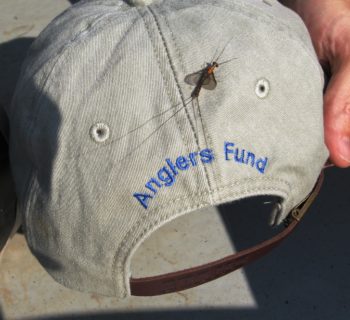 Most trips will include dinner discussions on American Rivers' conservation work that improves fish habitat and fishing, focusing on the local rivers you'll be fishing. If there are other rivers we are working on that you would like to fish or if you would like to add other rivers to your trip, we would be glad to help with that planning.
Each Anglers Fund member is invited to bring one paying, non-member spouse or guest, although we hope that all attendees will support our work by joining the Anglers Fund. Trip size is kept small to allow for personal interaction with our staff. You are welcomed to plan additional fishing around the time you'll spend with us, and we will give river/guide recommendations where possible.
Please let me know your interest via email (swhite@americanrivers.org), phone (919-720-2901), or mail at:
Mr. Steve White
American Rivers Anglers Fund
331 W. Main Street, Suite 304
Durham, NC 27701
Space is limited, and trips will be filled on a first-come-first-served basis. If you have any questions, please call me at 919-720-2901.
Thanks for your interest in our trips and for your support of our work through your ongoing membership in the Anglers Fund.