Good, Clean Fun
River cleanups are a fun way to give back to the community and being flexible/adaptive makes for better events.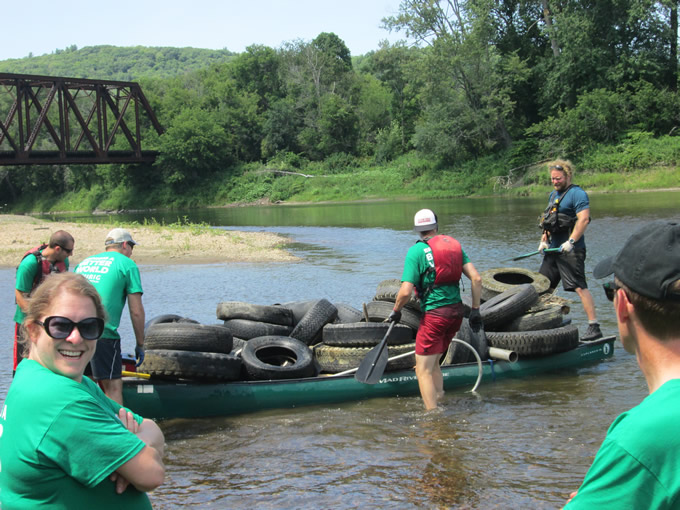 On the river, things don't always go according to plan. Whether it's a paddling trip, a walk along the river's banks, or a cleanup, unexpected obstacles can always appear even with plenty of foresight. Large cleanup groups – especially large cleanup groups using boats – encounter challenges and changes to plans frequently. As cliché as it might sound, it's not about having a flawless cleanup or paddling trip, but how you deal with the challenges and making the most of your day that can make it really rewarding and fun for everyone involved. The key is flexibility.
This past summer, 473 employee volunteers from Keurig Green Mountain, Inc. took to around 35 miles of rivers and parks in their communities to haul 53,930 pounds of trash from six sites across the United States. While these cleanup events did go pretty flawlessly (thanks to our local partners and the volunteers!) we did get some practice in adapting to our circumstances and being flexible with our expectations.
While completing a weeklong cleanup on the Winooski River in Vermont, volunteers pulled out 345 tires (no, really, 345!) in addition to the giant pieces of scrap metal, car parts, and general trash we found. In theory, volunteers would have accomplished this while paddling with the current down the Winooski and getting out occasionally to pick up trash. But because of an extremely dry summer, water levels on the Winooski were low. The good news: more of the riverbanks were exposed and as a result, we could see and collect much more trash than in other years; the bad news (and pro tip): it's hard to paddle when there's no water.
Volunteers were not deterred and hopped out every couple hundred yards or so to walk their canoes – full of trash and sometimes up to 25 tires – down the river. As you can imagine, this didn't always go smoothly. Only one canoe tipped over and, luckily, we were able to pull all the trash back out of the river and find a home for it in a secure boat. One particularly ambitious pair of volunteers packed their boat past the brim with tires to the point that it became too unstable to paddle and had to be tied to another canoe. The result: the Canoe-maran (Note: I don't recommend trying this). While the contraption got a few concerned looks and even more laughs, it got the tires out of the river and kept everyone safe.
On one of our last shifts on the Winooski, the group was so prolific that within one-quarter of a mile of our launch site, all of the boats were full. A giant tractor tire, a baby swing set, a traffic cone, wooden poles, even more tires, and some odds and ends were pulled, against a swift current, back to our launch site. While our volunteers were disappointed they couldn't collect more trash further down the river, they quickly adopted the revised plan and worked together to get their heavy boats through the deeper, faster moving sections of river.
Later that month, in Lawrence, Massachusetts, Keurig Green Mountain, Inc. employees took to the Merrimack River for a two-day cleanup. Using canoes as floating dumpsters, some volunteers walked through knee-deep water collecting debris while others on land piled trash high on their wheelbarrows. Both sets of people then emptied their hauls into a dumpster that was raised by a crane located at the park above. This method was so efficient that by the end of the second day, there was no trash to be found down by the river! Instead of lounging around on Friday afternoon, volunteers braved the heat and walked through the park, finding trash in every hidden path to the river, underneath every shrub alongside the bike path, and behind every tree backing up to an afterschool day care center. When the shift ended, the volunteers had to be convinced to stop and drop off their finds at the dumpster.
While everything might not have always gone to plan, by keeping an open-mind and adapting to the situations out of our control, the cleanups in Vermont and Massachusetts accomplished their goals: the rivers were clean and the volunteers were dirty.
[metaslider id=34288]