Removing Dams Can Save Lives
American Rivers is calling on all federal dam-owning agencies to become more active in removing dams and restoring rivers.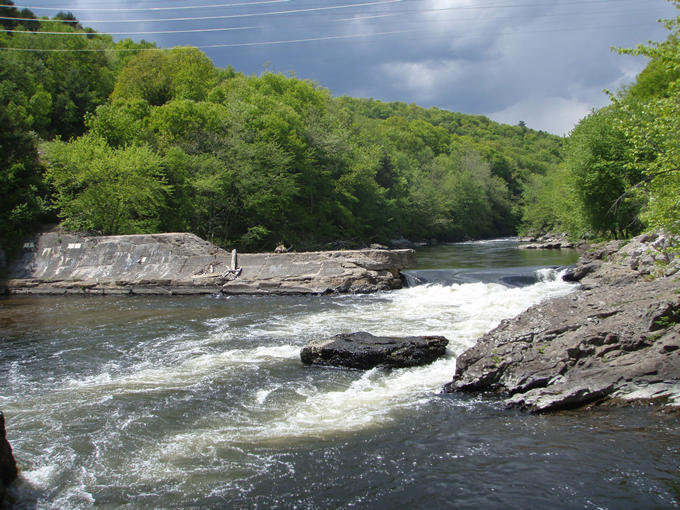 Dams fail. It's inevitable and it's happening now.
Just recently, Hurricane Matthew caused widespread flooding and more than 20 dam failures in North and South Carolina.
Rewind one year to October 2015— same place, different storm. One out of every 50 dams regulated by the State of South Carolina failed (plus hundreds of unregulated dams). This was the second most costly environmental disaster in South Carolina's history — $12 billion. And more devastating than the financial cost is the loss of life (so far 59 people in the U.S. between the two storms) and destruction of homes and businesses (more than 1 million structures destroyed in Hurricane Matthew).
Fast forward to early October 2016, thousands of people have been evacuated from their homes due to the threat of dam failures in North Carolina. Plugging a hole the size of a truck will require more than a little duct tape.
Part of the problem is that we aren't thinking ahead. Many dams look very formidable. Big walls. Strong. But concrete breaks down over time, especially when subject to the forces of nature. So does brick and mortar. And earthen dams? No doubt.
We need a commonsense approach to managing our infrastructure.
Why do dams fail?
Dam failure can result from any number of issues, including: inadequate spillway design, spillways blocked by debris causing dam overtopping, land use change causing increased runoff, outdated technology and design, changing weather patterns that alter flow rates, defects in the dam's foundation, settlement of the dam crest, internal erosion of the dam caused by seepage (this can happen around pipes, animal burrows, plant roots, other cracks), structural failure of the materials used in dam construction, and/or inadequate maintenance of the structure.
Dams are deteriorating faster than they can be repaired. According to the Association of State Dam Safety Officials, the cost to rehabilitate our nation's dams would be more than $70 billion (high hazard dams alone would cost $18.2 billion to rehabilitate).
Meanwhile, state dam safety offices are historically underfunded with a limited number of staff responsible for inspecting hundreds of dams. This tends to result in a focus on only those larger structures that pose a higher risk to life and public and private property should they fail. Smaller structures may be inspected infrequently, if at all, creating a threat to public safety. While many of these dams are "low hazard," that is not the same as no hazard. Failure of small dams has been known to wreak environmental damage and cause significant downstream damage to things like driveways or roads.
There are also social behavior issues surrounding dams, which confound safety concerns. People seem to love to play on, in, and around dams. Paddling, fishing, swimming, sunbathing. It all seems fun until you get sucked into the hydraulic undertow.
This is a huge problem. How can we begin to tackle it?
There are tens of thousands of dams around the country that no longer serve the purpose they were built to provide and whose removal could eliminate the cost and liability associated with owning a dam. Unless they are well maintained, their condition only gets worse every year. The most cost-effective and permanent way to deal with obsolete, unsafe dams is to remove them.
We support modifications to state dam safety programs that increase dam owner responsibility for dam inspections, as recommended by the Association of State Dam Safety Officials. States that have adopted this approach have been able to ensure that more of their state's outdated and deteriorating dams have safety inspections and that dam owners follow up on the results of those inspections by repairing and maintaining their dams. Owners of dams that no longer function as intended may also find removal more beneficial than the cost of ownership.
Recently, U.S Secretary of the Interior Sally Jewell highlighted the critical need to remove obsolete dams to improve the safety of our nation's rivers. In recent years,  the U.S. Fish and Wildlife Service (USFWS) has expanded their technical assistance capacity in some regions, partnering with local groups like American Rivers in the Southeast to provide design and deconstruction assistance on dam removal projects. This effort has grown from a series of small demonstration projects to what is now a highly capable, trained team of demolition experts within the USFWS who are now able to take on a wider diversity of dam removal projects.
Collaborative public-private partnerships like this are incredibly important if we are ever to address the massive number of obsolete dams still clogging our nation's rivers. Increasing the capacity of federal agencies to actively engage in projects helps to reduce the ultimate cost of removal and increases our ability to address the backlog of problem dams.
Ensuring strong state and federal programs for removing outdated dam infrastructure is a commonsense approach for eliminating hazards, increasing resiliency in vulnerable areas, and restoring our rivers for the people, fish, and wildlife that rely on them.
Help us restore even more rivers in 2017. Make a gift today and your donation will be matched $2 for every $1 you give.