The Art and Fun of Dam Removal: Engagement in Reading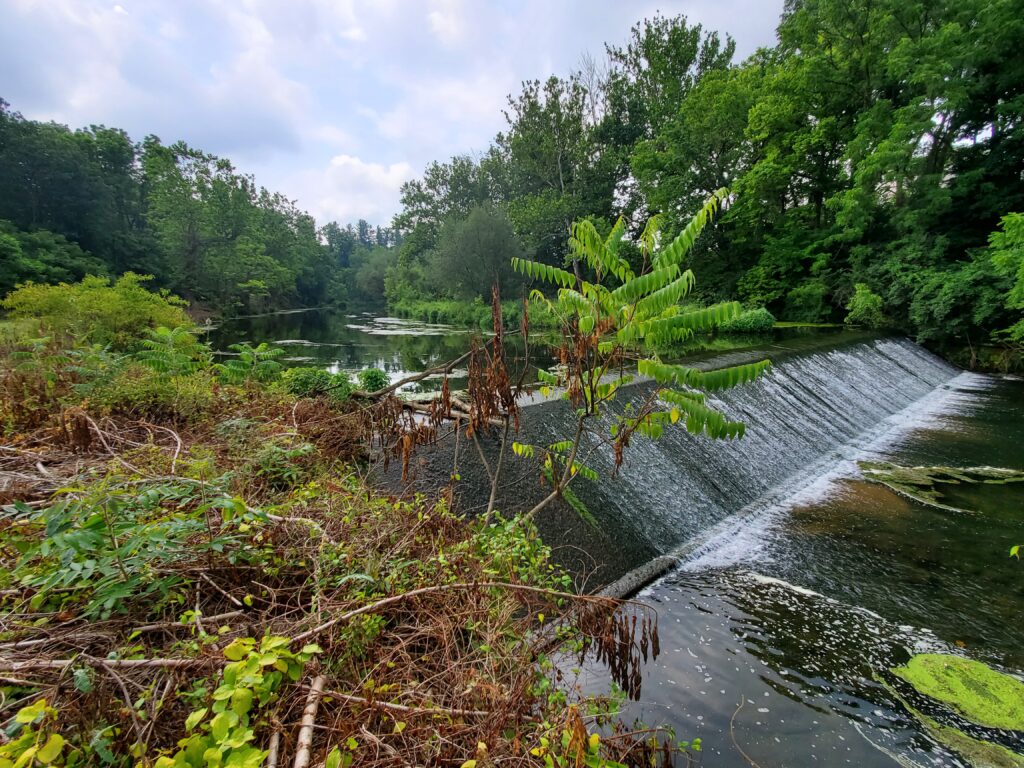 The dam is gone. Now what?
There are many aspects to managing dam removal projects. I seek out good projects. Fundraise for them. Gather partners and stakeholders. Try to lay out the full scope of the project puzzle. Hire and manage contractors. Solve problems. Review designs and work on permits. Keep the project train on the tracks. Chug. Chuuuug… Chug? Chug!
Once we've completed a project, perhaps many years down the road, we want to share it with others! Sharing our example projects can raise awareness of why we remove dams and how our work can help both rivers and local communities thrive.
About a year ago, I shared a sneak peek behind the scenes of the Paper Mill Dam removal project in Reading, PA. This summer, we completed additional site restoration work at the site and completed the project! It looks great!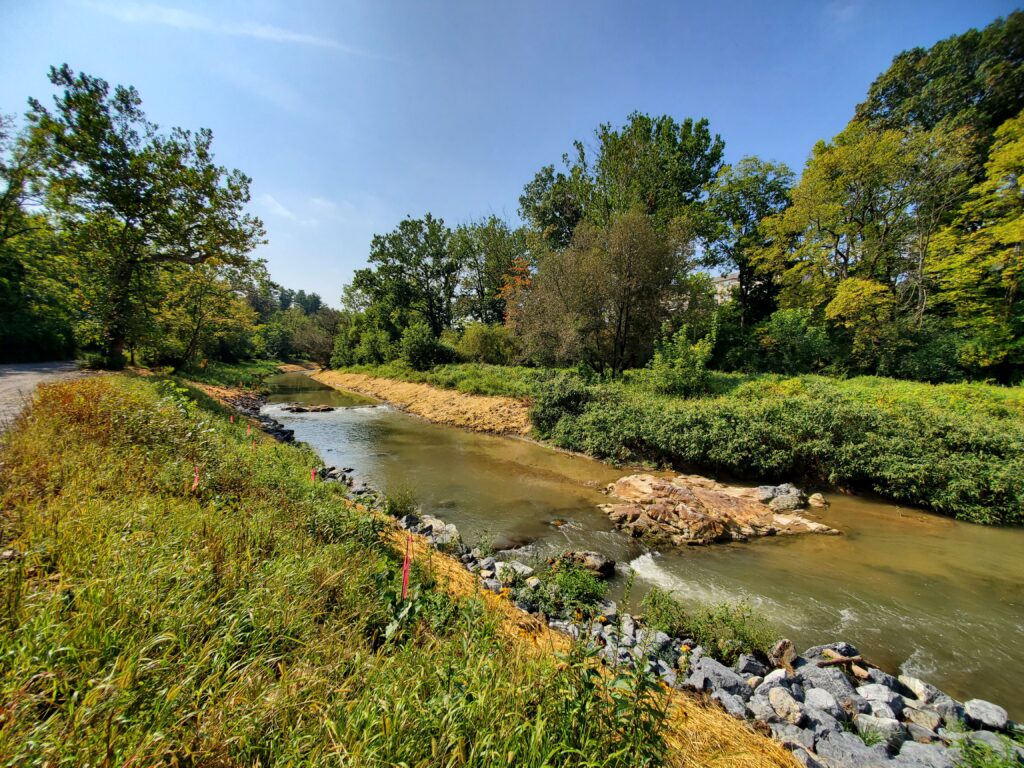 We've also been busy sharing the lessons learned from this project and exploring other avenues to connect with different people about the importance of dam removal. Here are some of those examples:
Good Medicine Event
On June 3, 2023, American Rivers partnered with the Widoktadwen Center for Native Knowledge, Barrio Alegria, Berks Nature, and the City of Reading to host an Indigenous Wellness Celebration for the local community called Good Medicine. We kicked off the event with a Rally for the River, where the public paraded around with giant fish puppets and listened to speakers talk about the importance of protecting our rivers and streams in support of their own health and wellness. The puppets were made by Albright College's Artist in Residence, Michael Miller, and kids from the local community.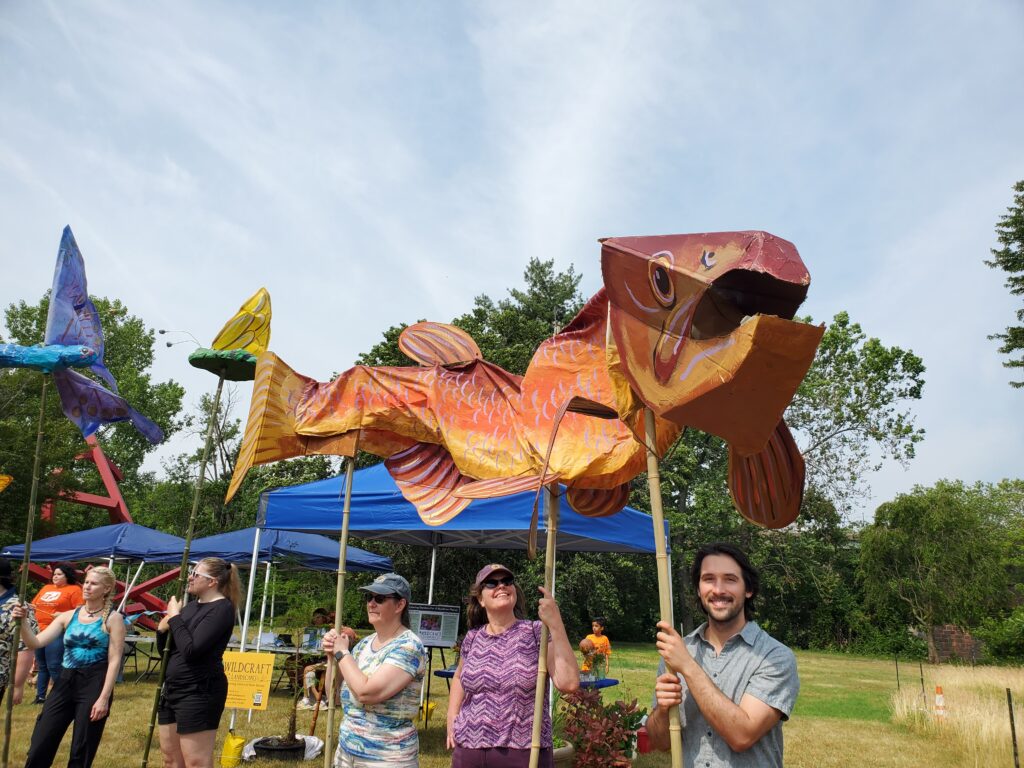 After we were all inspired at the rally, American Rivers hosted a fun Dam Bustin' Photo Booth at our information table. We talked with many people about why we remove dams and how they can get involved in their community. The adults and kids alike had a great time bustin' a dam on the Klamath River.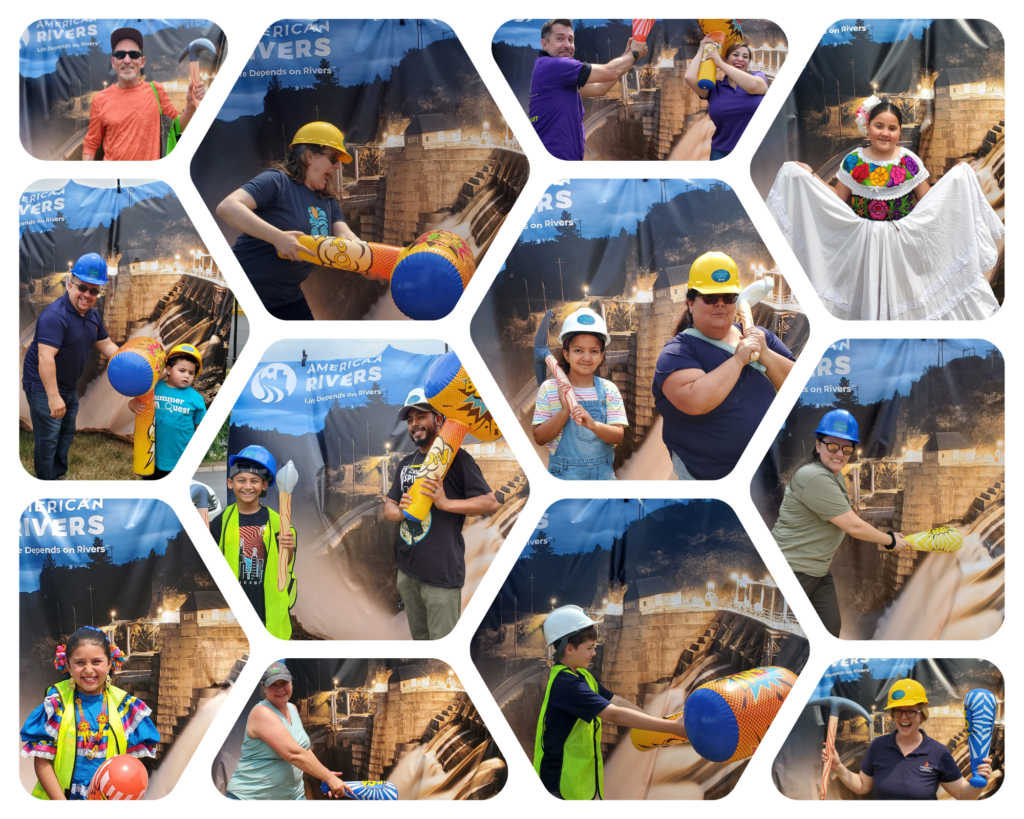 Meanwhile, Michael Miller worked with other community members to refresh a mural along the river.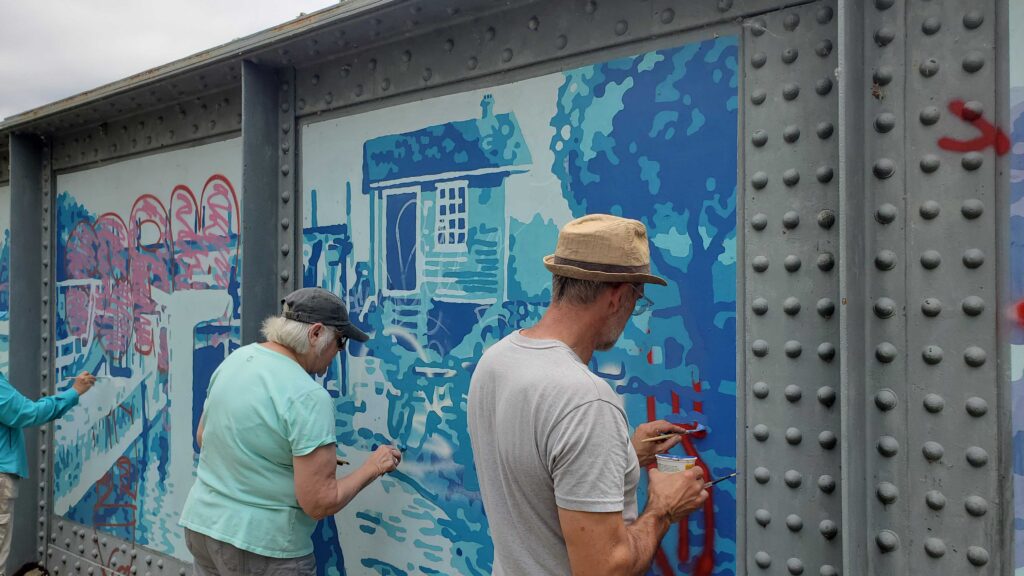 Later in the day, we had a wonderful dance performance from Barrio Alegria's Grupo Uarhani. This group is comprised of local students who are inspired to share traditional Mexican folkloric dance with the public. They really did a lovely job sharing this form of dance that many people had never experienced before. Prior to the performance, American Rivers supported Barrio's efforts to get Grupo access to the park for rehearsals. Barrio Alegria wants to frame the use of public spaces, "as an example of how this natural attraction in our city can be used to amplify beauty, light, elegance, and excellence." We just love that!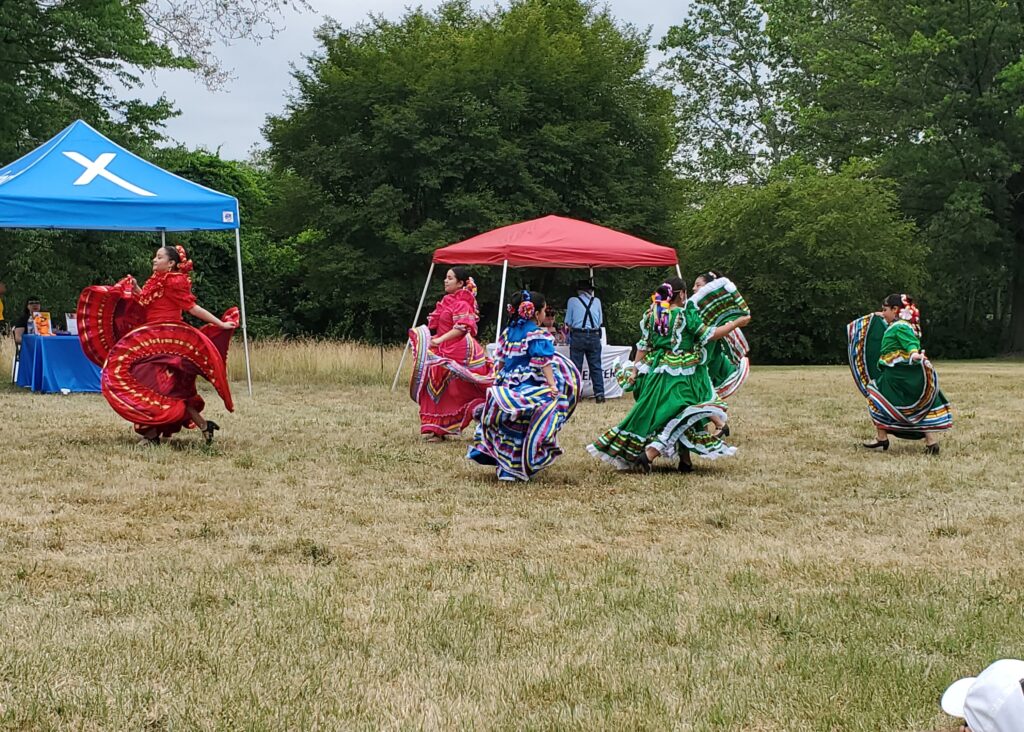 In case you are wondering, people indeed were out on the river splashing around and having a great time.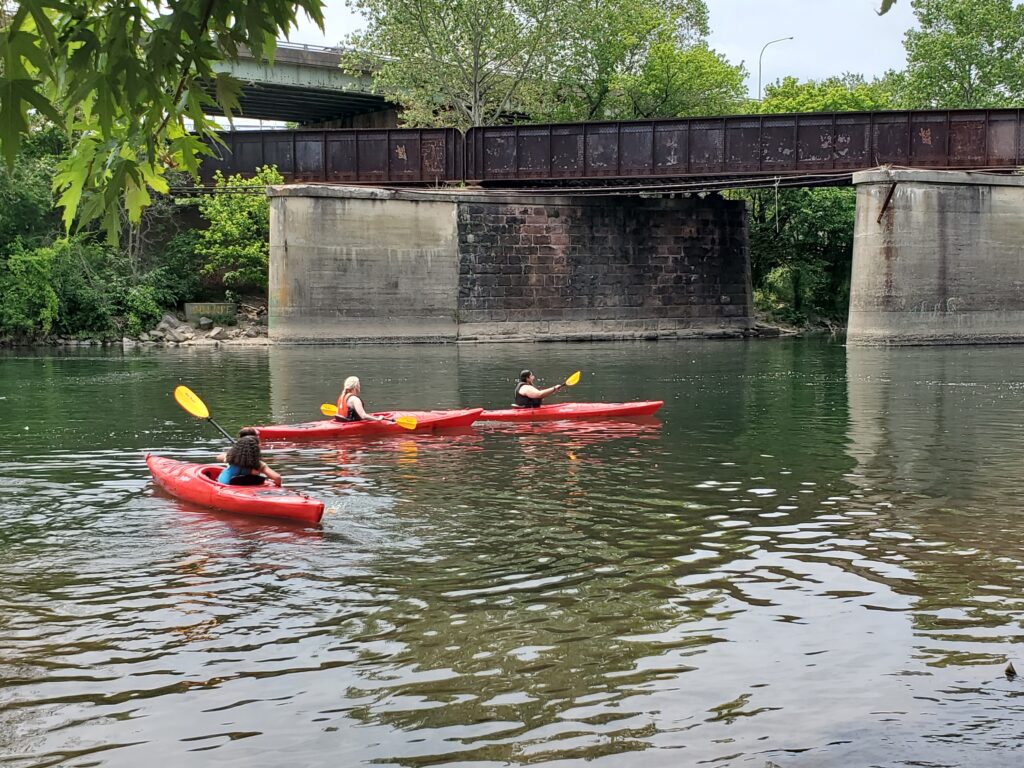 The merging of art, Indigenous knowledge, and connection to the river at this event was inspiring!
Nahi Downstream Brochure
One of the outreach items that we were required to do through permitting was to create an interpretive sign about the Paper Mill Dam removal. Our partners at Berks Nature took the lead on developing that sign and have since installed it along a nearby public path.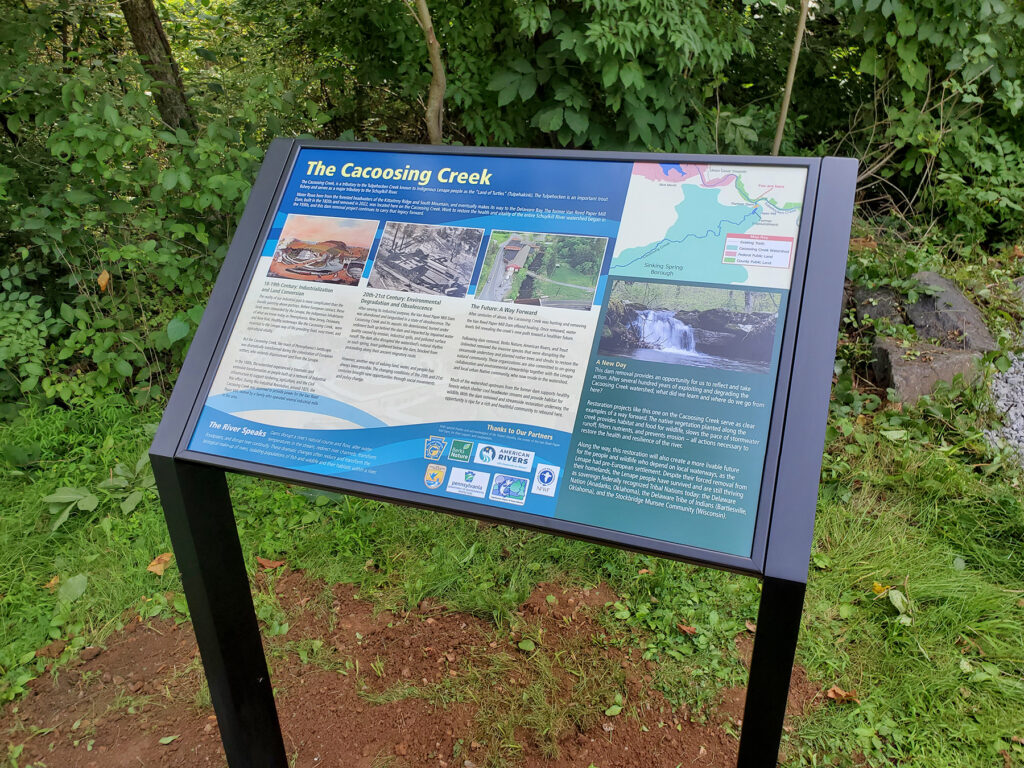 Over the course of conversations about the sign, we realized that we did not have enough space to convey all of the information that our Indigenous partners were interested in sharing. We began to think about other ways to get that information out to the public and decided to collaborate with the Widoktadwen Center for Native Knowledge on a brochure called, Nahi Downstream: An Indigenous Perspective on the Future of Southeastern Pennsylvania's Watersheds. The brochure was written by an Indigenous writer, Paige Willett (Potawatomi Nation), designed by an Indigenous graphic designer, Shana Mofarrah, and printed by Tribal Print Source, a tribally-owned non-profit print and training facility. We are so pleased with how the brochure turned out and hope it inspires those who read it to steward their natural resources, gain an understanding of Indigenous ways of thinking, and reconnect with rivers.
Youth Fishing
In April 2023, we partnered with Berks Nature on a fun youth fishing event in Reading with the local Boys and Girls Club, Barrio Alegria, and others. We had about 60 kids out there learning how to fish, plus at least six adult volunteers, not counting staff. We were able to provide fishing kits, bait, water shoes, and a pizza lunch for all of the participants. The kids received instruction on how to put their equipment together, bait their hooks, be safely aware of others while fishing, and learn about why it is important to have clean water and healthy rivers. The kids really jumped right in, and stuck with it pretty well, considering the fish were not really biting. Still, we had a great time learning about fishing!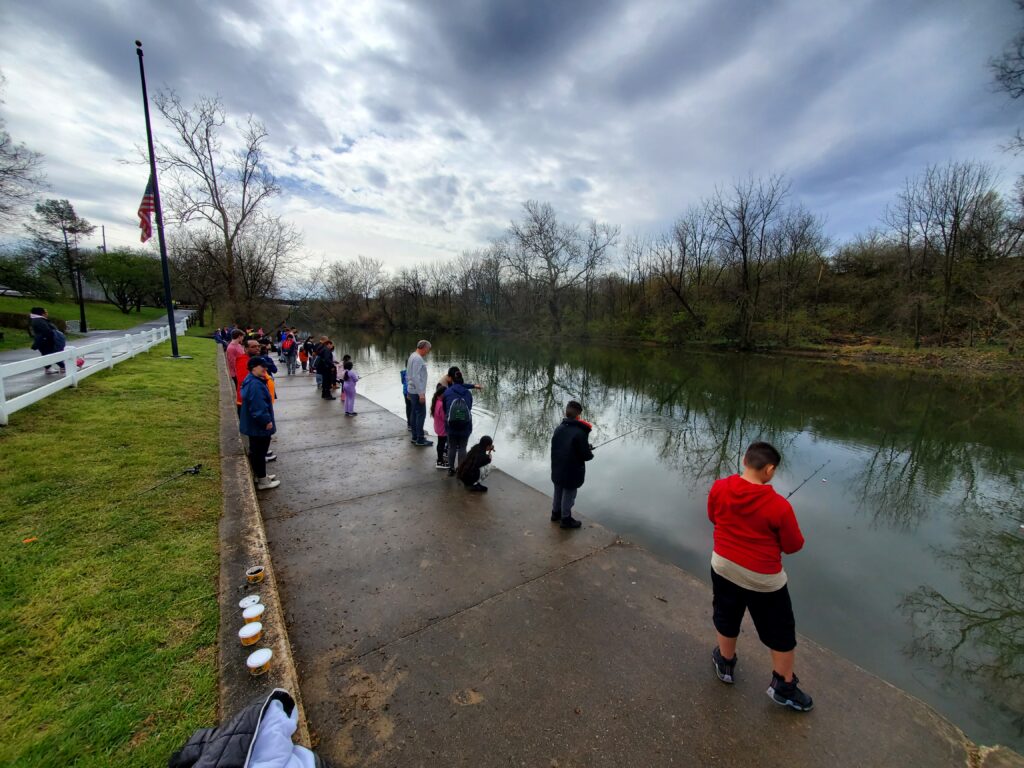 Tree Planting
On a very wet day back in April, Berks Nature took community volunteers out to the Paper Mill Dam site to plant trees. They planted 164 riparian species, including red maple, black willow, redbud, sycamore, river birch, and others. Then, in the fall, they planted another 209 trees, including many grey and silky dogwoods. Soon, the site will have a nice riparian buffer established to help protect the river from runoff from the roads.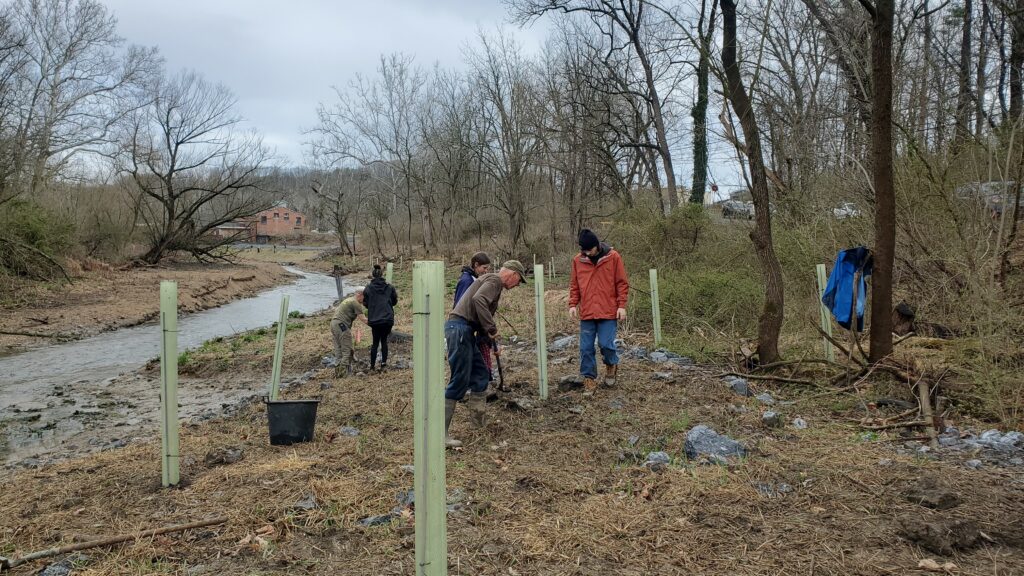 Project Presentations
Lastly, we have been sharing the results of this project with other practitioners as a case study. We feel that it is important to share both the ups and downs of our projects with others so that we can all learn from what works and what does not on projects. No project is perfect. There are always nuggets that we can take away for future reference. We shared presentations on this project at the National Stream Restoration Conference, PA Organization for Watersheds and Rivers Conference, and at a project manager training event in New Jersey.
We are so grateful for our partners at Berks Nature, Widoktadwen Center for Native Knowledge, Barrio Alegria, and the City of Reading for helping us reach the local community to talk about the importance of river restoration.
If you are interested in learning how to manage dam removal projects and are located near the Delaware River Basin, we will be having a dam removal project manager training event March 26-27 at the Jacobsburg Environmental Education Center in PA. Let us know if you are interested in attending!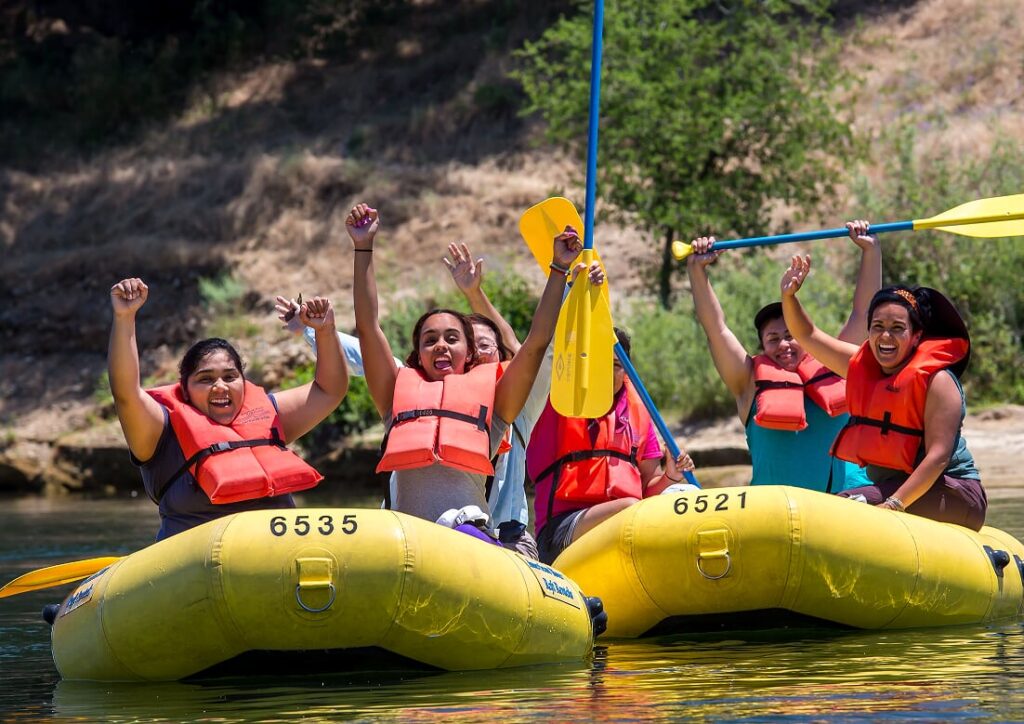 Let's Stay In Touch!
We're hard at work for rivers and clean water. Sign up to get the most important news affecting your water and rivers delivered right to your inbox.