Peek Behind the Scenes: Van Reed Paper Mill Dam Removal
The story of the Van Reed Paper Mill Dam removal project began more than 10 years and two staff coordinators ago on Cacoosing Creek in Reading, Pennsylvania. But in some ways, it began in the 1800s when the mill was in full operation.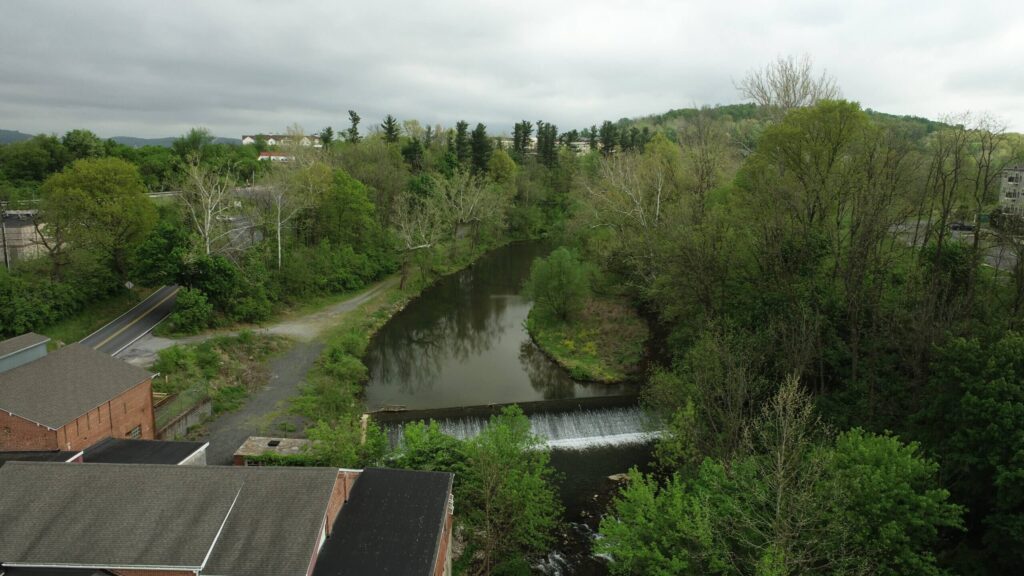 Sometimes the threads through our project work loop around in seemingly random yet occasionally beneficial or surprising ways.
The story of the Van Reed Paper Mill Dam removal project began more than 10 years and two staff coordinators ago on Cacoosing Creek in Reading, Pennsylvania. But in some ways, it began in the 1800s when the mill was in full operation.
The thing about dam removal projects is that you don't always know what the path will look like between the start and the end. Getting from here to there, that path can be interesting, frustrating, exciting, challenging, enlightening, and so many other things that make doing this work so fulfilling. The journey is not wasted (although you may wish at times that you did not have to take a certain meander).
So, the journey.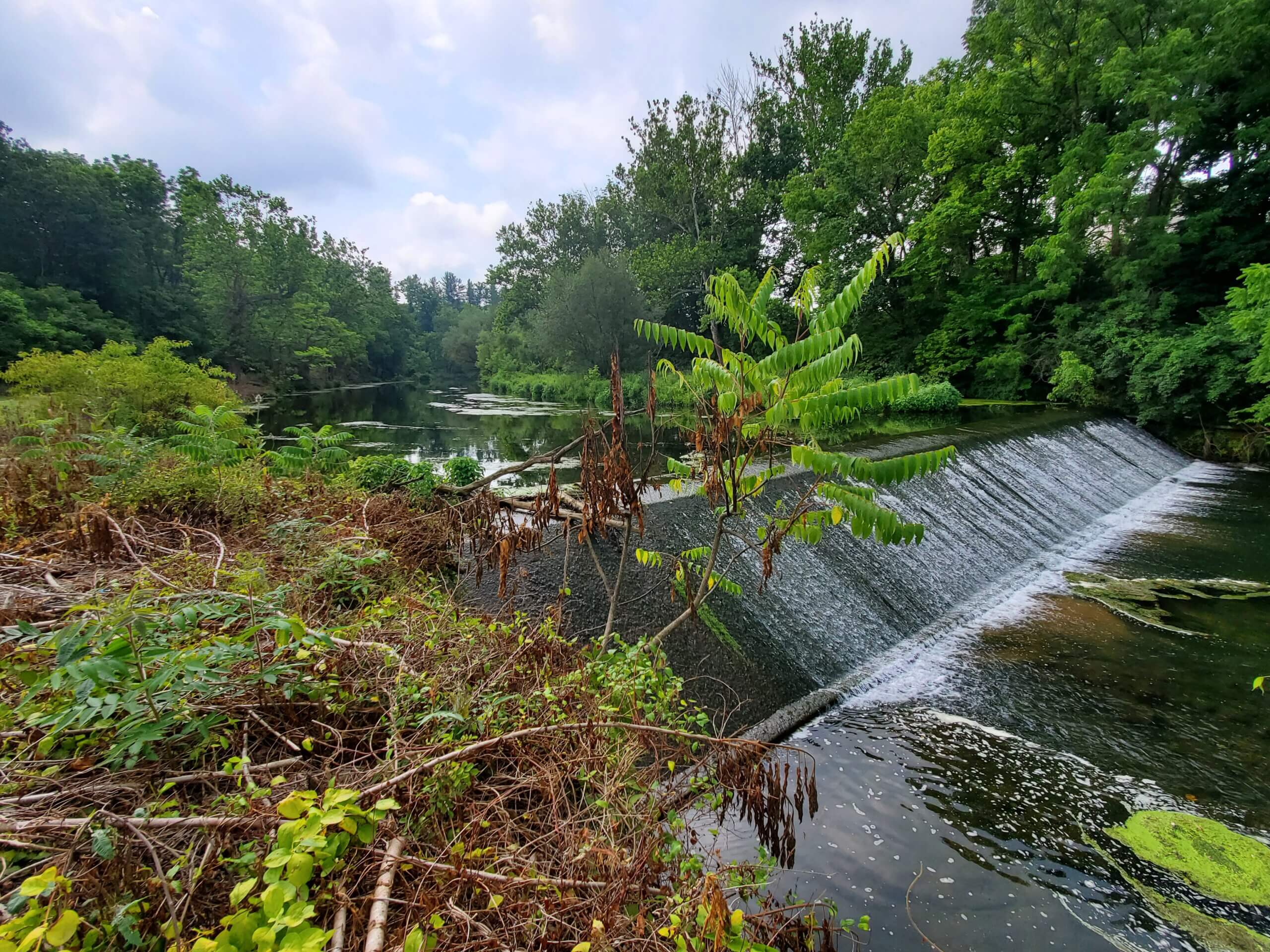 There it sat in 2019. Paper Mill Dam. A relic of a former time. At least seven years of project history behind it already (we'll get to some of that). The permit package had been submitted, but there were UNANSWERED QUESTIONS on the design. No one wants to deal with those. So procrastination sets in. And so it was that I picked up this project. Just get it done. Easier said than… well, you know.
I get the answers. We get the permits. Someone else already did the fundraising. So, we just pull the sucker out, right? Wrong. There I was, rolling along— hired a construction contractor (Flyway Excavating) and construction oversight engineer (Kleinschmidt). I have a baby (awwww). I come back from maternity leave ready to hit the ground running. We all go to the pre-construction meeting to walk through the plan before the actual work begins and representatives from the neighboring homeowners association (HOA) appear on the scene. We had been planning to dispose of the dam material in an existing open concrete basin on the opposite side of the river from the mill. The dam owner, Rob Marella, had an agreement with a builder to be able to use that bank along the river. The HOA did not want to adhere to that agreement. You see, these are the crazy things that pop up when projects take so many years to do.
I'll back up a little further in the story to explain why it took so long to get to this point. It wasn't just the UNANSWERED QUESTIONS. You see, when they built the neighborhood across the river, the dam owner allowed them to install a natural gas line upstream in exchange for his use of the opposing river bank downstream. When conversations started about removing the dam, it took quite a lot of back and forth negotiation (i.e., years) with the natural gas company to come to an agreement on the design approach in the upper end of the impoundment where the gas line was located. We thought that was all settled, then LOOP here it comes back around with the HOA.
So, we had built in some contingency funding, but as costs go up over time, it was not enough to cover a change the design plan to haul an unplanned amount of material offsite. So, the project goes on pause. No construction for me in 2019.
We go through a period of problem solving—what are our options for disposing of this material? Where can we get additional project funding? (It turns out that raising funds for this project was not easy to begin with. Many thanks to our steadfast partners at Pennsylvania Fish and Boat Commission and Pennsylvania Department of Environmental Protection for their contributions to the project.) We develop an on-site disposal plan. That does not ultimately work out.
It took some time, but fortunately with the support of our amazing local partner, Berks Nature, we were able to secure additional funding from the National Fish and Wildlife Foundation's Delaware River Program. Whew! Okay, we can get back on track. However, our access point is still through the HOA property. No problem, they told us it would not be an issue as long as we found another disposal option. So I go back to the HOA. Crickets. For months. And months.
This is why you need good partners and contractors. Flyway told me they would figure out how to access the dam from the "hard side." They did it too.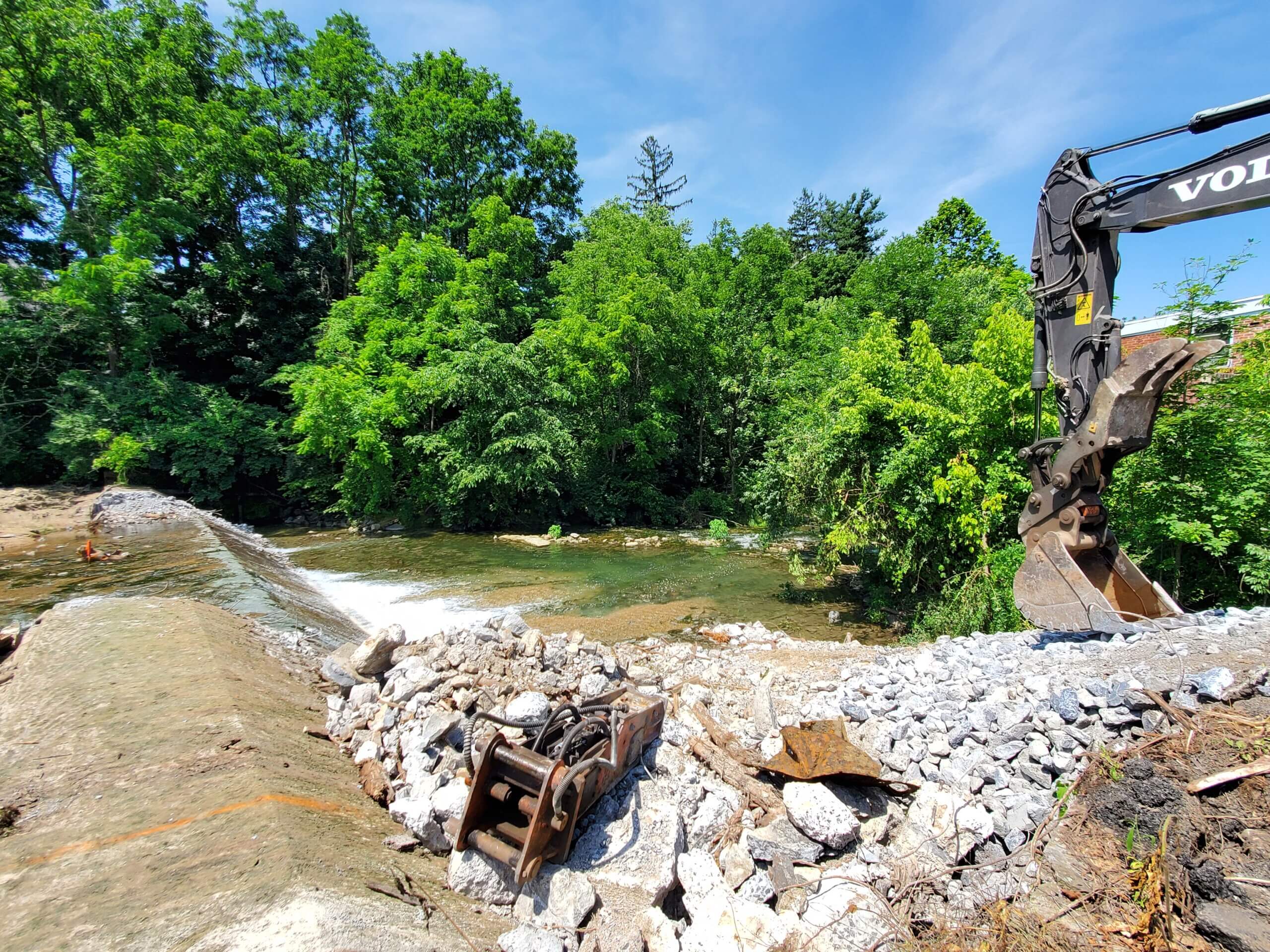 Finally, June 2022, construction begins. I can't even allow myself to celebrate. I am waiting for the other shoe to drop. (Other people: "Are you excited?" Me: "Perhaps? <nervous laugh>".) At American Rivers, we share "WOO HOOs" amongst our staff. I cannot WOO HOO this yet.
A good chunk of the dam is removed. Now, this project was permitted with a passive sediment management approach, which means that everyone anticipated that a volume of sediment would be released. These rivers of central PA move lots of sediment. They are dynamic. Dams trap sediment then some amount of it scours out during big storm events. They are not a permanent storage solution. And the volume released at this site can be handled by the downstream river. But the general public often does not know about all of these dynamics.
In the meantime, I am having conversations with Amy Kober who leads our communications team and our partners at Berks Nature about when and how we should share news of the dam removal with the press. (It turns out that Amy has a fascinating history with this dam in a surprising LOOP that goes back generations. Check out her story in The Revelator.)
Y'all, the shoe drops. Or the YouTube video, as it turns out.
From a concerned fisherman. Not that I blame him. The outreach for the project was done years before it actually happened (because delays). Anyway, someone saw sediment moving down the river and got very upset and made a video about it.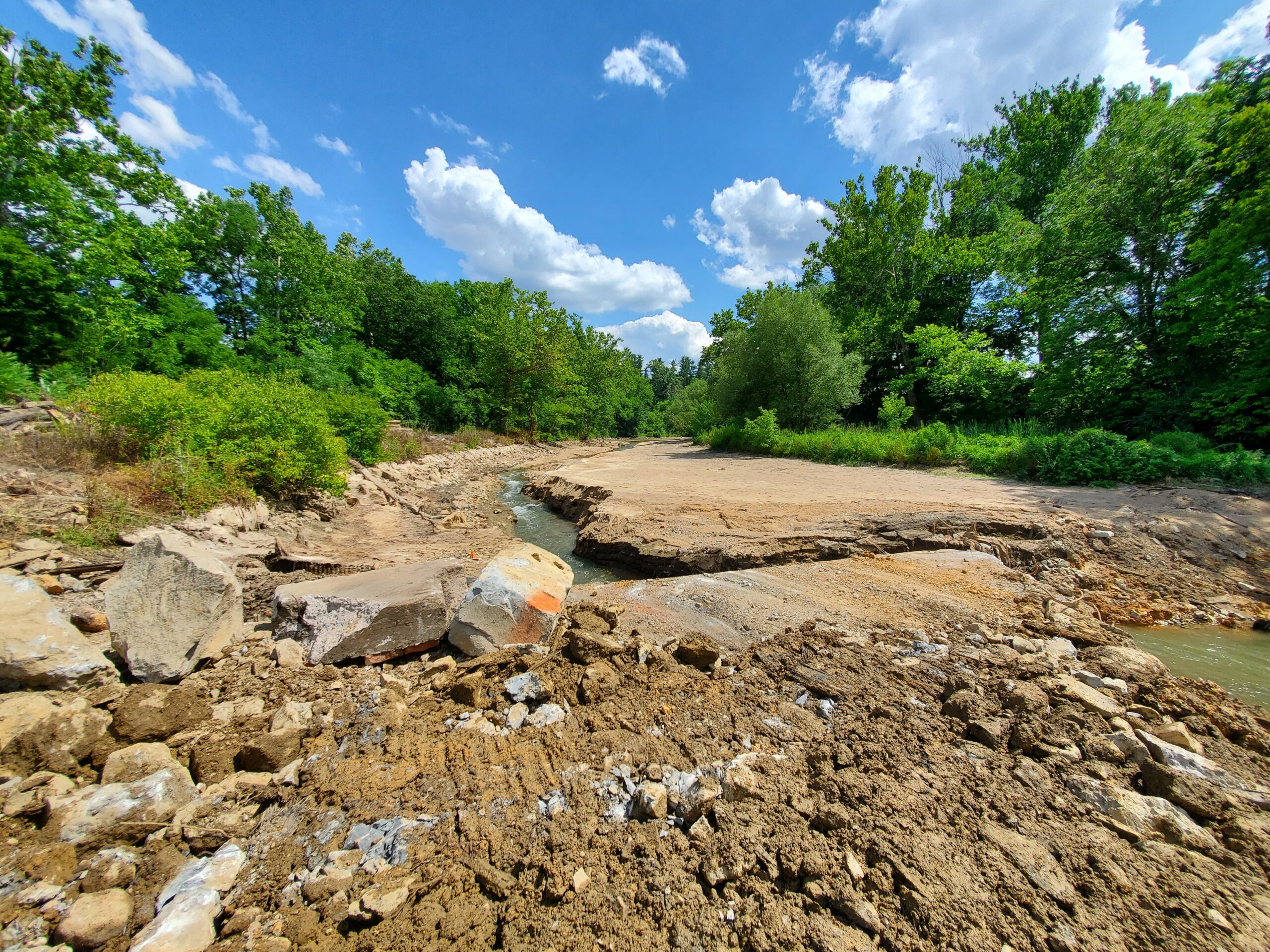 The video starts flying through the dam removal community in Pennsylvania. PA Department of Environmental Protection is not happy. We must initiate a change of plans. The ghosts of the Kehm Dam project are coming back to haunt me.
We can't let all of this sediment go downstream. What are we going to do about it? Initiate problem solving mode. Gather the brains together—engineers from Inter-Fluve (the original designer), Kleinschmidt (the construction monitoring firm), Flyway Excavating (the implementors), and me (oy…).
We talk through possible options at the site. It turns out that the additional fundraising I did will come in handy (those lemons turn into lemonade when you least expect it). We develop a plan of action. We decide to haul some of the sediment off-site. We employ additional erosion protection measures along the bank. We adjust some of our other previous plans that no longer seem to make sense for the site. We find some bedrock (yay! We love bedrock. Very stable.).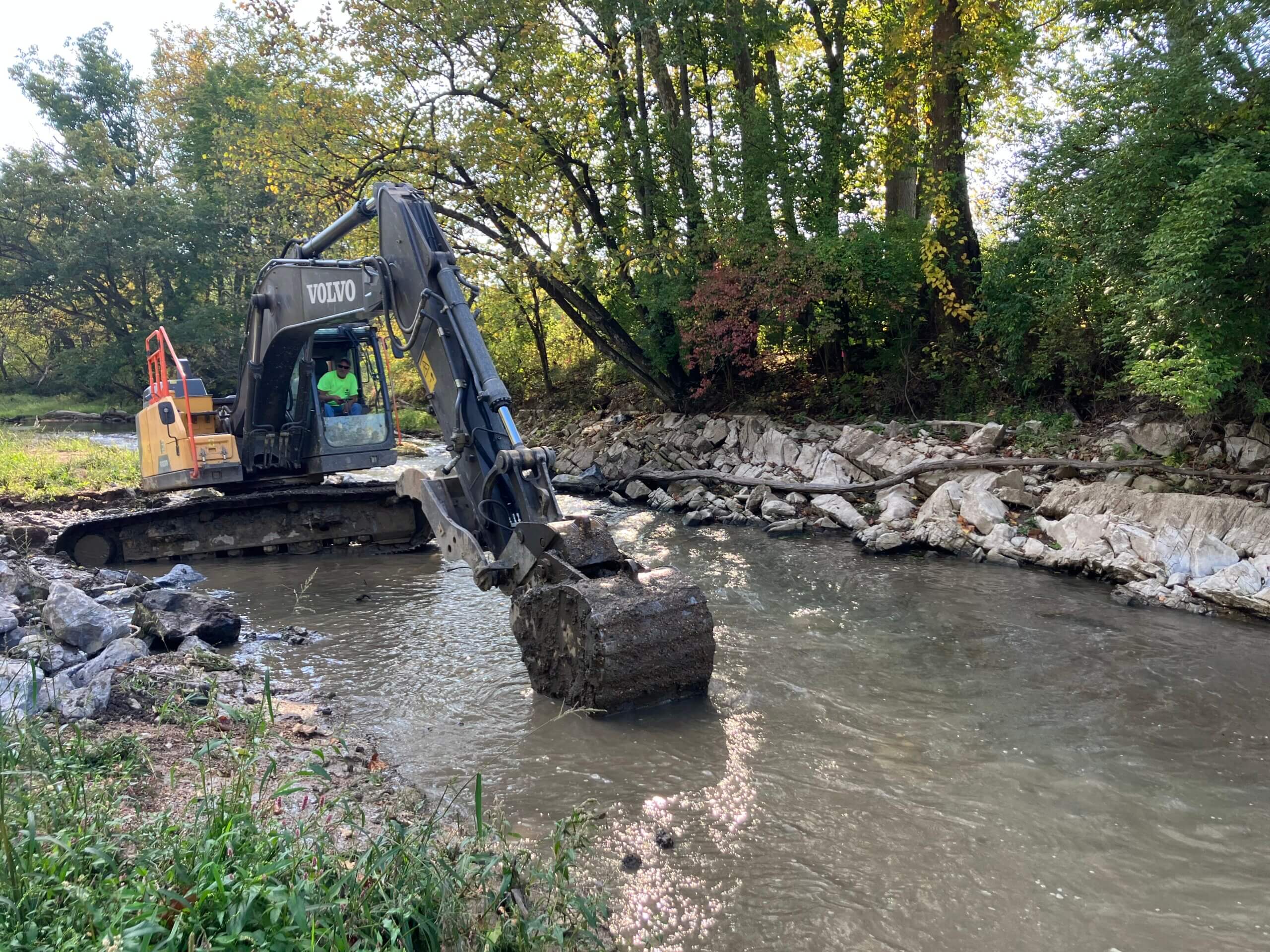 One more hurdle though. There is a closure window for in-stream work that starts on October 1. It is nearly October 1. We reach out to the PA Fish and Boat Commission and request a waiver to work during October. The Commission agrees that it would be better to do additional work now than wait until next year, as it is early in the closure window and impact to fish should be minimal compared to benefits, so they grant the waiver. (Whew!)
October 17. The second phase of construction work is done. The site is evolving nicely. The river is adapting to its new normal as we expect it to. Unfortunately, I can't see the finished product yet as I am having a back problem. This is why it is great to have good contractors.
So, we finally made it. It's still rough looking, but once it fills in with plants, it will be a beautiful free-flowing stream once again.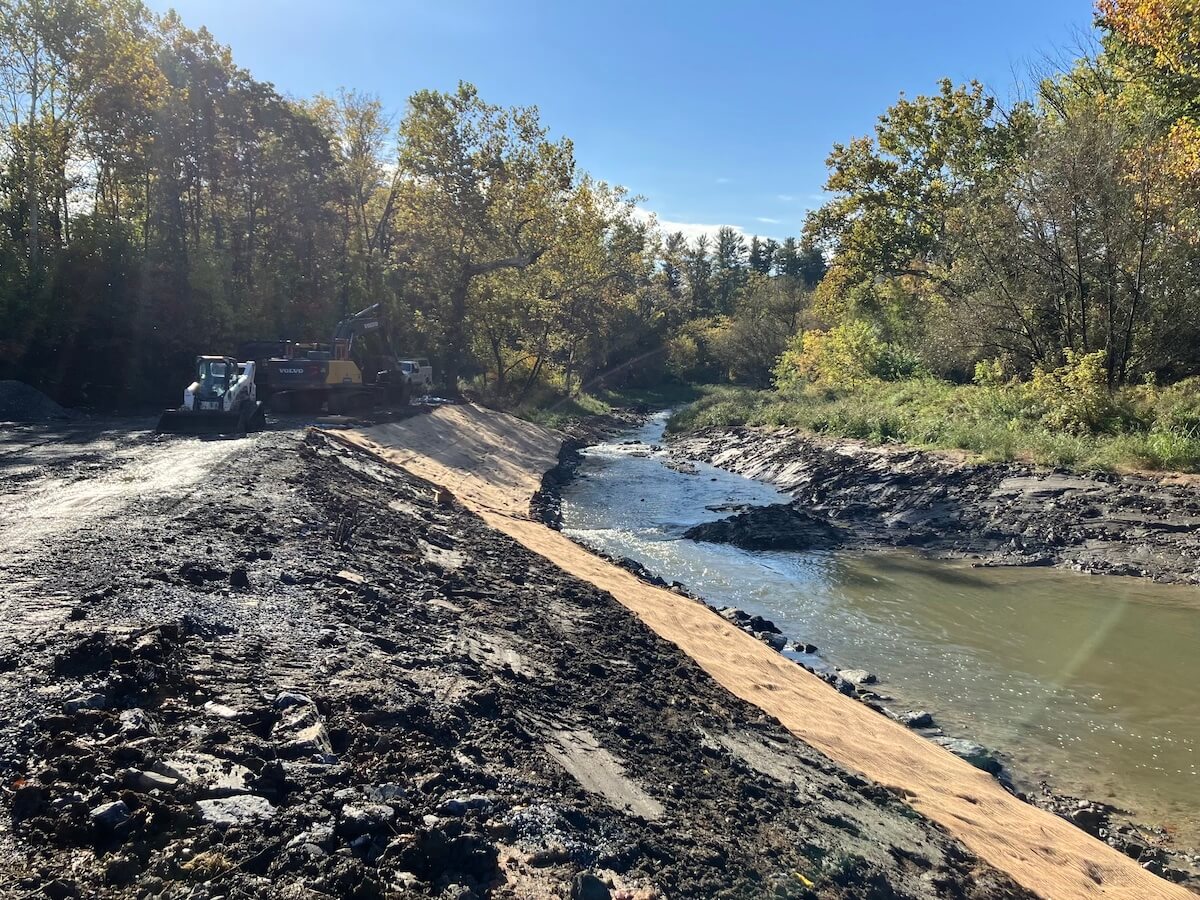 By the way, the dam owner, Rob Marella, was very patient over the course of these many years. For that I am grateful. I hope to see his vision of a revitalized mill restaurant come together.
Now we see what happens over the next few months and meet back in 2023 to see if any additional work needs to be done.
Lessons Learned
While I have taken much away from this project, I want to highlight a few key lessons learned:
Always plan for the unexpected. You never know what unanticipated issues might arise, so build contingency funding into your grant proposals. Costs are constantly rising as well, so this is critical. Then when the unexpected happens— don't panic. Just start working through your options to address the hurdle.
Have a confident project team. Being able to trust your team in times of challenge really helps to alleviate anxiety and stress. You are not an island and you do not need to know everything in order to manage a dam removal project. Good leaders know what they don't know and find people who do.
Community outreach is essential. People are more comfortable when they can put a face with a project. Ultimately, awareness of the concerns of the community will allow you to prepare accordingly, even if you cannot avoid opposition to the project.
Don't give up. Sometimes these projects can take a long time to move from concept to reality. It is important to keep chugging over and through the hurdles. It takes patience.  
Sediment is a thing. There are a myriad of opinions on sediment in rivers and what is good/bad/negligible. For better or worse, Pennsylvania is on the hot seat in the Chesapeake Bay (and to a lesser degree Delaware River) region for issues involving sediment. If there is sediment behind a dam, which there is in many cases in this region, there will need to be conversations about how to handle it.  
It's been a wild ride. More than anything, I appreciate the good partners that we have who help us accomplish this work. A solid team is essential. Without them, it wouldn't happen.