Top 10 Strategies for Climate Resilience in the CO Basin
Experts are sounding the alarm (and have been) about the realities of a simultaneously drying and ever-more-water-demanding West. We must invest in immediate strategies for managing the situation brought on by the climate crisis. A recent report to which American Rivers contributed outlines some such strategies for climate resilience in the Colorado Basin.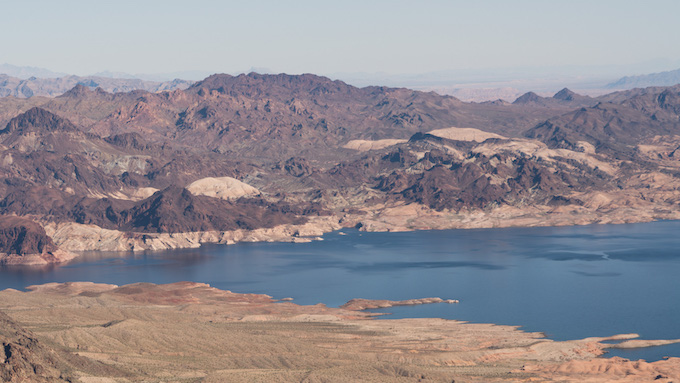 If 2020 and the global COVID-19 pandemic will be remembered for shining a light on the realities of our connected world, then the summer of 2021 will be remembered for the mirror it held up to the realities of a warming and drying future for water in the Colorado River Basin.
We're on the brink of the federal government declaring a water shortage, Lake Mead and Lake Powell have plummeted, and any sign of replenishing flows is precarious at best. But unlike COVID-19, this shortage has been on the horizon for decades. Water managers, scientists, and non-profits like American Rivers are sounding the alarm (and have been), about the realities of a simultaneously drying and ever-more-demanding West.
Concerns about drought and impacts to everything from fish to farmers are not political statements—they're true ones, backed now by a bounty of science. The harsh reality of these truths is that the scale and pace of climate-related changes in the Colorado River Basin pose a gargantuan challenge, unprecedented in the history of water management.
It's not that we haven't made attempts to respond. Certainly, we have. Conservation efforts have long centered on balancing supply and demand, but these are in-the-moment and short-term responses to a very long-term challenge. What we need now is forward thinking strategies to adapt, respond to, and mitigate the steady, compounding, and extreme risks of climate change to economies, communities, wildlife, landscapes, and at the root of all of it—the rivers we rely on.
At this precipice, our future demands that we invest our time, energy, and financial resources boldly and immediately in strategies that will work—that will build for all of us the kind of future we want for our children.
A recent report to which American Rivers contributed entitled "Ten Strategies for Climate Resilience in the Colorado Basin," authored by Martin & McCoy and Culp & Kelly, LLP, outlines those strategies (see below). To arrive at this list of top ten, report authors asked:
Could the investment help the Basin adapt to ongoing climate shifts?
To what extent would the investment reduce pressure on existing water supplies?
Would the investment help mitigate climate change?
Could the investments strengthen economic resilience in communities?
The resulting top 10 investment strategies for a more resilient future are: 
Forest Management & Restoration – Prioritizing forest management and restoration to maintain system functionality and biodiversity
Natural Distributed Storage – Restoring highly degraded natural meadow systems to improve local aquifer recharge, water retention, reconnect historic floodplains, and support productive meadows and riparian ecosystems
Regenerative Agriculture – Promoting voluntary farming and ranching principles and practices that enrich soils, enhance biodiversity, restore watershed health, and improve overall ecosystem function and community health
Upgrading Agricultural Infrastructure & Operations – Upgrading diversion, delivery and on-farm infrastructure and operations, including irrigation systems
Cropping Alternatives & New Market Pathways – Developing on-farm operational shifts and market and supply chain interventions to incentivize water conservation, e.g. shifting to lower water-use crops
Urban Conservation & Re-Use – Incentivizing conservation technologies, indoor and outdoor conservation programs, and direct and indirect potable reuse
Industrial Conservation & Re-Use – Incentivizing modifications and upgrades to reduce water use and increase energy efficiencies
Coal Plant Retirement Water – Purchasing or reallocating water rights from closed or retiring coal plants to be used for system or environmental benefits, or other uses
Reducing Dust on Snow – Improving land management practices to reduce the dust on snow effect — which controls the pace of spring snowmelt that feeds the headwaters of the Colorado River.
Covering Reservoirs & Canals – Implementing solutions to reduce evaporation from reservoirs and conveyance systems
The full report outlines, in detail, not just the near-term next steps for moving these strategies forward but includes demonstration projects, investments and action-oriented research.
But it's important to emphasize that these strategies can't be implemented in a silo. "I" doesn't work in these conditions. We all rely on rivers, and water, and their continued existence. Our ability to count on them well into the future will be dependent upon our willingness to develop cross-sector partnerships and basin-wide funding for these investments that can be cohesively implemented at a scale commensurate to the challenge. Local, state, and tribal governments must be on board. Our private land partners need voluntary measures and incentives, not mandates.
And we can't wait for calls on the river, fallowed fields, and dry stretches to act. These investments in climate resilience for the Colorado River are needed now.