"It's all about community engagement"
Congratulations to the 2019 National River Cleanup® Photo Contest Winner: Westchester Parks Foundation, photo courtesy of Erin Cordiner.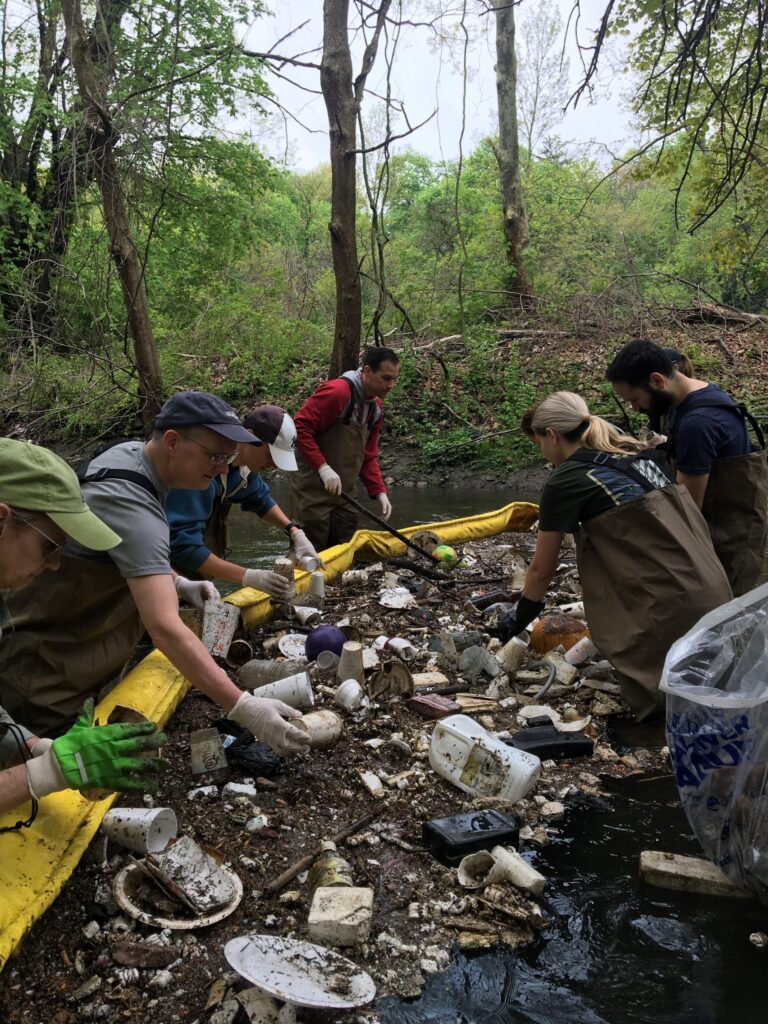 When we first saw this photo, many of us asked the question, "what is that?" or "where can I get one for my river?"
It all started three years ago when Westchester Parks Foundation (WPF) created the "Clean River Project" with a school group in White Plains, NY. The project's purpose is to address floatable trash, a major water quality issue, on the Bronx River.
To do this, WPF installed two booms about 7 miles apart, that float across the Bronx River from bank to bank and supported by cement polls. The booms are comprised of connected floatation devices with a lip that sits half in/half out of the water. Basically, it catches trash floating down the river. After floating for a week or two, the booms end up looking like this (see picture below).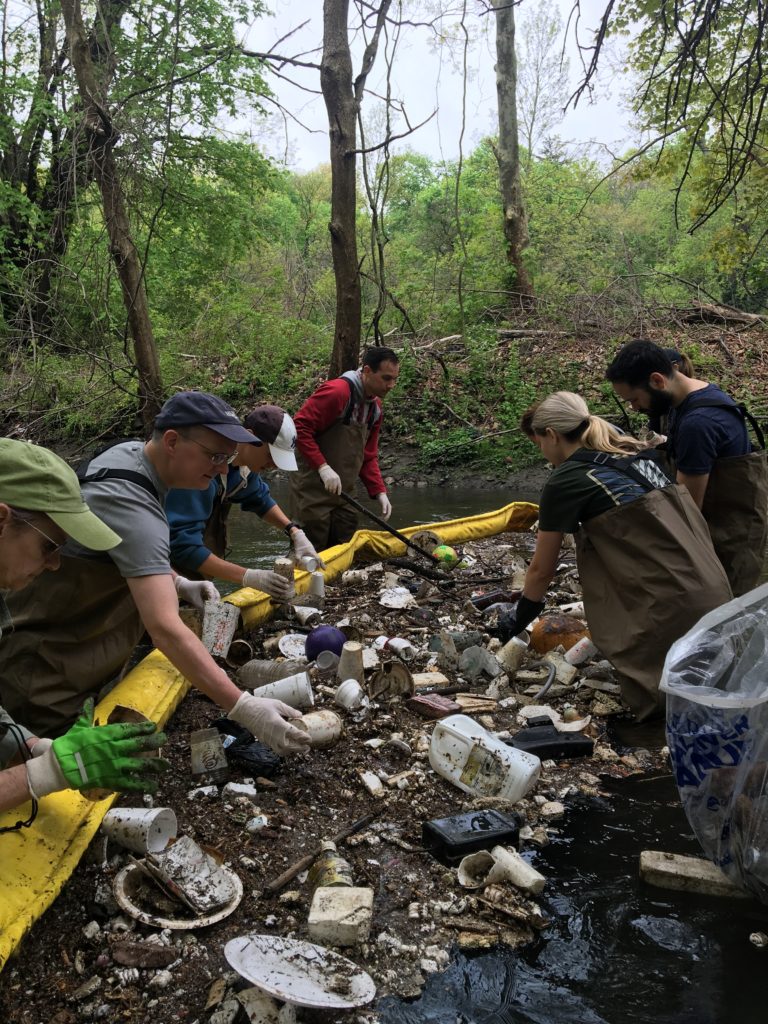 Also featured in the photo are volunteers removing floatable trash caught by a boom. This photo was captured at an event hosted by WPF and Riverkeepers and resulted in around 40 volunteers collecting 5,244 items from the river—equaling 288 pounds of trash. These volunteers together put in a total of 156 hours of work for this cleanup event!
Every other week WPF volunteers arrive on site, slide on their waders and hop into the river to remove the collected trash one by one. This activity happens quite regularly to make sure the booms, and river are kept clean.
As they remove the trash, volunteers count bottles, cans, straws, and more. One volunteer is tasked with recording every piece of trash pulled out. This allows WPF to track the number of pieces of trash and the type of trash. Erin Cordiner, WPF's Director of Volunteer Programs says, "the information we collect helps find the sources and stops trash from entering the river in the first place."
According to WPF, the three most common things found are Styrofoam, cigarette butts and plastics. Sometime this year the high school volunteers will be analyzing the compiled data of their research to propose different strategies to help prevent more river pollution.
To address these issues, WPF engages volunteers by promoting outreach to local businesses whose products end up in and along the river, creating a uniting message surrounding the harm to our waterways caused by non-biodegradable materials.
WPF engages the public to advocate for and invest in the preservation, conservation, use, and enjoyment of the 18,000 acres of parks, trails, and open spaces within the Westchester County Parks system. Their 2019 National River Cleanup® winning photo is only a glimpse into the astounding work that they do every day. During the peak season of April-November, WPF engages with their community with all kinds of events every single day!
It's all about community engagement… and clean parks of course! WPF notes, "Events like these bring together their community, at all ages, and shows them exactly what happens to their trash if it is not disposed of properly. It is a chance for people to really see how trash can wind up in their local parks that they might not otherwise notice. Once you get a few people involved with a local project, it doesn't take long before you are able to inform an entire locality about positive change that is possible through simple acts of volunteering!" They have since been able to expand to two locations with four school groups. They are always looking for more local groups, school groups or otherwise, to get involved with their Clean River Project so reach out to them if you're interested!
If you are an organizer and looking for a new way to clean up and catalog the trash in your river while engaging community members, this may be the project for you. The booms need to be checked regularly to collect the trash. If anyone is looking to do a similar project, WPF invites you to reach out to them. They are willing to offer advice, logistics and more to help you get started.
Congratulations to WPF, winners of the 2019 National River Cleanup® Photo Contest. Thank you for all your hard work keeping our rivers clean!