Exploring Oregon's Wild and Scenic River Potential With Kids
Seeing Oregon's rivers through the eyes of my kids has left an indelible mark.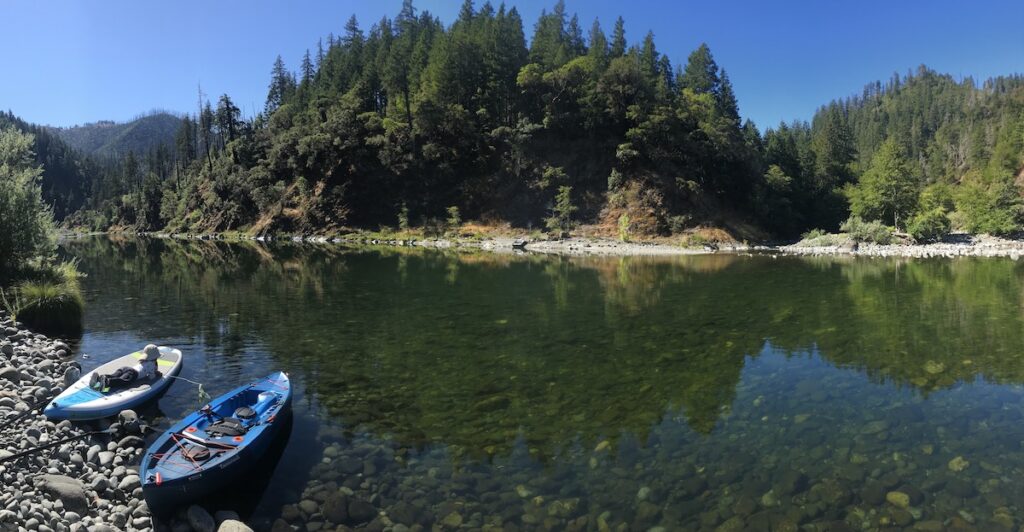 In late 2019, U.S. Senator Ron Wyden from Oregon issued an unprecedented request of Oregonians to tell him which rivers across the state we should protect as Wild and Scenic. He asked us to essentially to vote for the rivers and streams with the cleanest water or most outstanding recreation, or fish and wildlife habitat.
We at American Rivers were preparing to get out the vote. We had well-laid plans to barnstorm the state along with our partners collecting data on rivers, hosting public events and forums to hear from Oregonians rural and urban about their favorite streams and why. When the COVId-19 pandemic hit, and data collection and public forums were replaced by justifiable lockdowns and lifesaving stay at home orders. But we still had to chronicle the incredible richness of Oregon's free-flowing streams and meet Senator Wyden's call to action.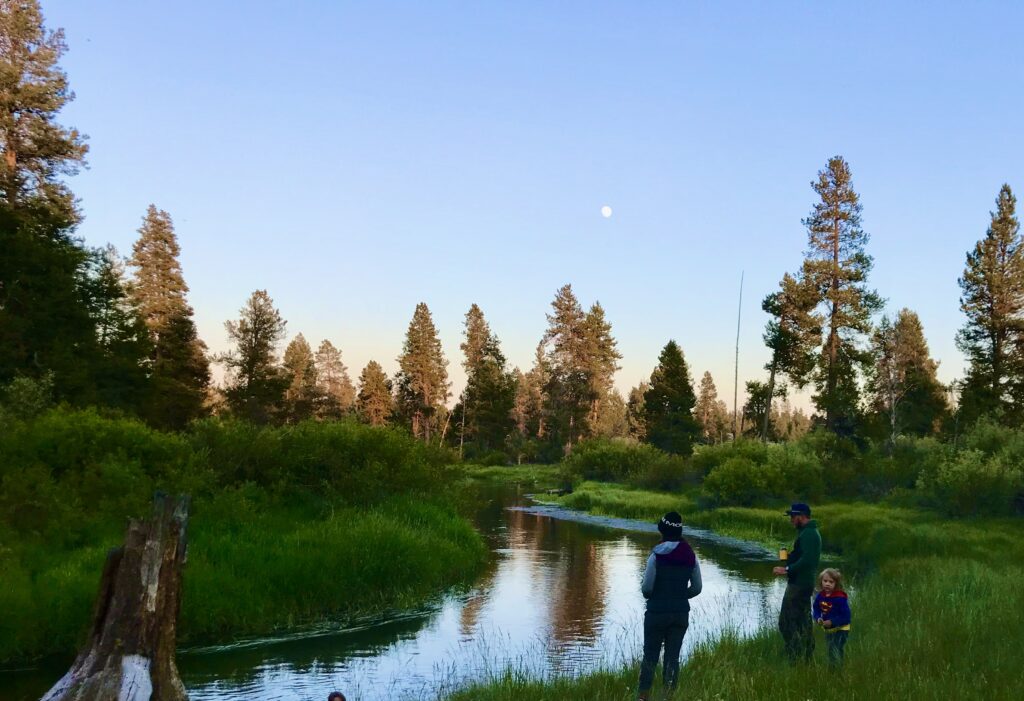 With in-person school, then camps and play dates cancelled for my kids my ability to travel to chronicle these streams without my family was not an option. We needed to get creative, so we came up with the idea of doing 7 "River Camps" around the state. One early summer evening my 4-year-old son and 8-year-old daughter sat around the dining room table and drew circles around rivers a map of the state of Oregon. Some of the trips would be within an hour of our house and some involved 7-hour drives and in-depth 9-day camping trips within a stone's throw from the California or Nevada borders.
Throughout our trips (so far, we've seen 5 of the 7 wonders) we did research on the river dependent native species, the importance of salmon, the shade of old-growth trees, and the indigenous tribes that have called these watersheds home since time immemorial. We saw all kinds of wildlife—birds, bears, deer, and even a cougar swimming across the Rogue River. We even caught an ocean-bright salmon—a miracle that nourished us for days.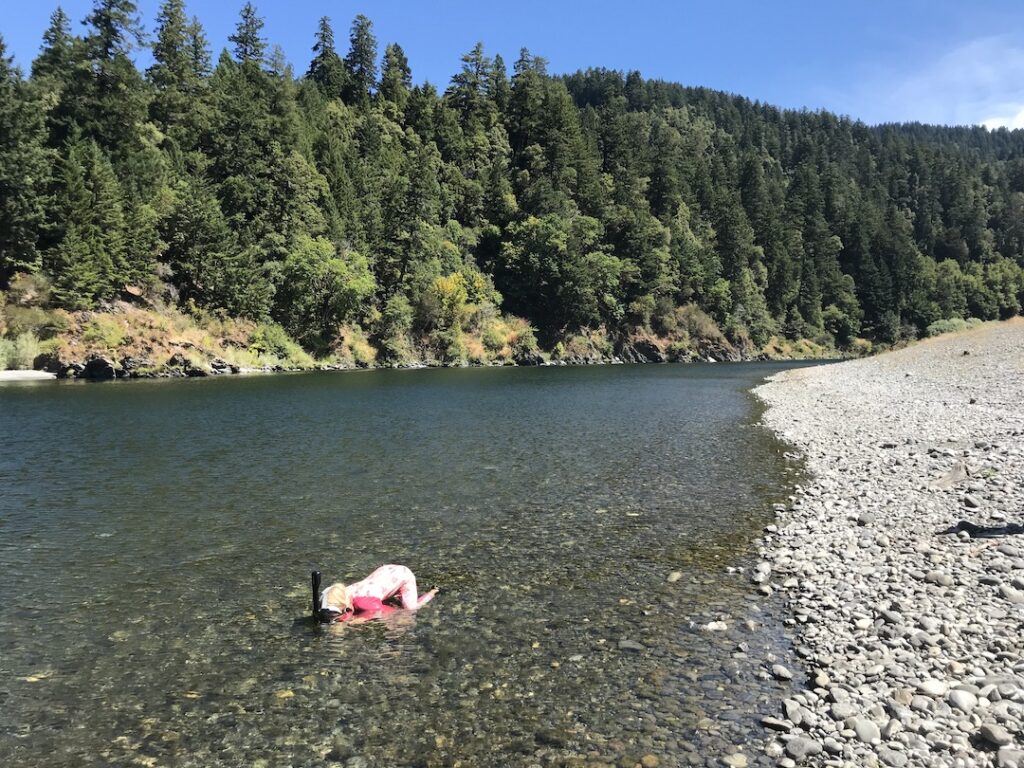 We saw with our own eyes the evidence of why the small streams are so important. My kids snorkeled in these streams seeing baby salmon, steelhead, and cutthroat trout when the larger rivers were so warm that they would be lethal to the same fish. Wading in their waters you could feel the dramatic difference in temperature between ankle-shocking cold small streams and the warmth of the big rivers they flowed into.
Our first trip was to Thirtymile Creek, a tributary creek of the lower John Day Wild and Scenic River located in north-central Oregon. At 281 miles, the John Day is the longest free-flowing river in the contiguous United States and Thirtymile Creek is an essential summer steelhead stronghold. To get to this rugged and remote high desert area isn't easy but it is worth it for the expansive canyon scenery, solitude and fish and wildlife habitat. As we dropped into the steep canyon hundreds of birds could be heard as we neared the creek. In years past, we've seen an abundance of deer that use the Thirtymile canyon for forage and cover.
Miles of Thirtymile Creek were acquired by the Bureau of Land Management several years ago to establish a new public access point to launch multi-day river trips from the Rattray family. Rita Rattray, who still runs shuttles for boaters, was born on the ranch near the banks of the John Day River which she said still looks like it did back then early in the 20th Century. The first time I met Rita and her husband who once outfitted guided hunting and fishing trips on the John Day, he summed up the importance of Thirtymile Creek. He said, "You can run up and down the length of the John Day River to find fish, but there is no need, this is to best 100-yards of fishing on the whole damn river," pointing the mouth of the creek. According to the Oregon Department of Fish and Wildlife fish biologists that were doing surveys of the creek that same year Thirtymile Creek is a stronghold for the summer steelhead, providing essential habitat.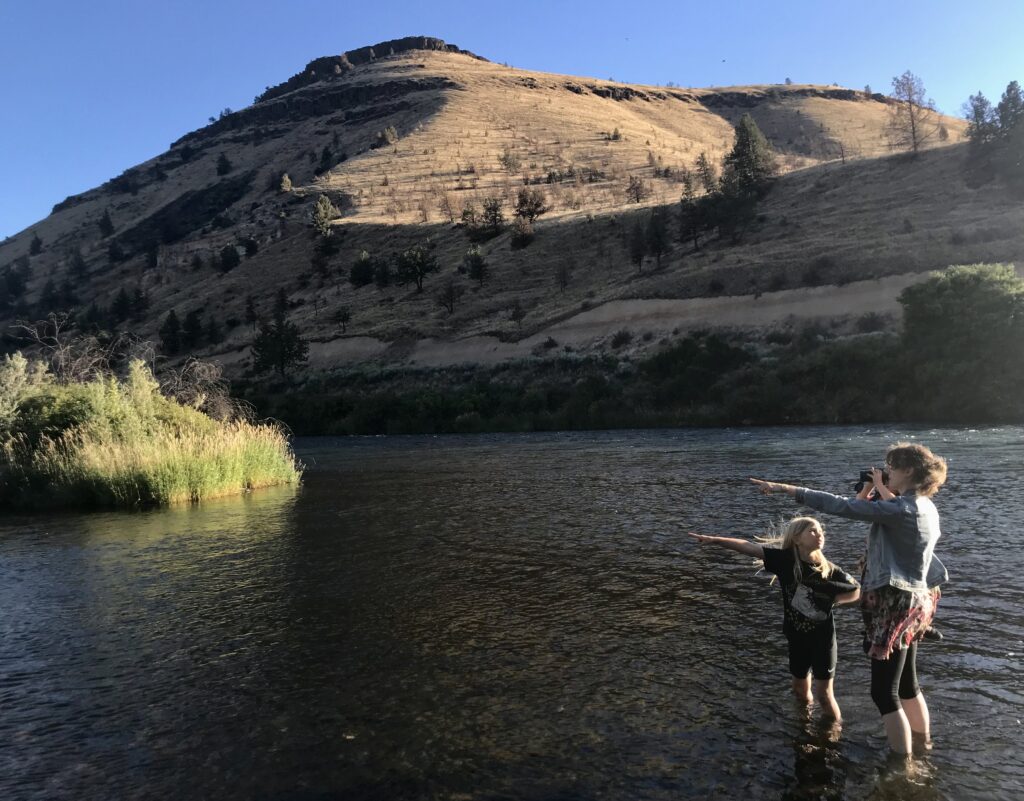 Our second "River Camp" was on the Little Deschutes River, which flows over 100 miles south to north out of the Mount Thielsen Wilderness in the southern Cascade mountains. The Little Deschutes River is home to Redband rainbow and brown trout, resident and migratory birds, and provides essential habitat for the Oregon Spotted Frog which was listed as threatened under the Endangered Species Act. Additional protections for the river will help protect this fish and wildlife and recreation.
My wife's family which has been in Oregon for five generations has owned property, a tree farm, on the Little Deschutes for over 50 years that abuts BLM land and serves as a destination each year for the extended family to camp each 4th of July. The property is named "WUG" after the last names of the three siblings who originally agreed to purchase it over five decades ago. The river has literally connected this family and its friends for generations through family gatherings, weddings, surprise birthdays.
I once met a rancher and head of a central irrigation district in nearby Prineville who was a part of a contentious settlement agreement American Rivers had negotiated. I happened to mention my wife's family property. "You mean WUG?," he said. "I grew up swimming there in the summer." He ended up inviting me to come see his ranch sometime. Every year, this beautiful little river helps knit together the social fabric of our family and maybe the community.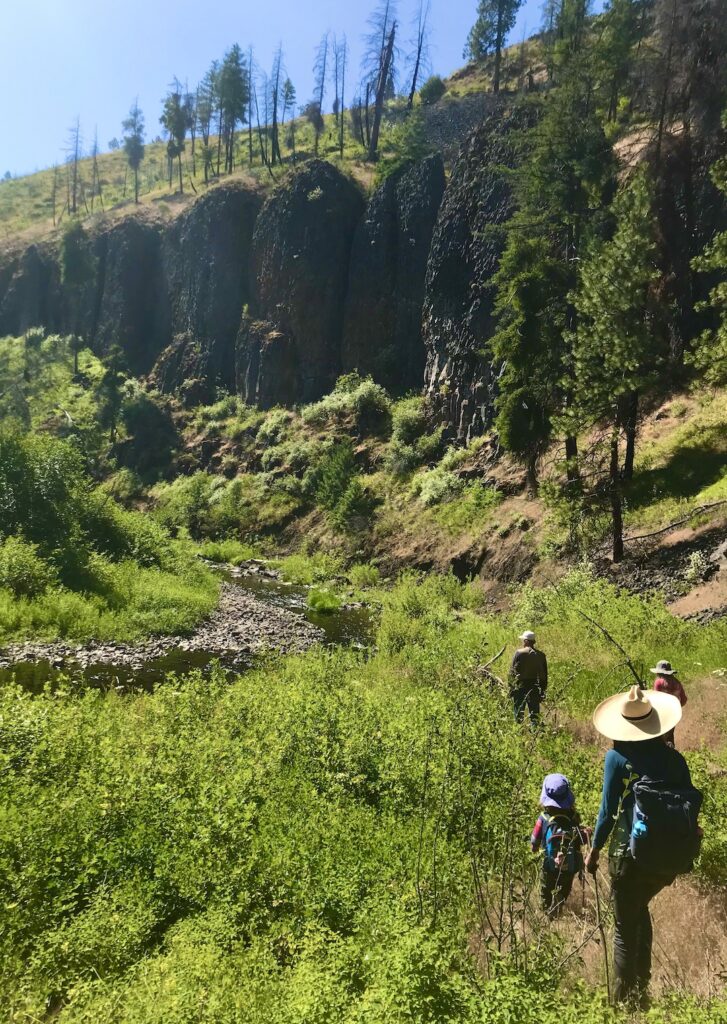 Our third "River Camp" was close to home, only about an hour West of Portland, on the Little North Fork Wilson River that flows into its larger and better-known cousin the Wilson River near the Oregon coast. On this hot September day, the Wilson was low and warm so we could wade across easily from where we parked on a gravel bar. In the rain-swollen winter this gravel bar would have been underwater. We hiked up the Little North Fork and saw a lush river corridor full of birds and walked in the cold water of the river seeing baby salmon and a cutthroat trout of about 12 inches. I was told by fish and wildlife biologists that the Little North Fork is a haven for all kinds of species including birds, deer and elk, salmon and amphibians. After a couple hours of hiking and swimming in the creek we headed back to the car where we found the gravel bar now full of people swimming and barbequing, using this river as a beautiful and no-cost place to spend a summer Sunday afternoon. While they were not there to chronicle the native species that these rivers support, it was a great reminder of the value of a river as a place just to relax with family.
Throughout our travels I learned two major lessons—one ecological and one sociological. First, I came to learn just how important the lesser-known tributary streams are to the larger well know rivers and why they deserved protection. Tributary rivers and streams—Indigo, Silver and Lawson Creeks, the Little North Fork of the Wilson River and Lookingglass Creek to name just a few provide the ecological life support system for the larger, better known rivers such as the Rogue, Illinois, Wilson, and Grande Ronde Rivers. These are the beating heart of our public lands in Oregon. I saw evidence of their importance this on during our travels and will highlight them more in the weeks to come.
Second, I learned the importance of these rivers and streams not just for fish and wildlife, but to the people who rely on them for a free place to swim, camp or fish, a place to sustainably make a living, or for their drinking water. The communities where these streams flow such as Brookings, Tillamook, Post or La Pine rely on these streams for all of the outstanding values that they provide.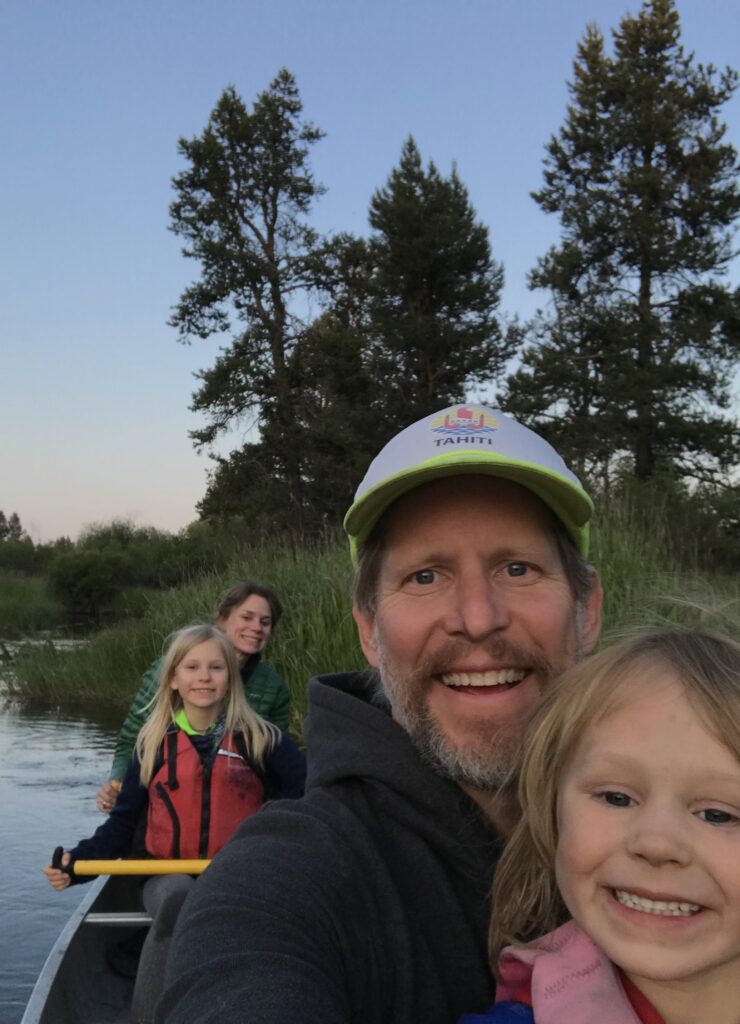 Seeing all of this through the eyes of my kids of course has left an indelible mark on me. Hopefully a little has rubbed off on them. By the end of our "River Camps" it became as clear as the water in the rivers and streams we explored that these are the special places where the earth is already proving resilient in the face of climate change. These are the waters that are worth fighting for, and we have Senator Wyden to thank for leading the charge.
Note: David will be chronicling some of the other rivers and streams he's been exploring under consideration for protection as Wild and Scenic in Oregon.