The Scariest Thing about Halloween?
By making these simple changes to your Halloween habits, you can help keep trash out of our rivers!
This is a guest blog by our Fall 2019 National River Cleanup intern, Callen Creeden.
October is in full swing and with it, the smell of pumpkin spice is in the air, sweater weather is finally here, and neighborhoods are preparing for a takeover of excited trick-or-treaters. Halloween is the fall holiday that every kid looks forward to– dressing up as your favorite character, thrills, and spooky stories, but most of all… free candy! Now, I love Halloween and candy as much as the next person; however, the exorbitant amounts of plastic waste in our landfills, and worse, our waterways is enough to make the ghastliest ghoul shudder. Last year, National River Cleanup® removed 2 million pounds of trash from nearly 3,166 cleanup sites.
By making these simple changes to your Halloween celebration habits, you can stop the trash before it reaches our rivers:
Purchase candies packaged in cardboard boxes, like the type you find at movie theatre concession stands. Look for them in your local grocery store or online. Remind kids to recycle the boxes by writing a little message on the side of it!
Buy chocolate wrapped in aluminum foil. This is another great candy that is packaged in completely recyclable material, let's be honest, you can't go wrong with giving out chocolate.
Hand out fruit like mandarins or tangerines, and if you're really feeling the holiday spirit draw jack-o-lantern faces on them.
Hand out cans of soda. Ditch the candy and bring something different to the trick-or-treating circuit. Not only is it a change of pace from candy, but aluminum is one of the most recycled materials in the U.S.
Reuse a pillowcase for the perfect candy bag! This is much better than buying a plastic candy container and more importantly will most likely hold more candy.
Bring an extra bag with you while trick or treating to collect litter along the way. For the older and competitive kids, offer an extra Halloween prize for whoever collects the most trash.
Opt-out of fake spider webs. The popular outdoor decoration is a hazard for wildlife and are known to trap and injure everything from bees to birds.
Compost your pumpkins! Pumpkins decompose faster if you smash them into smaller bits (and your child's sugar rush disappears faster if you let them do it).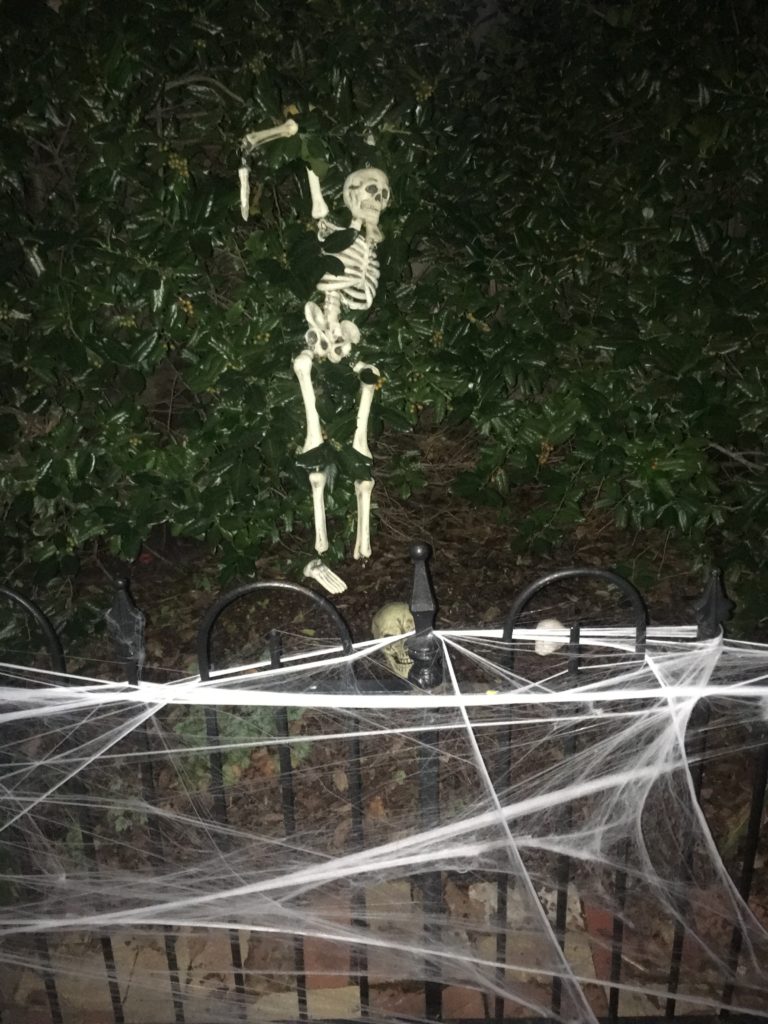 These simple changes to your spooky festivities are sure to get you on every sprouting environmentalist's Halloween map for houses to hit. Post-Halloween, you may come across additional candy wrapper litter. To help minimize your neighborhood waste, think about organizing a candy wrapper collection spot! You can even attempt to reach out to your local grocery stores to sponsor the collection as a communal place to locate the box. Reach out to your local public schools and work with the art department on upcycling the wrappers for creative festive art projects. You can also organize a neighborhood pumpkin collection site for people to compost so less organic waste ends up in landfills.
No matter what you do this Halloween, helping clean our towns, rivers, and the country doesn't have to stop on November 1st. Take the pledge to help keep our waterways clean, join a local river cleanup event, or even host your own!