My Wild and Scenic Dream Wedding
Wild and Scenic river designation is a lot like marriage. It ensures an ability to withstand the test of time.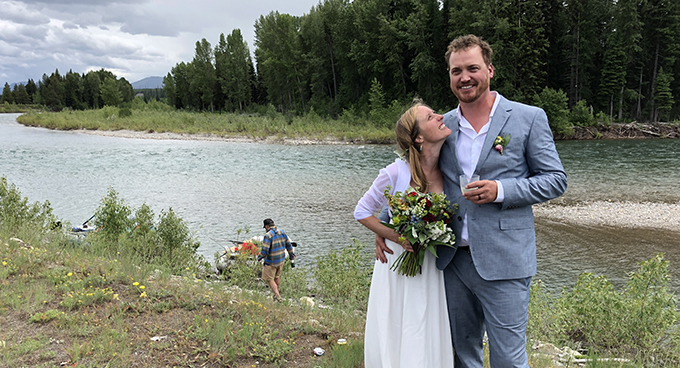 No one ever tells you how fast it all goes by – the ceremony, photos, reception, eating, dancing, crying, laughing. The act of getting married will forever be a blur in my memory. All of it except the river.
My husband, Dan, and I were married on June 30 on the North Fork of the Flathead River in northwest Montana. The North Fork was designated a Wild and Scenic River in 1976. Its headwaters begin in Canada and flow south to its confluence with the Middle Fork Flathead, forming the western boundary of Glacier National Park. There are many reasons we chose this place to declare our lifelong commitment to one another. After all, our love for one another grew out of our love for rivers.
I grew up in Maryland, on the eastern shore of the Chesapeake Bay, where rivers are hard to escape. I worked in river conservation in Maryland for a few years after graduating college, however, it wasn't until moving to Montana in 2011 that I truly developed my current love affair with rivers. The experience of multi-day river trips was something Dan first shared with me, and I quickly became obsessed. Almost every chance we have had together over the years, whether an evening float after work, wade fishing while walking the dogs, or multi-day floats over holiday weekends, we have been pulled to rivers.
Because of this relationship, it was no surprise that we would choose to get married on a river. And not any river, but a river forever protected as wild and scenic.
In the days leading up to the wedding, the weather was predicted to be fair at best – 60 degrees with a 60 percent chance of rain. But we told everyone "river or bust," and on Saturday morning we loaded up our closest family and friends into rafts and launched on the river. We had planned to float an 11-mile section of river from just south of the Canadian border down to the small off-the-grid settlement of Polebridge. We had found a spot on the Glacier National Park side of the river to hold the ceremony with the towering Livingston mountain range serving as our backdrop and the sound of the river as our background music.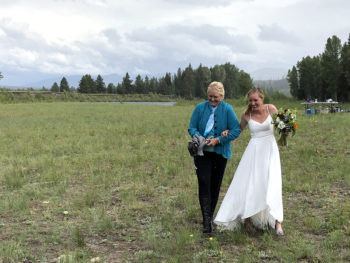 As my mother escorted me across a meadow towards our friends, family and my husband-to-be, an osprey hovered overhead, circling us as we walked. I still think it might have been the reincarnated spirit of my father, watching the event and guiding me with my mother.
I've been struggling with how to truly capture the emotion of that day, as it ran the gamut. One of our friends, Kit Fischer, author of Paddling Montana, gave a beautiful reading during our ceremony; a portion of which I feel compelled to share as it so eloquently compares rivers and marriage.
"Wild and Scenic River designation, much like the vows of marriage, protects rivers from future development and ensures it can stand the test of time. But like any free-flowing river and any marriage, there will be floods and there will be droughts. There will be hot streaks and howling at the moon. But through it all – they fill our lives with love, laughter and friends. Love, like a river, will cut a new path when it meets an obstacle. And your love will be no exception."
The rain was on and off for the duration of our ceremony, but as we started our vows the sun broke through the clouds and the umbrellas were closed. We concluded with a champagne toast and some of our favorite songs, loaded everyone back onto the rafts and floated to the take out.
Dinner and dancing went by in a flash and before I knew it, we were back at our cabin, completely exhausted. The only word I can use to describe the feelings of that day is gratitude. When I shared my vision of a dream wedding to Dan and my friends, no one batted an eye. They made it happen for me. They organized rafts, prepared food, loaded supplies, ran shuttles and traveled from far and wide to show their love and support. Even now when I think back to that day, I am still overwhelmed with gratitude. I feel like the luckiest woman in the world, that I have so many people in my life who care for me and Dan, that care for us so much they made our dream come true without question or hesitation.
Thanks to the Wild and Scenic designation of the North Fork Flathead (along with the Middle and South Forks of the Flathead) in 1976, it will forever be protected as free flowing and clean. This designation allowed for our public access and celebration of one of the most important events of our lives. As a Montanan, it's still shocking to me that only five of the rivers in our state have this permanent protection status: the three forks of the Flathead River, 150 miles of the Upper Missouri River and most recently East Rosebud Creek in the Absaroka-Beartooth Wilderness. But hopefully there are more protected rivers on the way. A coalition I work with called Montanans for Healthy Rivers is spearheading the development of new legislation that would protect close to 50 new rivers and streams in the state as Wild and Scenic.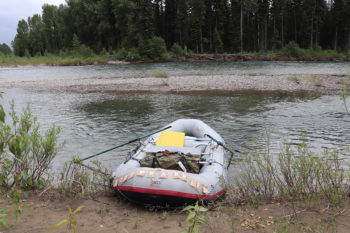 In the end, it all comes back to rivers. Rivers connect us; they bring us together and take us places where we couldn't be otherwise. Although Dan and I are outdoors people and find ourselves in beautiful places all over the world, the North Fork Flathead will forever hold an especially important meaning to us. It is a place that will remind me of how lucky I am to have a husband and people in my life who love me, support me and want to be apart of making my dreams come true. What more could anyone ever want?
---
Do you have a river story to share? Please visit 5000miles.org today and help us protect more of our most cherished rivers by telling your story.