Stop the Dam. Save the Birds.
Mississippi and Louisiana's Pearl River is home to the Prothonotary Warbler, a treasured songbird whose habitat will be destroyed if the One Lake project is implemented on the Pearl River - take action today!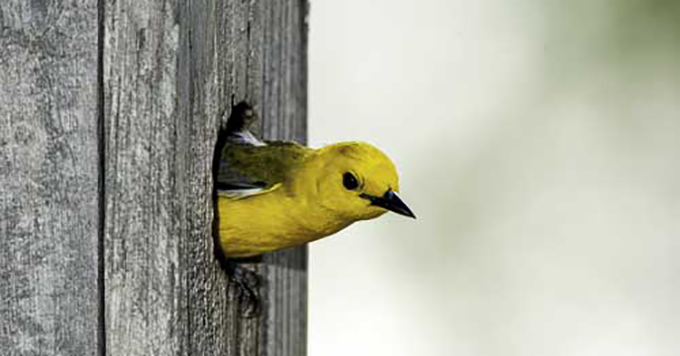 This guest blog was written by Louise and Reese Partridge. It is a part of our blog series on America's Most Endangered Rivers® – Pearl River.
The Rankin-Hinds Pearl River Flood Control and Drainage Control District has proposed a dam and lake construction project to manage flooding along Jackson, Mississippi's urban reach of the Pearl River. This project would widen the river and fill 1,000 acres of wetland habitat now home to mammals, fish and birds.
The Jackson Audubon Society (JAS) is concerned about Prothonotary Warbler habitat being lost to the lake development, which would condemn preferred nesting areas along the Pearl River at Lefleur's Bluff. It would represent another incremental loss of unique and vanishing natural habitat to developers — trading our natural heritage for a return on capital.
In 1998, JAS members embarked on a new bird conservation project to benefit one of the signature migratory songbirds of the southern swamplands: the bright yellow, highly vocal Prothonotary Warbler. No song is more pervasive and insistent than the, "zweet zweet zweet," of these vividly-colored birds known affectionately as swamp canaries.
Prothonotaries use nest cavities in decaying trees which they line with fresh moss. Nest boxes offer reliable substitutes when cavities are scarce. In Jackson, the suitable nesting area includes the backwater swamps along the Pearl River as it flows through LeFleur's Bluff State Park. The park is designated as an Important Bird Area (IBA) by the Audubon Society.
Each February, Audubon members make a pilgrimage to the park's wetlands to clean out and repair the boxes before the birds begin arriving from their wintering grounds in Central and South America. Volunteers have observed nesting success in about 2/3 of boxes.
Cornell University considers the Prothonotary Warbler a species of, "high conservation concern." The American Bird Conservancy's watchlist states, "restoration of forested wetlands in the southeastern U.S. (is) the most important conservation measure(s) that would protect this warbler."
We hope that the U.S. Army Corps of Engineers, public officials and park users will come to understand the full implications of this potential loss of priceless riverside habitat.
Please join American Rivers by September 6, 2018, in asking the U.S. Army Corps of Engineers to reject the Rankin-Hinds Pearl River Flood Control and Drainage Control District's new dam project.
[su_button url="https://act.americanrivers.org/page/6408/action/1″ background="#ef8c2d" size="4″ center="yes"]Take Action »[/su_button]
---
Author: Louise and Reese Partridge
Reese Partridge is a retired attorney and member of the Jackson Audubon Society. The Partridges live near Jackson, Mississippi.