Help Improve Access to the North Fork Nooksack River
After two planning processes for the Baker to Bellingham corridor, a new river access site is being considered for this Wild and Scenic eligible river.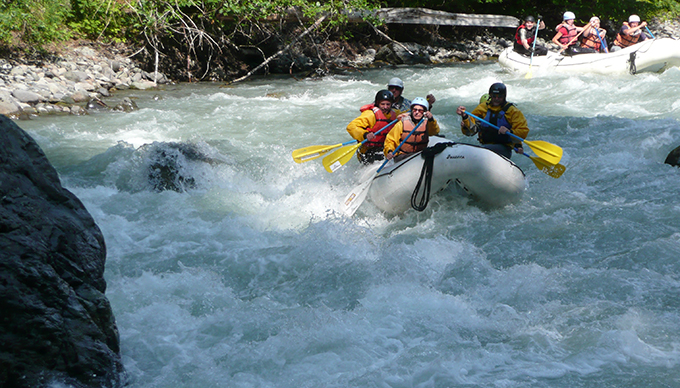 For the past two-and-a-half years, American Rivers has been actively participating in the Washington Department of Natural Resources' (DNR) Baker To Bellingham Recreation Planning, a process developed with local community input and the help of a citizen-based recreation planning committee, with the end goal of developing a plan to guide hiking, mountain biking, river recreation and horseback riding on approximately 86,000-acres of DNR-managed working forests across the Whatcom County area for the next 10 to 15 years.
From now through August 26, 2018, DNR is accepting comments on the Draft Baker to Bellingham Non-Motorized Recreation Plan.
While the majority of this plan focuses on access to hiking, mountain biking and horseback riding trails, a two-acre river access site on the North Fork Nooksack River near the community of Maple Falls was identified and recommended by the planning committee, and included on the final concept map found in the draft plan.
This river access site was originally identified and recommended in the Upper Nooksack River Recreation Plan (UNRRP), which was finalized in March 2015. This process was coordinated by American Rivers with assistance from the National Park Service's (NPS) Rivers, Trails, and Conservation Assistance program, and was the result of nearly 600 individuals and organizations, including landowners, tribes, land managers, businesses, paddlers, anglers, hikers, skiers and equestrians contributing to the development of the plan over a two-year period through an online survey, focus group workshops, and field tours.
American Rivers is working, along with a few key partners and community members, to develop a concept for the site that could provide paddlers and boaters an unimproved put-in and take-out along this popular stretch of whitewater with a small parking area for a few vehicles, trash reciprocals, and a portable restroom. Additionally, it could serve as a walk-in access point to the Whatcom Land Trust's 110-acre Maple Reach property.
With the addition of the Maple Falls river access in the Draft Rec Plan, the boating, angling, and overall river community have a unique opportunity to enhance their connection to NF Nooksack watershed — an eligible Wild and Scenic river that we are working to protect — and in the process, grow our appreciation for this gem of the North Cascades.
Please take a moment and send your comments to the DNR, using these brief talking points in your own words that we've included below (If submitting comments by email, use "SEPA File No. 18-072701" for the subject line):
State that you support the river access site identified in DNR's plan – Objective D under North Fork Unit (pg 15)
State that you've been tracking the Baker To Bellingham Recreation Planning Process and it is your understanding the committee has been supportive of river access and it emerged as a Tier 1 implementation project in the plan (pg 19-20)
Please include SEPA File No. 18-072701 in all written comments
Comments should be submitted to the SEPA Center:
Email: sepacenter@dnr.wa.gov
Mail: DNR Sepa Center, P.O. Box 47015, Olympia, Washington 98504-7015