Clean, Safe, Plentiful: Designate the Nooksack River Wild and Scenic
Why protection of this North Cascades gem is an investment in the future of clean water.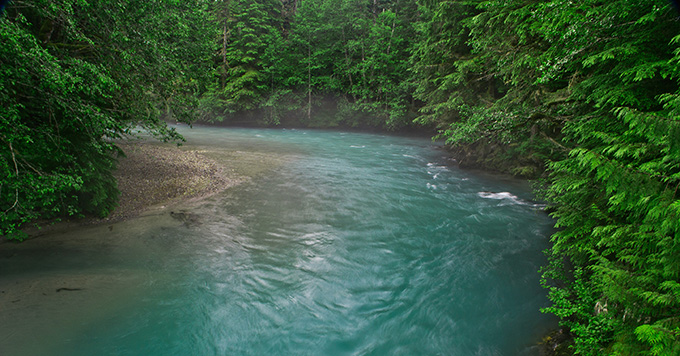 This guest blog was written by Karlee Deatherage, a member of the Nooksack Wild and Scenic campaign steering committee and Clean Water Policy Analyst at RE Sources for Sustainable Communities.
On any given day during our sunny, dry Pacific Northwest summers, you can find people out enjoying a variety of outdoor activities, from picking berries at a local u-pick farm, harvesting clams or crabbing in and around Puget Sound, building sandcastles on beaches, or taking a leisurely paddle down a local river or creek. Our way of life here in Whatcom County is inextricably linked to a healthy Nooksack River, and we should do everything we can to protect it as we all live downstream and everyone depends on plentiful, clean water.
When I think of the relationship between summer and the Nooksack River, I also think about how much more water we are using to keep cool and stay hydrated, how much water farmers need for crops like raspberries and blueberries, and the dwindling water levels in tributaries that are key for salmon returning to spawn. Yes, our salmon are incredibly resilient creatures, but there are only so many proposed dams and water diversions or years of insufficient stream flows due to drought that salmon can survive. Conservation of the upper Nooksack basin as Wild and Scenic provides safeguards to the river against these future harmful water projects and dams, and potential mining projects, all of which would have devastating effects on its wild characteristics, ecosystem, recreational amenities and clean water.
The lower reaches of the Nooksack River have already seen significant development, bank hardening, and rerouting of certain stretches of the river. It faces water quality concerns ranging from excessive bacteria to lack of dissolved oxygen to support salmon and other aquatic life. So many community groups, tribes, nonprofits and agencies have put all hands on deck through habitat restoration projects to undo the damage the lower Nooksack has suffered. Thankfully, however, the upper Nooksack watershed — where our communities get their clean water — is relatively intact. I hope we can keep it that way.
A Wild and Scenic River designation for the Nooksack would mean we are able to protect the headwaters from intense development or activities that could impact water quality and might pose yet another threat to our clean water, salmon and way of life. I support a Wild and Scenic Nooksack so our hard work in the lower watershed won't go to waste and so we can all savor the remaining wild and scenic stretches of the upper Nooksack in perpetuity.
Sign the petition and learn more about the Nooksack River Wild and Scenic Campaign »