Chasing Kites Along the Pearl River
A proposed dam and reservoir would endanger birds and wetlands along Mississippi's Pearl River
This guest blog was written by Dr. Jennifer Coulson. It is a part of our blog series on America's Most Endangered Rivers® – Pearl River.
The lower Pearl River feels like home to me — I've been surveying it for over two decades.
My work involves searching for the Swallow-tailed Kite, a rare, breathtakingly beautiful raptor. The lower Pearl River Basin is one of its few remaining strongholds along the Gulf Coastal Plain. From a Cessna 150 (a small, two-seater airplane), a bald cypress full of roosting kites resembles a Christmas tree, where the kites' white heads gleam in the early morning light like glowing ornaments.
A bird's eye view from the airplane makes it easy to appreciate how the habitat changes with decreasing elevation. As we follow the Pearl River southward, upland pine and mixed pine-oak-hickory forests with their red, earthen bluffs, give way to flatter, seasonally flooded bottomland hardwood forests. Farther south, the bottomlands are replaced by lower, permanently flooded cypress-tupelo swamps. Where the elevation drops so low that it can no longer support trees, the grassy, freshwater marshes thrive. Nearing the coast, these are replaced by brackish and then salt marshes and open water.
Along our survey route, the Pearl River splits into several Pearls (East, Middle, West), as its braided system nourishes vast expanses of wetlands with life-giving nutrients, sediment and freshwater. The rivers of the Pearl eventually feed the fisheries present in Lake Borgne, the Mississippi Sound and the Rigolets. The Rigolets estuary is a particularly important nursery for fish, crabs and shrimp.
Although upstream, the proposed One Lake project's dam and reservoir would disrupt the lower Pearl's elevational gradient by reducing the downstream flow of freshwater and sediment. These losses would exacerbate the existing threats of subsidence, sea level rise and salt water intrusion. The end result would be degradation and loss of wetland habitats and wildlife.
Other problems are the low water sills and a defunct bypass, the Pearl River Navigational Canal. These structures impede the migration of 15 species of fish including the paddlefish, striped bass, several species of catfish, and the federally threatened Gulf Sturgeon. The proposed reservoir could further impact the ecosystem functions of the Pearl. Instead, we need to demand its restoration and protection.
Please join American Rivers and Gulf Restoration Network by September 6, 2018, in asking the U.S. Army Corps of Engineers to reject the Rankin-Hinds Pearl River Flood Control and Drainage Control District's new dam project.
[su_button url="https://act.americanrivers.org/page/6408/action/1″ background="#ef8c2d" size="4″ center="yes"]Take Action »[/su_button]
---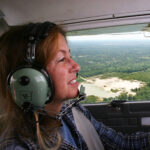 Author: Jennifer Coulson, Ph.D.
Jennifer Coulson, Ph.D., is the President of the Orleans Audubon Society whose mission is dedicated to the preservation and conservation of wildlife and wild places of the southeastern U.S. and to fostering an understanding and appreciation of nature.