The River's Risin' on the North Fork Nooksack
The subtle roar of rapids and splashes of cold water, fresh from the deep winter snowpack, means it's go-time to paddle and boat one of Washington's proposed Wild & Scenic Rivers.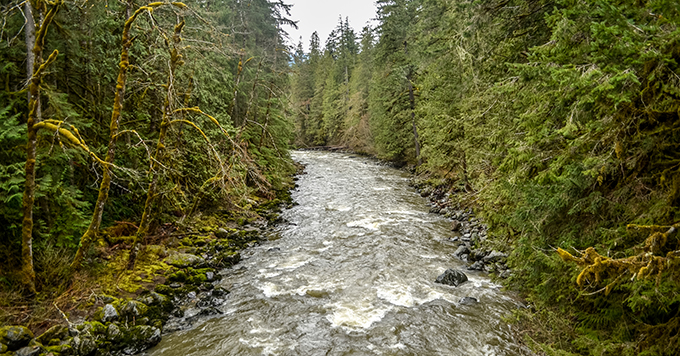 This guest blog was written by Tipton Power, a member of the Nooksack Wild & Scenic campaign steering committee and is actively engaged in the Bellingham paddling community.
Nothing defines the arrival of prime paddling season more than the subtle roar of rapids and splashes of cold water, fresh from the deep winter snowpack, which wake up the senses and help you appreciate nature's cycles and seasons in another way.   
Late spring is in full effect here in the North Cascades and as the temperatures warm up in the higher elevations, the North Fork Nooksack River rises to prime levels for paddling and rafting. It's time to just get back in a boat any day of the week and let the current whisk you away down the river. 
Whitewater Paradise
From its origins on the slopes of the glacier-dotted Mt. Shuksan, the North Fork Nooksack tumbles down steep boulder gardens and cuts narrow canyons through lush inland rainforests, picking up flows from major tributaries like Glacier, Canyon, and Wells Creeks. Along the banks, everything seems covered in a thick mat of moss and ferns appear to grow from everywhere you look. 
The upper reaches of the North Fork offer expert paddlers tight gorges with class IV and V white water separated by a couple of waterfall portages. Below that is a short but steep Class IV(+) section ending at the Horseshoe Bend campground. From the campground down to the town of Glacier, the river leaves the highway again and runs through a beautiful mini-gorge with lots of quality Class II and III water. It is a great day stretch for kayaks and rafts that instills a sense of remoteness and adventure close to home. 
Why Wild & Scenic?
Residents in the area are lucky to have such a gem of a river in their backyard. As well as having recreational and scenic values, the Nooksack River is also critical spawning habitat for salmon, steelhead, and trout, a source of clean water to the communities downriver, unique geological features (ever seen the Chuckanut sandstone formation?), and cultural values to the Coast Salish people. 
Over the past century, there have been more than 50 proposed hydropower projects within the Nooksack River basin and without Wild and Scenic protection, it leaves the river vulnerable to these ever-present threats. This alone is why I think it is time for us as a paddling community—a river community—to get behind the designation of the forks of the upper Nooksack River and nine key tributaries as a Wild and Scenic River and give this small slice of paradise in the North Cascades the protection it deserves. 
Sign the petition and learn more about the Nooksack River Wild & Scenic Campaign.