Protect the Skykomish River from Bad Hydropower
This wild river valley rivals some of the most beautiful paddling locations in the world, but thanks to a short-sighted hydropower proposal, is still at risk from development.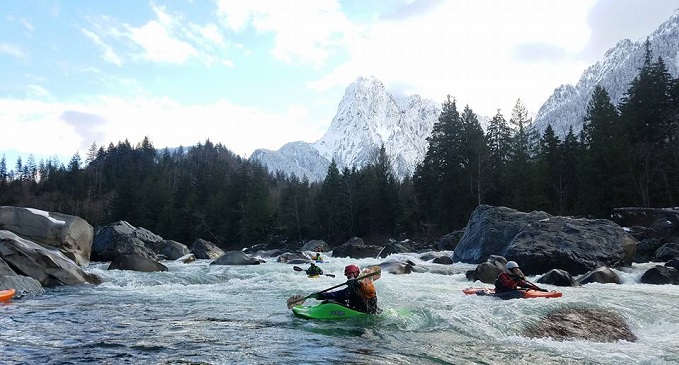 This guest blog by Irene Nash is a part of our America's Most Endangered Rivers® series on the South Fork Skykomish River.
Towering snow-capped mountains. Jagged granite peaks outlined against a brilliant sky. A powerful river carves its way past massive boulders as eagles hunt overhead, occasionally joining talons and spiraling downward together in what looks like a crazy, out-of-control game before separating and flapping regally away just before they reach the treetops.
It sounds like some wonderland tucked away in the Swiss Alps or a remote nature preserve, but amazingly this wild place exists in the Skykomish Valley – less than an hour from Seattle, one of America's fastest-growing major cities.
Flowing through the Skykomish Valley, around 45 miles northeast of Seattle along National Scenic Byway Route 2, is the beautiful Skykomish River, a year-round playground for whitewater paddlers. With two roadside sections ranging from Class II to III+ and a powerful rite of passage Class IV rapid (Boulder Drop), "the Sky" is a kayaking classic and one of Washington's most beloved rivers.
It's sometimes difficult to describe the beauty of the Skykomish Valley. Last year, it was made apparent to me after returning from a kayak trip to some  remote and beautiful areas of Ecuador. After returning home, I surprised myself by telling my husband, "You know, our river valley is actually prettier!" We had the same reaction after paddling the Colorado River of the Grand Canyon. Yes, the scenery was fantastic, but there's never a time that we return from any kind of trip without feeling a sense of disbelief that something as gorgeous as the Skykomish Valley is our backyard.
However, it's easy for people to take for granted and I think that's happening now, especially with the looming threat of the proposed hydropower project at Sunset Falls on the South Fork of the Skykomish River. My husband, who is from New Zealand, always points out that, "If this were New Zealand and the Skykomish Valley were within one hour of Auckland, the entire area would be thriving on recreational tourism and any idea of using the Skykomish River for hydropower would be ludicrous."
With a long history of extractive industries forming the basis for local economies, however, it takes a forward-thinking mind shift on the part of policy-makers to entertain the idea that the future of this area may no longer lie in resource extraction, including the dubious and extremely optimistically framed economics of hydropower at Sunset Falls.
The economies of the towns along Highway 2 aren't going to be supported by just whitewater kayaking, but there's huge potential for them to tap into the resources of the thousands of recreational visitors who stream through the Skykomish Valley in growing numbers each week to hike, camp, ski, and fish. Just ask anyone who lives in the valley about traffic on Highway 2 and they'll tell you it has gotten drastically heavier in just the last five years.
Many of these visitors come for the wilderness and outdoor recreation opportunities, which brings up the question: Isn't it incredibly short-sighted to potentially scuttle the future of this area by planning mis-guided industrial projects that demolish wild characteristics and remove options for outdoor recreation?
I can easily picture the kids of today looking back in 20 years and asking our current policy-makers: "What were you thinking?"
For now, the Skykomish River flows freely and the tens of thousands of hikers who use the nearby Lake Serene Trail each year don't yet have to hear explosions from diversion tunnels that proponents of the Sunset Falls hydropower project would like to see blasted into existence. Let's hope common sense and a smart vision for the future prevail for this wonderland that is the Skykomish River Valley.
Help stop this dam from ruining the wild Sky River. Some places are too special to ruin with development and diversions.
[su_button url="https://act.americanrivers.org/page/1233/action/1″ background="#ef8c2d" size="4″ center="yes"]Take Action »[/su_button]
---
Guest blogger Irene Nash is a whitewater kayaker who lives in the Skykomish Valley with her husband and two dogs.