Why has Ohio's Maumee River turned green?
The only thing that should be green about our water is the way we manage it. The greenness of the Maumee River may fade over the next few weeks, but the underlying problems will remain.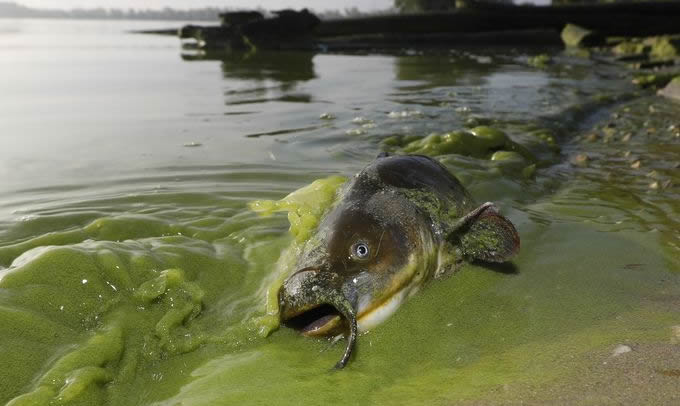 Over a week ago, an algal bloom crept into the Maumee River. The Maumee River flows into Lake Erie, running through downtown Toledo on its way, and right now it is slick with green slime. Due to unseasonably warm temperatures and low water flow, algae has flourished and left the water stagnant, putrid, and fluorescent. Fed by the excess nutrients found in agricultural and urban water run-off, the green scum releases harmful toxins into the water as it grows, sometimes poisoning the water. Officials have assured residents that their water is still safe to drink, but residents remain skeptical because they have experienced these blooms before. In fact, for Toledo, algal blooms have become the new normal.
In 2014, another algal bloom swept through Lake Erie. That bloom led to a do not drink advisory in Toledo and left thousands of residents standing in lines for bottled water. To this day, many Toledoans are still using bottled water because they do not trust the water infrastructure system. This week, as they closely monitored the city's water quality dashboard, residents were panicked by fluctuations in ratings. Some even rushed to grocery stores to buy bottled water, leaving behind ominous empty shelves.
The City of Toledo is working hard to remind citizens that their water is safe to drink right now, but officials also realize that they need long-term solutions to end these recurring algal invasions. On Tuesday the Mayor of Toledo, Paula Hicks-Hudson, finally announced her support for an effort to have Lake Erie's western basin declared "impaired." If achieved, such a declaration would require the federal government to create a water quality improvement plan, but it would not be a silver bullet. Solving the Toledo water problem will require many different solutions, in different sectors, and at different levels.
To stop algal blooms like the one in the Maumee, we have to develop an effective strategy for eliminating the pollutants that feed these blooms. One crucial first step is stopping the repeal of the Clean Water Rule. Among many other benefits, this rule protects the streams and wetlands that are natural sinks for excess nutrients. They keep chemicals out of our water supplies, which prevents algal blooms. Protections like that are why American Rivers is fighting for the Clean Water Rule and against the current administration and the special interests that prioritize profits over public health.
On a local level in Toledo, American Rivers has been promoting green stormwater infrastructure solutions that reduce the flow of pollution into local streams. Green stormwater infrastructure can take many forms and has many benefits, like flood mitigation and fewer combined sewer overflows, but for the Maumee River one benefit is particularly relevant: by creating more green spaces and natural structures that organically process harmful chemicals, we can minimize the number of pollutants that reach our water system in the first place.
However, this work is not just about infrastructure. We know that these problems are more than physical problems; they are community problems. Environmental crises and water supply issues disproportionately affect marginalized and low-income communities. It is impossible to carry out our work without understanding that context. American Rivers is partnering with the University of Toledo to research water equity and affordability in central city communities. We have been hosting focus groups, surveying residents at local churches, and speaking with city officials to understand how to make access to clean water more equitable and affordable. It is our hope that the knowledge we gain will help us redesign systems so that they do not benefit a privileged few, but fortify entire communities.
The greenness of the Maumee River may fade over the next few weeks, but the underlying problems will remain. We must investigate these issues holistically and tackle them collaboratively. American Rivers stands ready to work together and push forward innovative solutions in Toledo. We believe the only thing that should be green about our water is the way we manage it.