Legislative Overreach Aims to Thwart Salmon Recovery
H.R. 3144, if passed, would thwart efforts to deliver critical near-term protections for endangered wild salmon, derail a court-ordered environmental review, and increase uncertainty for Northwest citizens and businesses.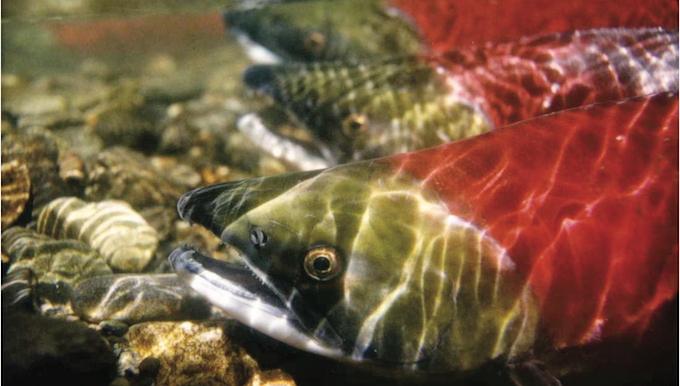 Time is running out for what were once the largest salmon and steelhead runs on the planet – the magnificent runs of the Columbia River Basin in the Pacific Northwest.  And now politicians are attempting to stand in the way of science and salmon recovery.
Historically, over ten million Columbia River Basin salmon and steelhead existed, but the number plummeted to fewer than 1 million in 1995, precipitating into the listing of 13 different species or populations of Columbia and Snake river salmonids as endangered or threatened under the Endangered Species Act.
Salmon and steelhead have a complex and fascinating lifecycle, one that begins in freshwater streams, segues into the ocean for a period of time, and ends in the same stream in which it was born, where the ones who survive their often long and daunting migration return to spawn and die. These salmonids are a remarkable, resilient keystone species but they are vulnerable at every stage of that life cycle.
From the 1930s to the 1970s, a system of dams was constructed by the federal government on the Columbia and Snake rivers transforming the rivers into a series of slow-moving reservoirs. The dams impede salmon and steelhead from reaching prime headwaters habitat and injure or kill the migrating fish as they travel through fish passage facilities. The reservoirs now inundate previous river habitat precious to the survival of these salmonids.
Over the past 25 years, scientific research, tribal treaty rights, and environmental advocates along with over $10 billion in federal investment have helped keep these populations from becoming extinct, but they are hanging on by a thread. 
American Rivers along with our partners have been tireless advocates for managing the federal dams in the Columbia Basin in a more fish friendly manner, which includes considering the removal of the four lower Snake River dams – Lower Granite, Little Goose, Lower Monumental, and Ice Harbor dams. Part of this advocacy required employing a legal strategy, which over the past two years successfully resulted in two carefully-considered decisions by the U.S. District Court in Portland, Oregon.
The first of these legal victories occurred in May 2016, when the court found the most recent plan for managing the federal dams on the Columbia and Snake rivers violated the Endangered Species Act and the National Environmental Policy Act and would not protect wild salmon and steelhead from extinction. The court's decision means that the managing federal agencies need to develop a new plan that carefully considers all reasonable dam management alternatives, including removal of four lower Snake River dams. It also requires the federal agencies to examine the effects of climate change on wild salmonids and the federal hydro-system. As proposed by the federal agencies, the court gave the agencies until 2021 to complete this analysis and plan. This planning process is currently underway.
This past April, a second court decision found that current dam operations based on the illegal 2014 plan – would cause "irreparable harm" to salmon and steelhead already facing extinction. The court required federal, state, and tribal fishery scientists to work together to develop a near-term dam operations plan that would release more water over the dams' spillways to improve juvenile salmon survival. That work among the fishery experts is underway and the new annual operations are scheduled to begin in spring 2018. These new "spill" operations will comply with all state water quality standards and are widely considered the most effective near-term measure available to bring immediate benefits to salmon.
Despite federal agencies and fishery scientists being underway with these processes, politicians have decided to stand in the way of science and salmon recovery.
In June 2017, Rep. Cathy McMorris Rodgers (R-WA) and four other members of Congress introduced H.R. 3144 asserting that this legislation would "support the Federal Columbia River Power System and the benefits it brings to our region . . . " In fact, the bill would do just the opposite: It would thwart efforts to protect endangered wild salmon and steelhead, hinder development of a more efficient and reliable power system, and risk raising power rates.
How? The bill seeks to lock-in status quo hydropower operations on the Columbia and Snake rivers that primarily benefit taxpayer subsidized barge transportation and continued capital investments in four expensive and unnecessary federal dams on the lower Snake River that should be removed to help save wild salmon and steelhead and the public's money. Five different times over the past 16 years, the federal courts have rejected plans as illegal that would continue these business-as-usual operations.
H.R. 3144 is legislative overreach.
The actual purpose of H.R. 3144 is never stated or acknowledged in the bill: to overturn these two carefully-considered court decisions. Without ever mentioning them, H.R. 3144 would block both judicial decisions by requiring that, until 2022, dam operations must follow the illegal dam management plan rejected by the Court in 2016.
In addition, H.R. 3144 would seek to prevent any study, analysis, or consideration of dam management alternatives, such as additional increases in spill or breaching of the four lower Snake River dams. This legislative effort to circumvent the courts and the requirements of our nation's environmental laws is contrary to the way the rule of law is intended to work in a democracy. Sadly, it would also protect a failed and costly status quo while blocking the opportunity to create a new plan that both reflects regional stakeholder input and works to achieve salmon and steelhead recovery.
American Rivers and our partners will work hard to prevent H.R. 3144 from becoming law. Please join us by contacting your U.S. Representative and requesting that he or she opposes H.R. 3144. 
[su_button url="https://act.americanrivers.org/page/5125/action/1″ background="#ef8c2d" size="4″ center="yes"]Take Action »[/su_button]