Unprecedented flooding from Hurricane Harvey 
News reports have called the impacts of Hurricane Harvey "catastrophic" and "apocalyptic." According to the National Weather Service, "This event is unprecedented and all impacts are unknown and beyond anything experienced."
The Weather Channel says Harvey "may end up being one of the worst flood disasters in U.S. history."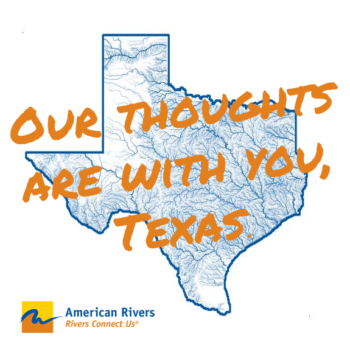 The devastation from Hurricane Harvey will be far-reaching and will have long-term impacts for the region, and our nation. At American Rivers, our thoughts are with all of the victims of this disaster. Lives will be forever changed by this historic flood. The relief workers, first responders and volunteers who are risking their lives to help those in need deserve our deepest gratitude.
Hurricane Harvey has been especially devastating for a number of reasons, and climate change is one. Climate change amplifies storms. Warmer air can hold more moisture and warmer seas cause water to evaporate faster, which means more rainfall during storms—a key factor in Harvey's extensive flooding.
Parts of Houston, Texas saw over two feet of rain in 24 hours. At least eight people have died, and on Sunday there was a two and a half hour wait for 911 assistance. At least nine trillion gallons of water have fallen on Texas, with an additional five to 10 trillion gallons to come over the week — up to 50 inches of rain, meaning some areas will get a year's worth of rain in a week.
"Many textbooks have the 60-inch mark as a once-in-a-million-year recurrence interval, meaning that if any spots had that amount of rainfall, they would essentially be dealing with a once-in-a-million-year event," writes Matthew Cappucci in the Washington Post.
Flood waters continue to rise. Many people are still trapped in their homes and rescue efforts continue.