A Fishing Guide's Perspective on Mining in the Menominee
Back 40, a proposed plan to implement a sulfide mine on Michigan's Menominee River, raises many concerns for the health of such a beautiful and important river.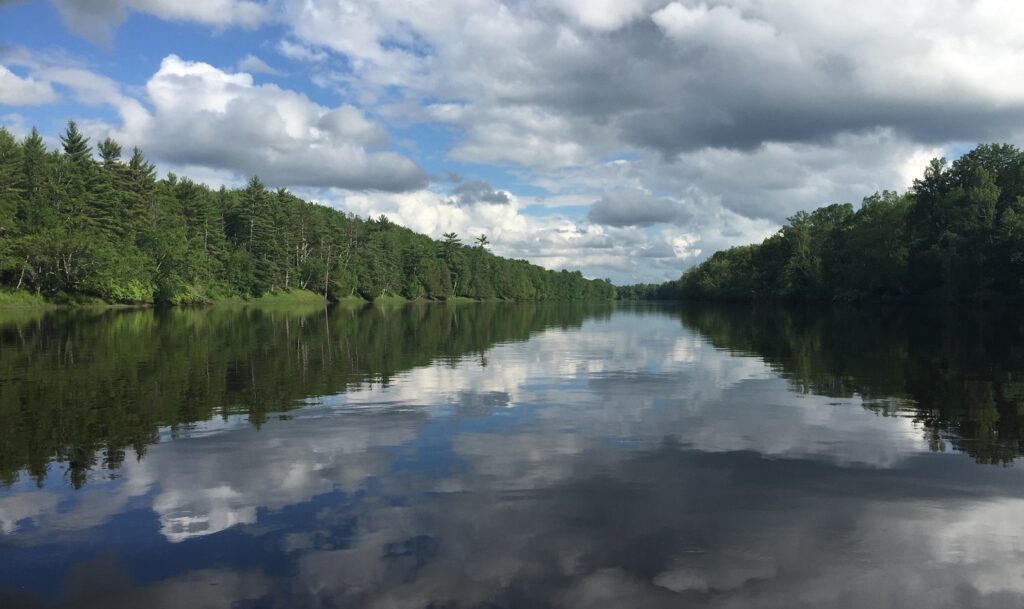 This guest blog by Charlie Piette is a part of our America's Most Endangered Rivers® series on the Menominee River in Wisconsin and Michigan.
I'll be very forward in expressing my opposition to Back 40—a proposed open pit sulfide mine on the Menominee River in Michigan—and yes, I'm tremendously biased. As a fly fishing guide, I have the pleasure of spending a significant portion of my time working on the Menominee River. I also happen to have a Masters of Environmental Science and Policy that focused specifically on water quality. Needless to say, those two facets combined make me extremely concerned for the future of the river if Back 40 becomes reality.
One of the most famous American fly fishermen described the Menominee as, "…the best smallmouth bass river that no one knows about." I would whole-heartedly agree with this statement, but it is so much more than just a great place to fish. In the post-dam era, the river is in as pristine of a state as it will ever be. It supports a highly diverse community of native fishes, insects, plants, and birds, all of which depend exclusively on the clean water to thrive. Even a slight alteration of the present water chemistry caused by the Back 40 mine would have unknown, and quite possibly, devastating effects on the flora and fauna of the lower Menominee all the way out into Green Bay.
Aquila Resources, the proposed operator, paints an all-too-rosy picture of the life and final capping of the mine. Back 40's engineering would be largely designed after another sulfide mine in Northwestern Wisconsin on the banks of the Flambeau River. Aquila and its associated designers are attempting to compare the two sights and highlight the Flambeau Mine as a success story with minimal water contamination. One doesn't have to dig too deeply to determine that these two projects are completely different and have zero ground for comparison. First and foremost, the Flambeau Mine is a tiny fraction of the size that Back 40 would be. The waste rock generated by Back 40 would be nearly six times larger. Furthermore, unlike the Flambeau Mine, which shipped all its rock away for processing, Back 40 would exclusively process and store the toxic end products in the pit a mere 150 feet from the river.
Though there are many, two particular factors at play keep me awake at night. One is the dramatic change in weather here in the Upper Midwest. Whether or not you believe in climate change makes no difference in this instance. Pooling from well over one thousand days on the Menominee River over the course of 16 years, our staff would unanimously agree that the instances of severe weather events are increasing dramatically. 2017 has been a perfect example of this shift. We were forced to cancel more guide trips in the month of June than we have in the entire existence of our business combined, all due to the fact that the river was at or above USGS flood stage on several separate occasions. In 2016, Northwestern Wisconsin experienced one of the worst flood events on record. Considering the current frequency of severe weather, a similar event occurring along the Menominee seems more possible than ever. Despite Aquila's lofty claims about its barrier wall containment capabilities, they are only held accountable by permit to build for a 100 year flood.
My second major concern is Back 40's already granted National Pollutant Discharge Elimination System (NPDES) permit. It is the Environmental Protection Agency (EPA) standard for effluent wastewater being dumped into a water body. As a graduate student, I managed an enormous data set containing pollutant concentration measurements from pollution point sources all across the Great Lakes. This data set was then used, in conjunction with the EPA, to determine if individual sources were in violation of their permits. My experience with this data taught me that many facilities often violated their NPDES permit with limited consequences that came to fruition long after the fact. Back 40 would be pumping treated waste water directly into the Menominee. What if they slip up in the treatment process? Or, what if the financial implications of violating their permit are insignificant compared to the profit while operating outside the law?
I had a simple, yet eye-opening experience this summer. It was a beautiful day and I saw a young family out floating down the river. They weren't fishing. They were just enjoying a float in a beautiful, wild place. This, at the root of it all, is why it's so important that Back 40 never becomes a reality. The risks are simply too great. The Menominee River, though largely unknown to many, is one of the most spectacular publicly accessible river ways in the country. I truly hope it remains that way so that anyone in the future can enjoy what we have today.
Please join us in asking the Michigan Department of Environmental Quality to reject the pending wetlands permit and prevent the establishment of the proposed Back Forty mine.
[su_button url="https://act.americanrivers.org/page/702/action/1″ background="#ef8c2d" size="5″ center="yes"]Take action »[/su_button]
---
Charlie is the Shop Manager for Tight Lines Fly Fishing Company, Northeastern Wisconsin's largest fly shop. Charlie's desire to help others progress as fly anglers is his driving force. Whether it's through guided trips, classes, or daily interactions in the shop, he loves ensuring that others are more successful on the water.