President Trump Should Take These 4 Steps for Water Infrastructure
The anticipated arrival of President Donald Trump to Cincinnati, Ohio will primarily focus on his vision for the nation's infrastructure. Trump should consider these four important points when determining our access to clean drinking water, for our current communities and the future.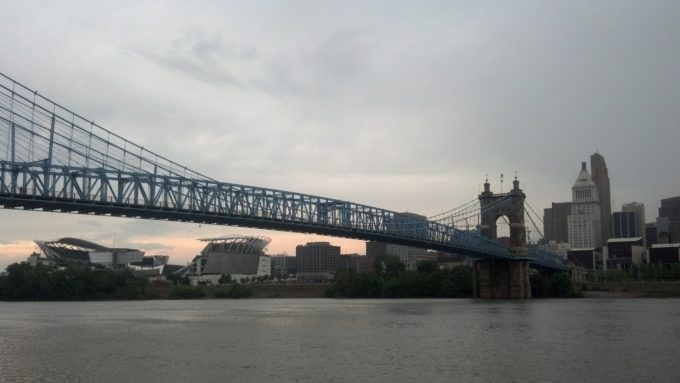 President Trump will arrive in Cincinnati to talk about his vision for the nation's infrastructure. He could learn something from Cincinnati — and Ohio — when it comes to innovative solutions for water infrastructure.
There are few issues more vital to our health than clean water, and rivers provide more than two-thirds of our nation's drinking water supplies. But nationwide, our water infrastructure – including pipes, sewage treatment systems, locks, and dams – is crumbling.
Problems ranging from water contamination due to lead pipes in Flint, Michigan, to safety concerns at the nation's tallest dam in California have grabbed national headlines. The American Society of Civil Engineers gives our nation's dams, drinking water systems, and levees a "D" grade in its 2017 report card on the nation's infrastructure. The impacts of outdated water infrastructure and water management fall disproportionately on low-wealth neighborhoods and communities of color that are already suffering from a lack of investment and opportunity.
Many cities, including Cincinnati, are moving in the right direction to confront water challenges with innovative, cost-effective solutions that recognize healthy rivers and streams as an essential part of a community's infrastructure. The Metropolitan Sewer District of Greater Cincinnati (MSD) has embarked on a multi-year initiative to clean up polluted rivers while creating social and economic opportunities for communities. MSD's efforts include capturing stormwater with bioswales and restoring streams to improve water quality and decrease local flooding.
Statewide, Ohio has done a good job restoring river health through the removal of unsafe, unneeded dams. The Cuyahoga River, once a symbol of environmental degradation, is now a symbol of restoration thanks in part to the removal of outdated dams. Downtown Columbus has reconnected to the Scioto River after removing dams and restoring wetlands.
Any federal investment in water infrastructure must advance these types of 21st-century solutions so we can ensure reliable clean water supplies and safe, healthy communities for our children and grandchildren.
Specifically, federal investment must
1) Update water systems to ensure public safety
We must replace decaying and dangerously out-of-date drinking water systems (such as lead pipes) and upgrade wastewater treatment plants.
2) Prioritize natural infrastructure
We need a new kind of water management and we need it in the right places. Solutions that protect, restore, and replicate natural systems and use water efficiently have a wide range of social, economic, and environmental benefits. Natural infrastructure can mean planting trees and restoring wetlands, rather than building a costly new water treatment plant. It can mean choosing water efficiency instead of building a new water supply dam. It can mean restoring floodplains instead of building taller levees.
3) Remove outdated infrastructure
Many locks and dams provide benefits, but many others have outlived their usefulness, creating an economic drain on communities or dangerous public safety hazards. Nearly 1,400 dams have been removed nationwide and efforts continue. For example, efforts are underway to remove Gorge Dam on the Cuyahoga, and the Army Corps is currently studying whether to retire five locks and dams on the Allegheny River, a tributary of the Ohio River.
4) Maintain environmental safeguards
When deciding how to address our infrastructure needs, we must not forego the protections provided by laws such as the National Environmental Policy Act, Clean Water Act, and Endangered Species Act in our haste to move projects forward. These laws enable us to look before we leap and think about which path will provide the best and most environmentally-sustainable, long-term solution for our needs.
Clean water can and should be a bipartisan issue. Healthy rivers are economic engines and water is an excellent investment: every $1 spent on water infrastructure generates nearly $3 to the private economy, according to the U.S. Department of Commerce. Rivers helped build Cincinnati, and they helped build our nation. Investing in healthy rivers and innovative water infrastructure solutions will strengthen our country and pay dividends for generations to come.