Making Progress on America's Most Endangered Rivers®
We've had some great victories for rivers included on our annual lists of America's Most Endangered Rivers® in recent months, but there's still more we can do.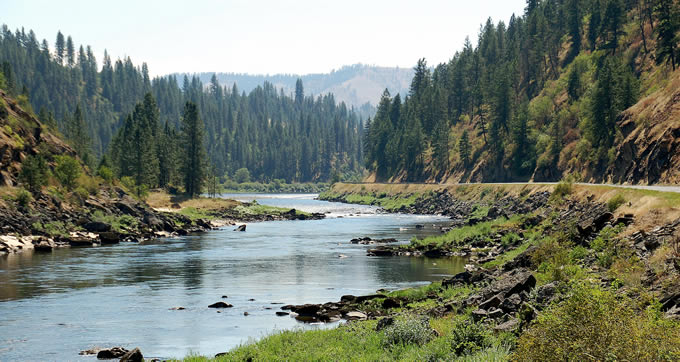 It has been a busy couple of months for America's Most Endangered Rivers®! While we are fighting battles on many fronts, it is nice to hear some good environmental news. The stories below demonstrate that persistence pays off when partners work together to push decision-makers to do the right thing for rivers.
Middle Fork Clearwater and Lochsa Rivers – Idaho
Listed as endangered in 2014
Back in 2013, multinational oil companies wanted to use Highway 12 along the Wild and Scenic designated Lochsa and Middle Fork Clearwater rivers to transport huge pieces of equipment ("megaloads") to and from the tar sands in northeastern Alberta, Canada. The oil companies envisioned moving hundreds of megaloads annually along Highway 12, which would have snarled traffic, marred the spectacular scenery, impacted riverside campgrounds, and diminished everything that anglers, boaters, and campers love about these rivers. Plus, it would have only been a matter of time before a megaload ended up in the river, where it would have been a logistical nightmare to remove. Consequently, Idaho Rivers United and the Nez Perce Tribe sued the U.S. Forest Service for failing to protect river values and consult with the tribe on allowing the megaload transport to continue. On January 27, 2017, a settlement was announced whereby no future megaloads will be allowed to travel the Highway 12 corridor.
Middle Mississippi River – Missouri, Illinois, Kentucky
Listed as endangered in 2001, 2004, 2014
On January 19, 2017, the Obama Administration issued a resolution to stop the damaging New Madrid Levee Project. The New Madrid Levee was a proposed part of the St Johns Bayou New Madrid Floodway Project. Located in the bootheel of Missouri, the US Army Corps of Engineers (Corps) was proposing to build a 1,500-foot levee. At New Madrid, the levee would cut off access to the last remaining naturally functioning floodplain in the region. About 70,000 acres of floodplain would be lost and about 53,000 acres of wetlands would be drained. In the resolution, the agencies agree that the only way to mitigate for the environmental impacts of the project would be to provide free and open access to another comparable section of floodplain nearby. The Corps acknowledged that, at this point, there are no other landholders willing to provide the 70,000+ acres of floodplain for the mitigation – an area that would fit Manhattan Island almost 5 times.
Rogue-Illinois-Smith Rivers; Rough and Ready Creek and Baldface Creek – Oregon
Listed as endangered in 2015 and 2013, respectively
On January 12, 2017, the Obama Administration took decisive action in adopting a 20-year ban on new mining for over 100,000 acres of public lands in the Wild and Scenic Illinois, Rogue, and Smith River watersheds, including Rough and Ready Creek and Baldface Creek in Southwest Oregon. Senators Ron Wyden (D-OR) and Jeff Merkley (D-OR) and Representatives Peter DeFazio (D-OR) and Jared Huffman's (D-CA) have been incredibly dedicated in their years of work (in the case of Wyden and DeFazio two decades) to protect these special watersheds from industrial strip mining. Our coalition of local, state and national advocates have worked tirelessly to protect this area, especially the Klamath Siskiyou Wildlands Center, Kalmiopsis Audubon, Native Fish Society, Friends of the Kalmiopsis and the Smith River Alliance.
St. Lawrence River – New York
Listed as endangered in 2016
On December 8, 2016, the International Joint Commission announced approval of Plan 2014, which addresses water management in the St. Lawrence River Basin. Plan 2014 was developed after more than two decades of research and deliberation, a $20 million binational study, and extensive public comment and consultation with government at all levels and a variety of stakeholders. The Plan has widespread support from 22,500 citizens, 42 environmental, conservation and sportsmen organizations, and local and regional businesses. Implementation of Plan 2014 is expected to restore more than 26,000 hectares of wetlands along the St. Lawrence and Lake Ontario. In addition, it will increase hydropower production at the Moses-Saunders dam, improve water quality, support fisheries, increase biodiversity, and control erosion. Adoption of Plan 2014 is expected to provide up to $9.1 million in increased economic benefits for the region.
Upper Colorado River – Colorado
Listed as endangered in 2014
In 2014, American Rivers and our partners called for a Colorado Water Plan that promotes sustainable use of water from the Upper Colorado River Basin, without building costly, environmentally harmful, and ultimately ineffective projects on our cherished rivers. In November 2015, Governor Hickenlooper signed the Colorado Water Plan committing the state to coordinated and sustainable water management for the next 35 years. On November 16, 2016, the first anniversary of signing of the Colorado Water Plan, Governor Hickenlooper proclaimed this date as Colorado Water Plan Implementation Day. This proclamation further supports the important work that must continue to move forward goals and objectives contained within the Colorado Water Plan. The Colorado Water Conservation Board voted to secure $55 million as a part of the 2017 Colorado State Budget for implementation of the Plan.
Boundary Waters – Minnesota
Listed as endangered in 2013
On December 15, 2016, the Obama Administration denied two hardrock mining leases that could have had a major impact on the health of the rivers, fish and wildlife of the Boundary Waters Canoe Area Wilderness. Through the steadfast persistence of the Campaign to Save the Boundary Waters and all of their partner groups, the Boundary Waters and its pristine rivers, abundant fish and wildlife, and world-class recreation opportunities are one step closer to being protected for future generations. In addition to denying the mining leases, the US Forest Service has submitted an application to the Secretary of the Interior to withdraw from mining key portions of the watershed that flow into the Boundary Waters Canoe Area Wilderness. Essentially, this process would allow for two years of study and public outreach and comment on the potential 20 year withdrawal from mining. This is great news!
You can help make this mining withdrawal happen in the Boundary Waters! Please support our campaign to ask the US Forest Service to move forward with this mining withdrawal by taking action today!