On his way out the door, President Obama left a parting gift for the Mississippi River. Late Thursday evening, on January 19th, the White House issued a resolution to stop the damaging New Madrid Levee Project.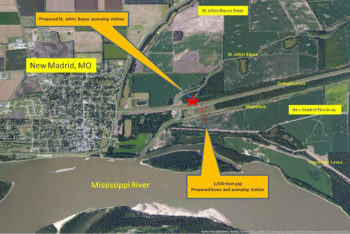 The New Madrid Levee was a proposed part of the St Johns Bayou New Madrid Floodway Project. Located in the bootheel of Missouri, the US Army Corps of Engineers (Corps) was proposing to build a 1,500-foot levee. At New Madrid, the levee would cut off access to the last remaining naturally functioning floodplain in the region. About 70,000 acres of floodplain would be lost and about 53,000 acres of wetlands would be drained. The purpose of the new levee? To facilitate development of the New Madrid Floodway.
The New Madrid Floodway is part of the Mississippi River and Tributaries Project. It is flooded periodically to protect levee systems around other Mississippi River communities. Unfortunately, every time the floodway has been operated, the state of Missouri has sued to stop its operation. The suits are brought to stop the row-crop dominated floodway from being flooded and cause delays in the floodway operation. In 2011, a lawsuit contributed to the delay that resulted in a levee breach at Olive Branch, IL and the destruction of 50 homes.
Building the levee and promoting more development in the floodway would have increased the pressure to avoid operation of the floodway during a major flood. This would lead to more lawsuits and delays, putting communities like Cairo, IL at risk.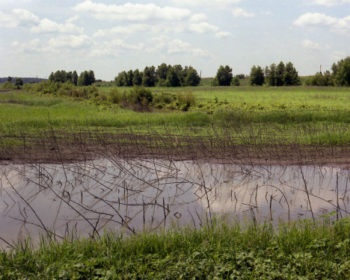 Due to the massive environmental impacts of the project, the US Fish and Wildlife Service issued a referral to the Council of Environmental Quality, asking the President to step in and evaluate the project. The outcome was an 11-page letter of resolution signed by the Department of Interior (which oversees the US Fish and Wildlife Service), US Army Corps of Engineers, and the President's Council on Environmental Quality.
In the resolution, the agencies agree that the only way to mitigate for the environmental impacts of the project would be to provide free and open access to another comparable section of floodplain nearby. The Corps acknowledged that, at this point, there are no other landholders willing to provide the 70,000+ acres of floodplain for the mitigation – an area that would fit Manhattan Island almost 5 times.
This basically sets up a hurdle that would be impossible for the Corps to jump over to proceed with the levee project.
Can President Trump just overturn the decision? He can try. But, the resolution builds on well-established science about the environmental impacts of the project. If the Trump administration tries to do an about face on the facts, they'll have to explain it in court, and one judge has already ruled against the levee project to date.
While the fight might not be over yet, this is a major victory for the Mississippi River. Thank you, Mr. Obama.