Can the Pineapple Express end the California drought?
There is a ton of precipitation in California - it has the potential to fill reservoirs and a second storm of this magnitude could cause widespread flooding.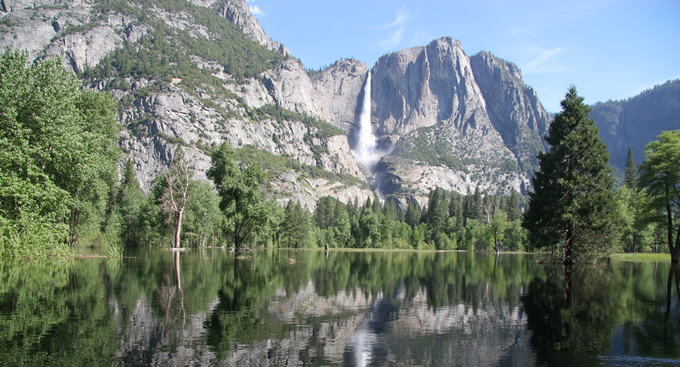 Extreme droughts often end in floods. Australia's epic 10 year drought ended in catastrophic flooding in 2011. Texas endured 5 years of crippling drought until it ended with catastrophic flooding in May 2015. If the National Weather Service Forecast for rainfall between January 7th and 10th is correct (see map below), California's drought may end in catastrophic flooding as well.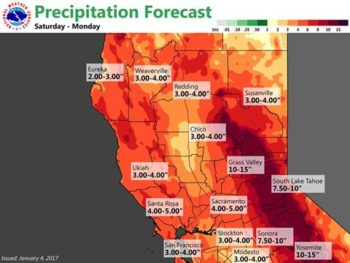 Current wet weather and official forecasts of a "plethora" of water coincides with the release of the new draft 2017 Central Valley Flood Protection Plan by the California Department of Water Resources (DWR). American Rivers and several of our partners have been working with DWR on the development of this new flood plan for nearly five years. Stay tuned in the next several days for more reports on how the flood plan is essential for protecting people and rivers against the vagaries of drought and a changing climate. But for now, let's turn our attention back to the heavy rainfall predicted by the National Oceanic and Atmospheric Administration (NOAA).
It's never over until it's over, but it's not too soon to start dreaming about the end of California's five-year drought. It will take years to recover depleted groundwater reserves, particularly in the San Joaquin Valley and Tulare Basin. The California State Water Resources Control Board also just announced the need for continued urban water conservation measures as Central and Southern California remain in drought conditions. But the next few days may cause the reservoirs rimming the Central Valley to fill and ultimately spill. Here is what the national weather service posted on January 4th regarding the storm forecasted for this weekend:
"The next wave with atmospheric river moisture breaks down the transitory ridge quickly late Friday evening. An upper low sits out over the eastern pacific with west-southwest flow over region that is forecast to bring very significant rainfall to the area Saturday through Monday. Models have the integrated water transport centered over the northern and central Sierra, so a plethora of rainfall could fall over the Sierra, possibly 10 to 15 inches over the Sierra and 3 to 5 inches in the Valley.

With these numbers in the Sierra/foothills, models show return rainfall intervals of every 5 to 10 years northward of I-80 and 10 to 25 year returns southward. This additional rain on top of already saturated soil will likely cause some river, stream, creek and street flooding. Non-regulated rivers (non-dammed) like the Cosumnes River, the American River above Folsom Dam,and other Sierra rivers south of I-80 have not seen potential flooding of this nature since December 2005. This three day expected Sierra rainfall amounts are approximately twice the January monthly average."
Yes, this does indeed sound like a "plethora" of water. Few people realize that California is subject to some of the most extreme precipitation events in North America due to phenomena known as "Atmospheric Rivers". These vast plumes of water vapor, popularly known as a "Pineapple Express", account for a substantial fraction of California's water supply, and extreme atmospheric river events can cause catastrophic property damage and tragic loss of life. The great flood of 1862, which was thought to be an atmospheric river, destroyed one quarter of all taxable property in California, bankrupted the state, and transformed the Central Valley into an "Inland Sea". Stay tuned to see how this weekend's forecasted storm will match up against the flood of 1862.
There is some evidence that the forecasted rains will potentially match the 1997 flood – the largest recorded flood in California not counting the 1862 event which occurred before good records were kept. The NOAA forecast calls for flood stages on the Merced River in Yosemite Valley to reach 23.1 feet, only three inches below the record 1997 floods that obliterated two popular campgrounds and other infrastructure in the valley. The San Francisco Chronicle has some riveting footage on what that flood looked like up close and personal.
The 1997 atmospheric river storm resulted in major floods throughout the Central Valley that rewrote the hydrologic record book. Below Friant Dam near Fresno, the river peaked at 60,000 bic feet per second (cfs), four times the projected "100-year flood."  The 1997 floods came after two very wet years. This weekend's storm, however, follows several years of drought and most of the major reservoirs rimming the valley are at or near historic averages with significant capacity still remaining to capture projected floods. It will probably take more than one atmospheric storm to fill and spill the depleted reservoirs, but it may very well fill the reservoirs and a second storm of this magnitude in the next few weeks could cause widespread flooding throughout the Central Valley. This morning, the last line of the extended NOAA forecast for the Sierra read as follows:
"Longer-range models deviate a bit from next Wednesday onward, but the ECMWF and GEM are both currently hinting at yet another atmospheric river impacting Northern California late next week."
Stay tuned!