The Little Laramie – Through my Eyes
12 year-old Garrett Hayden writes about one of his favorite places and activities – fly-fishing the Little Laramie River in Wyoming. Enjoy this story of Garrett's adventure, in his own words.
The secluded Little Laramie River in Wyoming will blow your mind – as well as your expectations – with many amazing things. Calm sights and sounds seem like there is no city around for 100 miles. If you catch a nice fat rainbow it could mean tomorrow's breakfast. Meanwhile the small river flows on its way to new places.
The blue-green river winds every which way like a snake in the woods. There are many green plants lining the long, sandy riverbank. As you walk, you also might hear the loud squawking of a heron or a mud swallow living on the splintering barn wall. The rushing of the chilly river desensitizes you as it moves along without a care in the world.
If you do catch a slippery 8-inch rainbow, it makes an amazing fish breakfast. As you lay the filleted fish into the sizzling bacon grease, it makes an appetizing sound like the snapping of sticks. Afterward, the cooked rainbow will melt in your mouth like butter on a hot sidewalk. The fish also falls apart on your fork. It is a grand feast.
The river casts a refreshing cool inside your waterproof waders. There is a smell of mint and pure air lingering in the afternoon sun. While many anglers spend their days trying to catch a big one, others watch to learn more, or play in the sandy, grainy mud. The rod in your hand is very flexible. You watch your fly mimicking "Rio Grande King" as it floats on the water. BAM! He's fooled! He took it! The strong tugging is no match for the excitement that you are using to reel in the fish. You take it out of the water – a wild 16-inch brown trout – an amazing catch. You are thrilled. As you take out the hook, the fish wriggles in your hand like a fussy child. As you let it go it swims away fast, wanting to get away from what it has seen.
While many go fishing once in a while to a lake to catch a few small ones here and there, the Little Laramie blows that out of the water. Once you fish there you'll want to stay forever. All in all, the amazing sights and sounds, the lucidity, and the world class fishing make the Little Laramie one of the best places to make a summer vacation.
---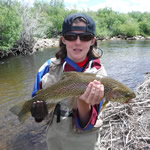 Garrett Hayden is an avid 12-year old angler, with a passion for wild fish in even wilder streams. Garrett attends Sargent junior high in Monte Vista, Colorado, and when he's not in school or dreaming of his next big adventure, he is either playing hockey, football, out snowboarding, or crafting his next tremendous collection of short stories. Look for more from this young man in the coming years!