Thanks to you, and all of the River Champions
People like you who are critical to keeping our conservation work going day after day, year after year. Read about some of the friends and supporters who made a difference for rivers over the past year.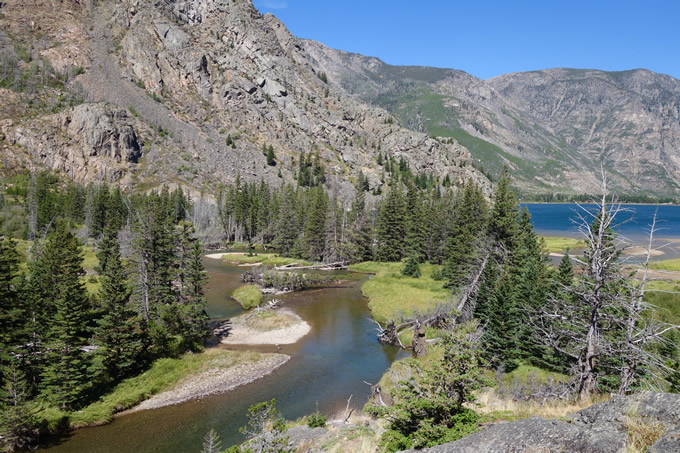 American Rivers is a special organization. We work on important issues we are passionate about. But it's not just the issues, or rivers, that make this a special place. It's the people – our colleagues, partners, supporters, friends – people like you who are critical to keeping our conservation work going day after day, year after year.
It takes a wide range of partnerships to protect and restore rivers. Below, read about some of the friends and supporters who made a difference for rivers over the past year. And if you're inspired by their stories, I hope you'll share your own.
Thanks to them, and thanks to you – we couldn't do it without you!
Maite Arce
One-third of the nation's Latinos live and work in the Colorado River Basin. Healthy rivers and clean water are essential to the health and future of the basin's families and communities.
"It's critically important to engage the Latino community in river conservation, in the Colorado Basin and across the nation," says Maite Arce, President and CEO of the Hispanic Access Foundation (HAF). "Our environmental values are strong and come from many generations."
"We're getting Latino youth out on the river, many for the first time. The beauty and the memories stay with us and make us into advocates. It's an awesome experience," she says.
American Rivers developed a strong partnership with HAF over the past year. We translated the short film "I Am Red" about the Colorado River into Spanish and distributed it to Latino audiences across the basin. HAF facilitated film screenings at 25 churches from Denver to Los Angeles and reached 4,000 Latino youth at special events. Spanish television stations including Telemundo Denver and Univision ran the short film as a public service announcement.
The response to the film has been overwhelming. "The impact has been so strong," says Maite. "We've received thousands of postcards from children and adults, sharing their thoughts and hopes for the river."
"Before we met American Rivers, HAF didn't have a direct way to serve as advocates for the Colorado River. Now, working with American Rivers we have more opportunities for Latinos to be fully engaged on these issues that are so important to our communities."
Ezra Field
As a child, Ezra Field  spent summers in Maine with his family and learned to fish. Among his first fly fishing experiences was the Penobscot River — home to the last wild Atlantic salmon run on the East Coast. He remembers the salmon runs dwindling then disappearing altogether — the culmination of years of habitat destruction from dams, pollution, and other impacts.
Years later, when he heard about the landmark Penobscot River Restoration Project, he was thrilled knowing the removal of outdated dams would restore salmon runs and river health. This kind of practical approach to conservation is one of the reasons why he supports American Rivers. "I love rivers and fishing. I appreciate American Rivers' focused approach on preserving our remaining wild rivers and removing uneconomic dams in order to restore river habitats. I'm glad to be able to contribute to these efforts."
This past June, thanks to the support of donors like Ezra, American Rivers and our partners celebrated the completion of the Penobscot restoration project.
The multi-year effort included the removal of the Great Works (2012) and Veazie (2013) dams, as well as improved fish passage at Milford and Howland dams. Now, Atlantic salmon and other sea-run fish have access to 1,000 miles of historic habitat for the first time in generations.
As of the 2016 migration, American shad have rebounded from almost zero to nearly 8,000. Anglers now catch them in waters where the fish had been absent for a century. Nearly two million alewives and blueback herring — up from fewer than 100,000 before the dams were removed — have returned.
Osprey, eagles, striped and smallmouth bass are benefitting, feeding on the silvery fish. A healthy Penobscot River is strengthening the entire web of life.
In 2014, Ezra returned to the Penobscot under different circumstances. "My father was in the Eastern Maine Medical Center, and I remember being there with him. His room overlooked the river. It was the first time I had seen the Penobscot since the [Veazie] dam was removed. It brought back old memories of family and fishing. My father passed at EMMC, but seeing the river returned to its natural state helped me reflect on the circle of life. At a very difficult time, I was able to find some solace in wonderful memories and the river's story of restoration."
Paul Bruchez
The Bruchez family has been ranching in Colorado for five generations. The Colorado River is the lifeblood of their business and their home. "Healthy ranches need healthy rivers," says Paul Bruchez, whose Reeder Creek Ranch is benefitting from American Rivers' efforts.
"We are fortunate to have American Rivers as a partner. For too long, agricultural and conservation interests have been at odds. But there is so much opportunity when we work together. I'm grateful for American Rivers' commitment to restoring the Colorado River. It means the world to my family and I feel hopeful about our future."
Check our annual report for more profiles of our outstanding partners and please consider supporting American Rivers with a donation today.