Inspiring Youth – One San Juan Trip at a Time
When it comes to America's youth, nothing inspires and encourages the next generation of stewards as much as getting them outdoors.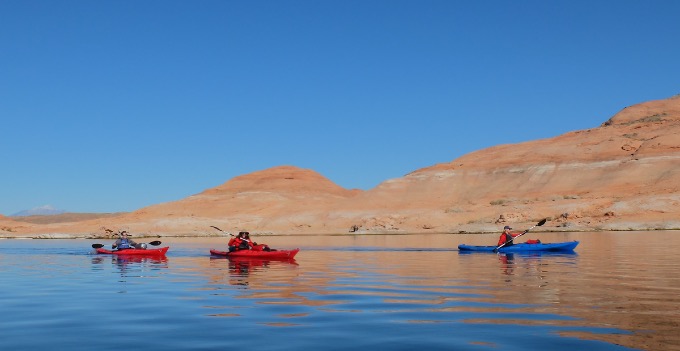 Today's post is a guest blog from Meg O'Neill and she teaches at the Utah International Charter School. She spent many years as an outdoor educator for Naturebridge in Yosemite and led trips for Outward Bound prior to pursuing her Masters in Education at Colorado College.
---
Many of us here in America are fortunate to have endless opportunities to get outside, explore the wild, and explore ourselves. We hike, we fish, we ride bikes, we raft rivers, we celebrate and appreciate nature's bounty that does so much to entertain us, inform us, and give us places to escape and thrive. A multi-day trip to Utah's southern desert is just one excursion that can encourage personal growth and development through challenge and adventure, as well as just be a whole ton of fun!
Earlier in my career, I was able to channel my enthusiasm for the outdoors as an outdoor and environmental educator. Now, as an instructor at the Utah International Charter School, I am lucky enough to work with amazing and unique young people every day. And what's more, through our partnership with the Four Corners School, I am thrilled expose kids from around the world whose lives have found them relocated to the Salt Lake City area.
Many of my students have had little or no experience in the outdoors. Some have, quite literally, only seen the refugee camp where they were born, one airplane, and their new neighborhood in Salt Lake. As a part of my role, I get to expand their horizons and provide new and formative experiences to these budding young people who represent not only the unique values of multi-culturalism, but are a core component of a rising generation of Americans. Recognizing the value of environmental protection, and the magic of wilderness, is imperative for these future citizens.
This year, my 7th and 8th grade students come from 16 different countries. Some were born here in the U.S.; others have come to Utah from places as diverse as Somalia, Mexico, Tanzania, Burma, Eritrea, Thailand, Rwanda, India, Kenya, Jordan, the Democratic Republic of Congo, Syria, Cameroon, El Salvador, and Ethiopia. Truly a melting pot of international experiences and cultures plopped in the middle of a vast new country.
With adventures like a four-day San Juan river trip, or excursions to one of Utah's signature National Parks, students get to explore topics like ecology, geology, biology, and meteorology that all come alive with extended time in the outdoors. They also get to practice their social language skills, and see their growth in effect in the real world outside the classroom. Wilderness experiences like these with Four Corners School foster collaboration and teamwork skills that serve my students in school and in life beyond.
The outdoors has inspired me, and millions of others across America, most of my life. My students also inspire and challenge me every day, and I am thrilled to be able to do the same for them.