Cleaning up the Beautiful and Historic Ashley River
To celebrate the 25th anniversary of National River Cleanup®, American Rivers partnered with local organizations and residents to clean up the Ashley River outside Charleston, SC.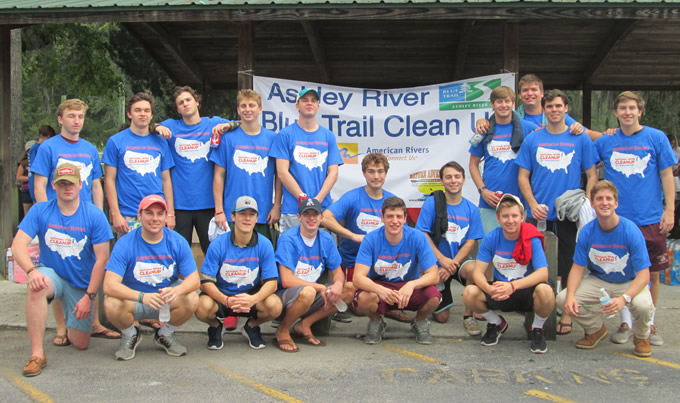 To celebrate the 25th anniversary of National River Cleanup®, American Rivers teamed up with Charleston Waterkeeper, Keep Dorchester County Beautiful, Dorchester County, Nature Adventure Outfitters, and local residents in Summerville, SC to clean the Ashley River Blue Trail. To talk more about the work we did and the importance of the Ashley, Andrew Wunderley, Charleston's Waterkeeper, has agreed to share a blog.
Charleston, South Carolina sits at the heart of a historic and ecologically valuable estuarine ecosystem. It supports countless species of plants, birds, fish, and mammals and more than 712,000 residents. The area's beaches, salt marsh, tidal creeks, rivers, and harbor provide our community with a unique and very special quality of life that is connected to and inseparable from the surrounding water.
In an area renowned for its natural beauty the Ashley River is special. It rises from the forested Wassamassaw and Great Cypress Swamps as a tannin colored blackwater river. Near Summerville, the river's channel deepens and begins to feel the ebb and flood of the ocean's tides.
The river slowly bends and winds past historic Fort Dorchester with its colonial oyster-tabby forts and St. George's Bell Tower. Downstream, its banks widen into large expanses of protected salt marsh near Dayton Hall, Middleton, and Magnolia plantations preserving a viewshed unchanged for hundreds of years.
Further along, the Ashley River's channel widens feeling the full and tidal cycle and its bucolic beauty gives way to abandoned phosphate plants and industrial sites from the early 1900s. Just past the historic and densely populated Charleston peninsula, the Ashley River joins the Cooper River to form the Atlantic Ocean.
The historic and natural beauty of the Ashley River and our coastal estuary haven't gone unnoticed. The Charleston metro region is one of the fastest growing in the United States. Some reports estimate that nearly 50 people move to our region every day. This intense and aggressive growth threatens the very essence of our community—it's rivers.
Today, the Ashley River is a hotspot for all manner of debris from plastic material like bottles, styrofoam, and bags to construction debris like lumber and sheet goods. The historic floods of October 2015 only made the pollution worse. The Ashley River can't clean itself, and it's our responsibility to look after the river and ensure it stays healthy. Fortunately, the Ashley River has an engaged community of stewardship groups and local citizens who love it, understand its historic and ecological importance, and are actively working to take care of it.
Charleston Waterkeeper is proud to stand with American Rivers, Keep Dorchester County Beautiful, Dorchester County, Nature Adventure Outfitters, and river stewards both familiar and new to cleanup one of the most ecologically important sections of the Ashley River. We got our feet wet and our hands dirty on Saturday, September 17th as part of the 25th anniversary of National River Cleanup®. At the end of the day, we were tried and dirty, but with the help of 250 dedicated volunteers, 2,360 pounds of trash were collected and either recycled or properly disposed.
Cleanup events like this are important to preserving and protecting the Ashley River for future generations. They remove debris that might otherwise harm the river's aquatic and plant life – making the river healthier and preserving its beauty for all. They also help inspire people to take action and instill a sense of responsibility for the river's health and future. We now have a cleaner river for everyone to enjoy, and some new Ashley River stewards to help keep watch over the river where Charleston was founded.
[metaslider id=33600]