Best Practices for Sustainable Recreation Management in the Verde Valley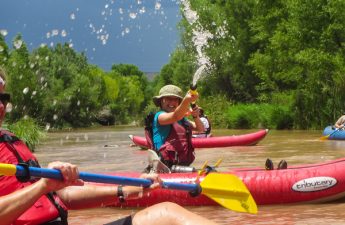 This blog was written by Fay Augustyn and Susan Culp.
In 2016, American Rivers worked with communities in the Verde Valley to develop a series of recommendations and resources to develop sustainable river recreation management strategies. Learn more about different management practices in American  Rivers' new report and how they can be implemented in your community.
Download: Best Practices for Sustainable Recreation Management in the Verde Valley
The Verde River in north-central Arizona is a precious gem – a silvery thread that winds its oasis of life through a remote desert environment. One of the last healthy, perennially flowing river systems remaining in the state, it is home to rare cottonwood-willow gallery forests, abundant wildlife, migratory and resident bird species, significant archaeological and historic resources, and vibrant communities. For many years, the Verde River, valued for its healthy riparian habitats and wildlife, has remained relatively unknown outside of the region as a recreational destination. Until now.
The Verde Valley communities of Sedona and Jerome have been popular tourism destinations for decades. The high volume of visitors has meant that over the years these communities have had to work to address visitation issues (such as traffic, housing for service staff, and the encroachment of development on open space). Although the broader Verde Valley has generally remained out of the public eye and undiscovered by tourists, that is rapidly changing.
Across the Verde Valley, there is an array of new initiatives to improve recreation opportunities, foster economic development, and build a healthy economy. The communities of Cottonwood, Clarkdale, and Camp Verde, and the Yavapai Apache Nation, have all engaged in recreation planning in recent years as interest in outdoor recreation continues to rise. Visitation to the Verde Valley is growing, and the residents, spectacular open space, and wildlife are experiencing the effects of these changes.
In this report, we highlight best management practices for sustainable recreation development across the Verde Valley. We also identify successes from communities across the country and what they have done to mitigate the impacts of recreation in river corridors. In addition to identifying practices regarding carrying capacity, education, engineering, and enforcement, we also explore opportunities for their direct implementation in the Verde Valley.
Download: Best Practices for Sustainable Recreation Management in the Verde Valley
Not only will the strategies and best practices in this report help protect the natural environment, they will educate visitors on ways to sustainably support the Verde Valley, surrounding open space, and world-renowned vistas and views. The report includes an appendix that references supplemental information to help communities in the Verde Front and the Verde Valley better understand sustainable recreation management.
While your community may not be exactly the same as those in the Verde Valley, there are valuable takeaways from this report that can be utilized by river towns across the country. Explore them today!