New "unlock hydro" hydropower reforms could remove important safeguards
What if the old hydropower dam that is killing fish and drying up your local river could be improved and brought up to modern environmental standards?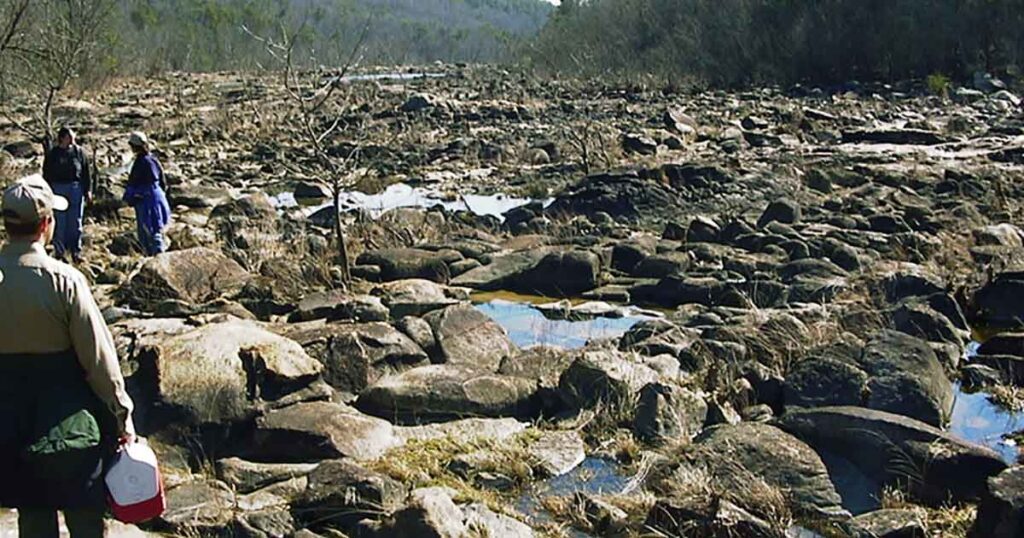 That image is the Catawba River, North Carolina. A hydropower project owned by Duke Power. The project has been operating on an annual license after its existing license expired in 2008. That is supposed to be a waterfalls.
What if the old hydropower dam that is killing fish and drying up your local river could be improved and brought up to modern environmental standards? What if there was a way to get the dam owner to release more water into the river, provide public access to recreate on the river, or help fish to swim past the dam safely?
Good news: there is a way to fix outdated dams. Every 30-50 years, the energy corporations that own the nation's hydropower dams must get a new operating license from the federal government. When they do, we have a once-in-a-lifetime to bring these dams up to modern environmental standards. States can require dam owners to meet water quality standards. Federal fisheries and wildlife managers can require them to install safe fish passage facilities and protect endangered species. And the agencies that manage our public lands can require them to put water back into rivers so that you and I can fish, boat, and swim again.
Over the past three decades, American Rivers and our partners at the Hydropower Reform Coalition have used the licensing process to improve the operations of hundreds of hydropower dams and restore thousands of miles of river. In making these improvements, the hydropower industry has gone a long way towards rehabilitating its past legacy of environmental damage.
However, if the hydropower industry gets its way, these opportunities could be lost forever. Two industry-supported bills in Congress would largely would allow the hydropower industry to not have to comply with the Clean Water Act, the Endangered Species Act, and other basic requirements for providing fish passage and protecting public lands. Senator Lisa Murkowski's Hydropower Improvement Act of 2015 (S. 1236) and the discussion draft proposed in the House Subcommittee on Energy and Power would turn back the clock and take the hydropower industry back to a time when they could destroy rivers with impunity. Neither Senator Murkowski's "Hydropower Improvement Act" nor the House Subcommittee's discussion draft improve anything except for energy corporation's profit margins.
These bills would:
Allow energy companies to opt out of Clean Water Act, Endangered Species Act, and state water quality and wildlife protections.
Let dam operators pass to taxpayers the costs and burdens of obeying water quality standards and wildlife laws and cleaning up pollution caused by the dams.
Ignore modern environmental laws and let dam owners operate under 1950's era rules — even if it means dead fish and dried up stretches of river.
Strip states and tribes of their authority to hold hydropower dam owners accountable to water quality laws.
Transfer the authority to protect natural resources away from the state and federal agencies that manage those resources to Federal Energy Regulatory Commission, a virtually unaccountable energy-permitting agency in Washington, DC.
Make local communities responsible for all the costs and burdens of obeying water quality and wildlife management rules when dam owners don't follow the law.
Let anyone, regardless of their qualifications, build hydropower (up to 5 MW) on an existing dam without first proving they won't pollute the drinking water or put local residents at risk.
The industry says that these provisions are intended to "modernize" hydropower regulation, but I find it hard to understand what is modern about eliminating basic protections for fish, wildlife, clean water, and outdoor recreation. These bills are so damaging that the Obama Administration, many states, and dozens of conservation groups have spoken out against them.
If these bills were to become law, many improvements we have made over the past decades could be nullified. We could lose the opportunities we've gained to paddle the world-class whitewater on the Cheoah river in North Carolina, or fish on the Boardman River in Michigan.
These bills would allow energy corporations to get out of having to comply with the laws that protect our rivers and water. Federal hydropower licenses give these companies the exclusive right to profit for up to half a century off of these public resources. As a condition of that extraordinary right, companies should be required to protect those resources for current and future generations. I don't understand why an industry that has spent so much time and money trying to portray itself as a clean, green source or renewable energy is so determined to opt out of its responsibility to protect the environment. If these bills pass, the only thing "green" about hydropower will be the money flowing into dam owners' pockets at the expense of America's rivers.