Community Members Turn Out for Waccamaw River Cleanup
American Rivers held a successful Waccamaw River Cleanup May 30 at East Bay Park and Landing in Georgetown, South Carolina.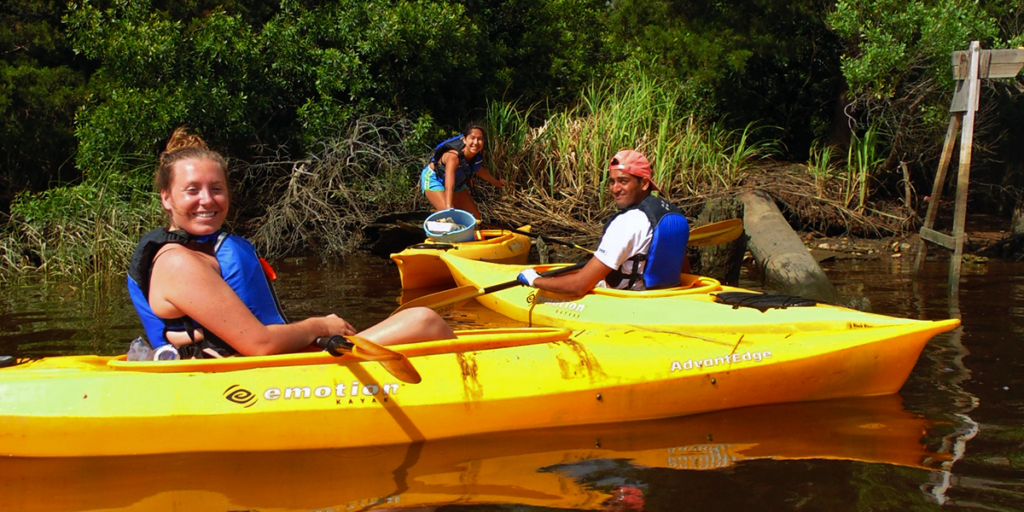 American Rivers held a successful Waccamaw River Cleanup May 30 at East Bay Park and Landing in Georgetown, South Carolina. Thirty people volunteered to clean up the Waccamaw River on land and on the water in kayaks provided by Blackriver Outdoors Center. A diverse array of cleanup participants, ranging in age from 14 to almost 70, helped collect everyday trash such as soda bottles as well as odd items including a yoga mat from our precious waters. Paddle veterans joined first-time kayakers excited to get a lesson and then try out their new skills while helping to clean up our river and harbor.
Some of those new paddlers were from a group of ten students from Duke University who are living and interning in Georgetown County this summer. Our group also included three teenage girls who had just moved to the area from New York. I was also celebrating a first: This was the first cleanup I organized, and I was proud to see everyone launch, outfitted with life jackets and paddles — 22 colorful kayaks and one speed boat dotting the water with people laughing, splashing, enjoying our river and bay, and eager to clean up the water at the same time.
[slideshow_deploy id='23380′]
The speed boat and its pilot, Ron Hartman, were key to our tremendous success. Hartman cruised between the kayakers in regular circuits collecting bulk items and full bags of trash and returning them to shore. This makeshift assembly line let our energetic group collect more than 300 pounds of trash from the end point of the Waccamaw River Blue Trail. Our most unusual piece of trash: a battered mini fridge that volunteer Jane Ochsenbein found and towed victoriously behind her kayak before loading it on Hartman's boat.
I was sick the whole week before the event, and I still wasn't feeling great Friday evening. But Saturday morning, I was at East Bay Park well before 9 am to hang up my American Rivers banner and set out our trash bags, gloves, pickers, and snacks. I was excited to greet all the volunteers who made time on a Saturday morning to join me. I was eager to share a little of our precious blackwater river and what I love about it – the jewel colored sunsets, a unique ecosystem that contains carnivorous plants that are found few places in the world, and the amazing, generous people that I've met and paddled with, who have nothing in common except their love of this river and its bay.
The event was a success by all the metrics we use to measure river cleanups, as well as one personal metric. At the end of the event, the Duke students thanked me and asked if there would be other opportunities to volunteer to help protect or restore the river. I can't wait to see them on the river soon!