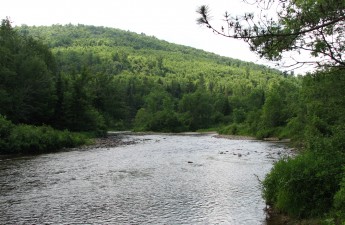 Last week I had the opportunity to spend two glorious days in Eagle County, Colorado exploring the Upper Colorado and one of its tributaries in Central Colorado, the Eagle River. Joined by a few of my colleagues, we partook in one of my favorite summer activities: floating a river. These two rivers are a destination for families and adventurers wanting to fish, float and enjoy the beautiful river and canyon.
The Upper Colorado and Eagle are surrounded by ranches and natural canyons with tall cliffs and steep slopes. Formations of sandstone, shale and volcanic intrusions gaze down at the river as you float pass. Spruce trees, cottonwoods and a variety of other riverside shrubs border the river. In the distance, forests can be seen climbing the mountains, with various shrubs and grasses in the lower foothills.
Smooth and playful rapids are dispersed throughout the two rivers. Family friendly rafting, tubing and wading are common occurrences during the hot summer months.  From small children to dogs, teens and families, seeing people enjoying and connecting with their river, their special place is a delight.
Fly-fishing fanatics have found a home on these rivers in Central Colorado. Many public access points are dispersed along the river where fisherman wading or boating with a fly rod in hand are the norm. Cool, shaded ponds line the river where Brown and Rainbow trout can be caught with ease. If you are lucky, you might catch a Cutthroat or Brook trout as well, but these are much less common.
If fishing isn't your thing but birding and wildlife viewing catches your fancy, these rivers are for you. Last week I saw my first wild bald eagle soaring high above us as we floated down the Eagle.  Seeing this magnificent bird flying high instilled a feeling of pride, reminding myself how great it is we live in a country where we can protect such beautiful and important rivers. Additionally, blue herons, ducks, geese and other raptors are commonly seen. If furry animals are more your speed, fox, sheep, beaver, and an occasional deer or elk roam the riverside as well.
Spending time on your local river, your favorite treasured place, is something we can all do more of in the summer. The Eagle and Upper Colorado are two very special places in Colorado. Not only do these two rivers offer a place for the local community and tourists to get out on the river and have fun, but they also provide the community with a strong economy and sense of place.
Where are your special places?