Endangered Rivers: Seizing an Urgent Opportunity
Just, equitable and climate resilient solutions for rivers and clean water are achievable and essential, on America's Most Endangered Rivers of 2022 and on every river across our nation.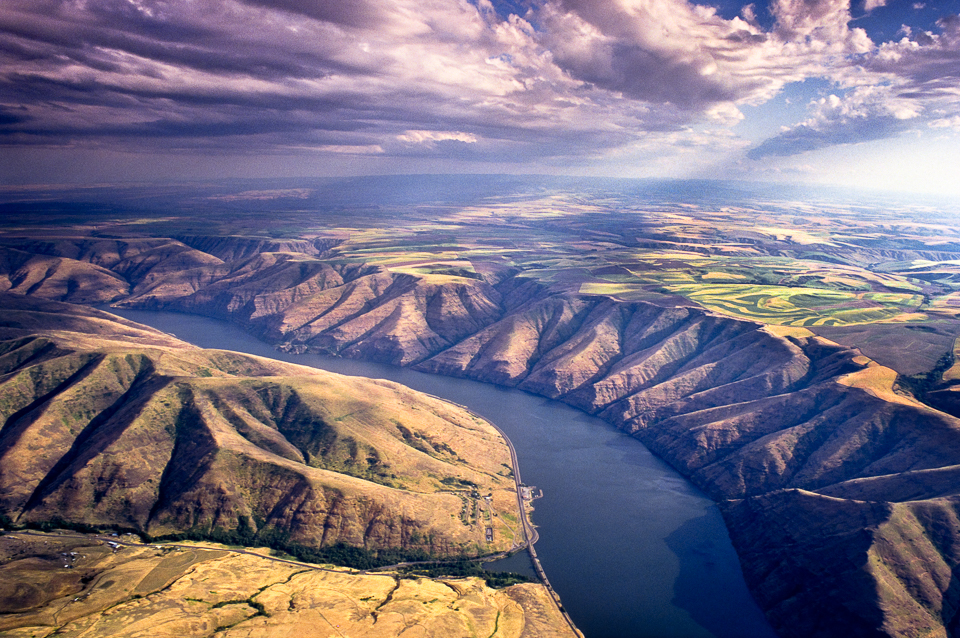 On a rainy day this last November, I stood on the bank of Idaho's Lapwai Creek and witnessed the return of coho salmon with Shannon Wheeler, Vice Chairman of the Nez Perce Tribe. The Tribe has been a central leader in restoring Snake River basin salmon runs –these incredible fish swim hundreds of miles from the Pacific Ocean and climb thousands of feet in elevation to reach their spawning grounds.
Vice Chair Wheeler expressed how sacred salmon are to his people, the Nimiipuu, for food, culture, religion and their very identity. But now, Snake River salmon runs are on the brink of extinction, in large part because of four federal dams on eastern Washington's lower Snake River.
The four lower Snake dams, built in the 1960's and 1970's, turned 140 miles of cool, free-flowing river into a series of slow-moving reservoirs, leading to lethally high water temperatures for salmon and steelhead, impeding migration of fish to and from the ocean and killing young fish attempting to pass through the dams to the ocean. The threat posed by the dams is exacerbated by climate change, which is warming up the Snake River and making conditions even more dire for salmon.
"As salmon and steelhead go, so do we," Vice Chair Wheeler said to me.
This is why American Rivers is amplifying the calls of the Nez Perce Tribe, other Tribal Nations, and communities across the Northwest and the country to remove the four lower Snake dams and replace their services. Scientists estimate that by 2080 the Snake River Basin will provide the remaining two-thirds of the coldest, most climate-resilient stream habitats for salmon and steelhead on the West Coast. Restoring a healthy free-flowing river, and investing in affordable, equitable clean energy and agriculture solutions, will benefit the entire region.
Healthy rivers are a critical part of the climate change and environmental justice conversation. That's because climate change is fueling more severe droughts and floods, and is exacerbating pollution and other ongoing threats to rivers. Unjust policies put the burden of these impacts disproportionately on Tribal Nations, Black, Hispanic, Latinx, and Indigenous communities, and other communities of color.
The Snake River is just one example. Our report on America's Most Endangered Rivers® of 2022 spotlights rivers across the country where climate change and injustice threaten clean water and people – and where the need for action is urgent.
On the Mississippi River, #6 on the list, pollution and increasingly severe floods are disproportionately impacting low-income and communities of color. It's why we need Congress to pass the Mississippi River Restoration and Resilience Initiative (MRRRI), which would invest in protecting and rehabilitating the river that millions of people depend on. Arthur Johnson, Chief Executive Officer of the Lower 9th Ward Center for Sustainable Engagement and Development states, "MRRRI will work to address the longstanding environmental injustices faced by Black, Indigenous, Latinx, immigrant and other communities of color and low wealth by setting aside a portion of the program's dedicated funding for these communities, like the Lower 9th Ward. We are bearing the brunt of climate change and MRRRI will help us be prepared."
On the #1 Most Endangered River for 2022, the Colorado River, we're witnessing ground zero for the climate crisis as water levels plummet — threatening the lifeblood of 30 federally recognized Tribal Nations, seven states and Mexico. In addition to improving river management and using water more wisely, we must also prioritize collaboration over litigation. All interests along the river must work together, and Tribal Nations must be at the leadership table with other decision makers.
In the words of Daryl Vigil, water administrator for the Jicarilla Apache Nation, "The inclusion of Indigenous traditional values and knowledge is incredibly important … I think that's something that we overlook in terms of the value of how thousands of years in the basin can bring to the current process. We have an opportunity to create a new paradigm of policy making of inclusive voices, where we jointly create a future together. What an opportunity for that to happen."
Just, equitable and climate resilient solutions for rivers and clean water are achievable and essential, on the Snake, Mississippi, Colorado and on every river across our nation. Let's seize this opportunity together: take action for America's Most Endangered Rivers of 2022.