American Rivers 2021 Impact Report is here!
Last year was proof of what we can achieve when we work together.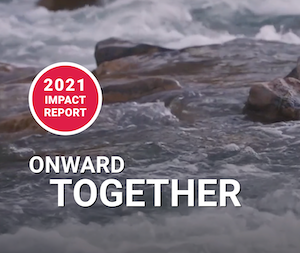 I heard a quote once that has stuck with me over the years, "A river cuts through rock not because of its power, but because of its persistence."
As I reflect on the past year of challenge, loss and victory, that quote takes on new meaning. Not just because American Rivers and our partners removed dams and advanced critical new protections for rivers — despite the trials COVID-19 and political divisions, but because the power of our relationships and the resolve of our community is stronger than ever.
Alongside advocates, supporters, tribes, conservation organizations, government agencies, municipalities and local groups, this community has proven that we will protect wild rivers, restore damaged rivers, and conserve clean water for people and nature — no matter what. We will travel onward, together.
It is my pleasure to share with you American Rivers' 2021 Impact Report. From essential fish and wildlife habitats restored, to pristine rivers that will never be dammed, to people who have cleaner drinking water — the stories you'll read in this report are proof of the difference this river-loving community is making for rivers.
I invite you to read about some key victories American Rivers achieved in 2021. The 2021 Impact Report features:
Statistics on the number of river miles protected, restored and cleaned up.
A state-by-state map of river wins.
Key progress made to free rivers and defend clean water.
From rivers freed from harmful dams, to ground gained in the quest for clean water for all, to enormous leaps toward permanently protecting more river miles than at any other time in history, we couldn't have achieved any of this without your support, time and expertise.
As we look ahead to 2022, I feel more driven than I have at any other moment in my 30-year career in conservation. Because right now is a make-or-break moment for rivers, clean water, our communities and our planet. Climate change is an emergency. Preserving our freshwater heritage is imperative. Joining together toward a common goal is non-negotiable.
And you have a vital role as we create the best way forward. Because withstanding the major challenges of our time — climate change, racial inequity, and the rapid pace of extinctions — will take all of us paddling in rhythm in the same direction. Healthy rivers give us the opportunity to address each of these threats and ensure that our ecosystems, communities and nation are resilient. This is our moment to reach even higher as we drive forward the movement for healthy rivers and clean water. Please enjoy American Rivers' 2021 Impact Report. We are so grateful for your support.
Blue Trails
,
Climate Change & Rivers
,
Conserving Clean Water
,
Dam Removal
,
Discover Rivers
,
Energy Development
,
Environmental Justice
,
Floods & Floodplains
,
Grants
,
Hydropower
,
National River Cleanup®
,
Protecting Rivers
,
Science
,
Stormwater and Sewage
,
Take Action
,
Urban Waters
,
Water Pollution
,
Water Supply
,
Wild and Scenic Rivers