Your pick for America's Best River Towns
We asked and you told us. These are some of America's Best River Towns by American Rivers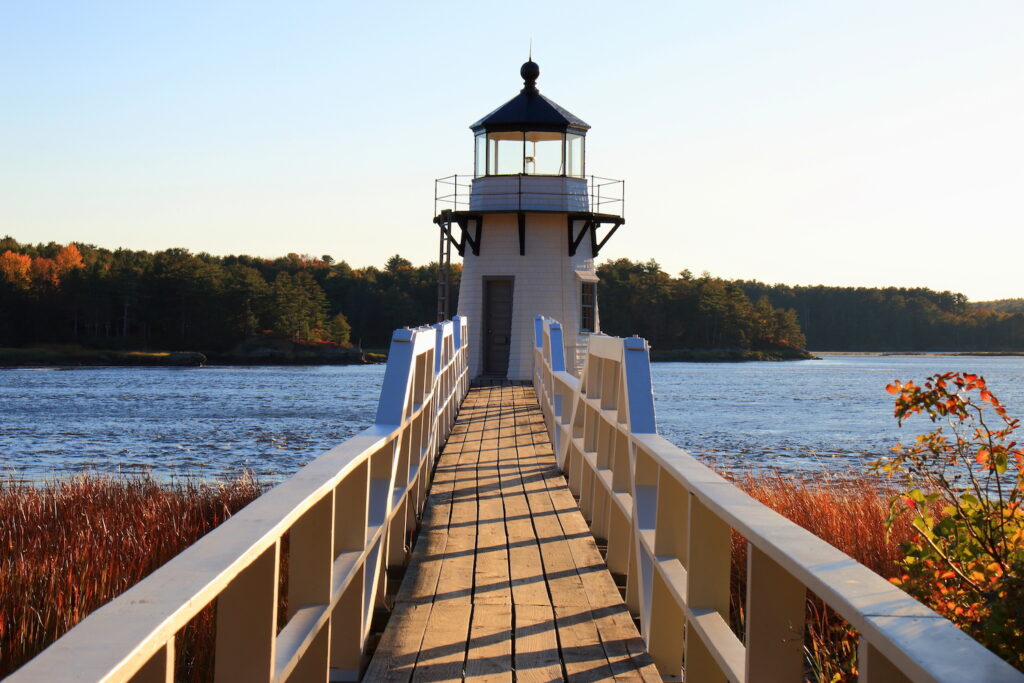 This is a guest blog highlighting some of America's Best River Towns by American RiversSM — written by Katrina Cubanski and Ciara Regan, two amazing interns who worked with the Communications team this summer.
This summer, we asked our supporters to share their favorite river towns. And we were thrilled with the enthusiastic response! We asked you to consider factors including conservation actions, clean water and river health, access, recreation, culture and history. And you spoke up passionately – thank you for sharing your stories.
We can't include every great river town here (we see you, Milwaukee, New Orleans, Sacramento and Minneapolis!), but here are some of your most popular picks for America's Best River Towns:
Cleveland, OH
Anyone concerned with issues of clean water or water conservation knows that in 1969 the Cuyahoga River, which runs through Cleveland, caught fire, contributing to the birth of the environmental movement. Since then, the river has seen tremendous recovery and American Rivers named the Cuyahoga "River of the Year" in 2019.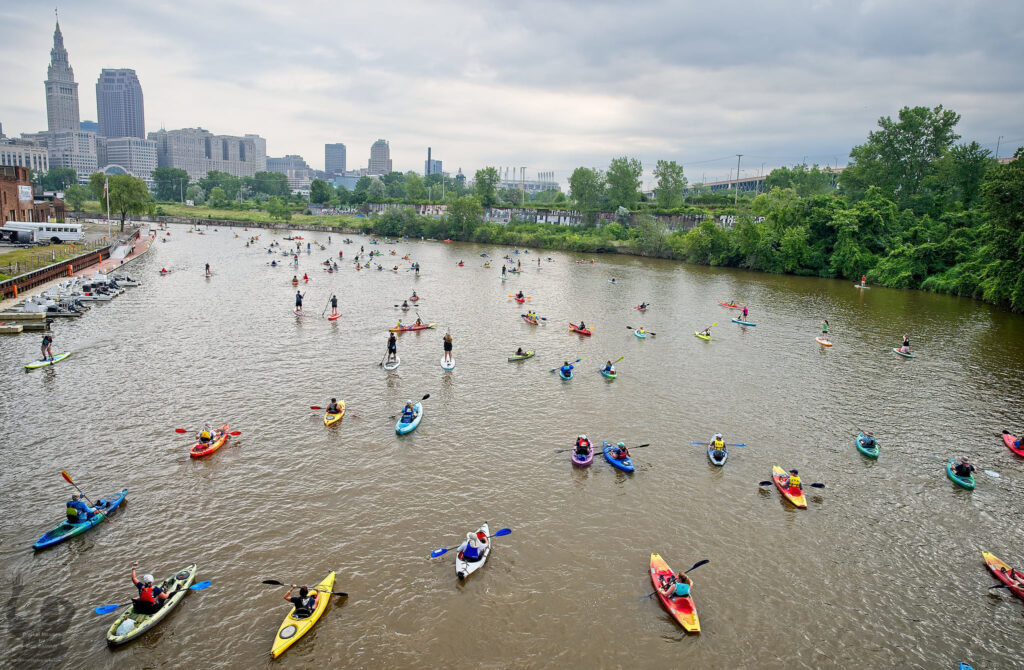 In addition to this legacy of conservation, the Cuyahoga River offers recreation such as paddle boarding, kayaking, and canoeing.
You said:
"The Cuyahoga is the ultimate success story for environmental revitalization!"
"It's so cool to see a giant lake freighter one minute and paddle boarders or a rowing club go by a few minutes later!"
"Cleveland's Cuyahoga River has risen like a phoenix since the 1969 fire."
"The Cuyahoga River is an object lesson in how the combined forces of city, state, and federal resources can turn around the once bleak prospects of a river into a thriving multi-use resource."
Steamboat Springs, CO
Steamboat Springs, on the Yampa River, boasts a strong community of river lovers, including our partners at Friends of the Yampa. They hold an annual river festival to emphasize the importance of respecting the river while appreciating all that it has to offer. Friends of the Yampa is and has been part of other local conservation efforts, like youth education and awareness initiatives and fundraising, as well. The community feels a strong connection to the river, seeking to protect both the local ecosystem and the opportunities for recreation it provides.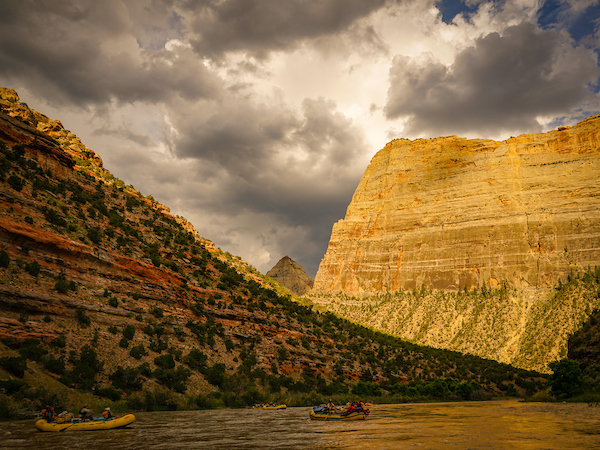 You said:
"These organizations have gotten the support of the agricultural and tourism industries to protect and enjoy the river."
"It's so nice to be able to paddle fun whitewater through town."
Colorado was a popular state for Best River Towns. Other responses highlighted community conservation and/or river recreation in Durango on the Animas River; Buena Vista and Salida, both on the Arkansas River; and Glenwood Springs on the Colorado and Roaring Fork Rivers.
The Forks, ME
The Forks has quite the fan club. We received upwards of 30 responses raving about this town on the Kennebec and Dead Rivers. The area offers great outdoor recreation and a welcoming community. Every year the community puts on an event called "Guide Olympics," where river guides compete in several athletic events, bringing together the community and raising money for a particular cause.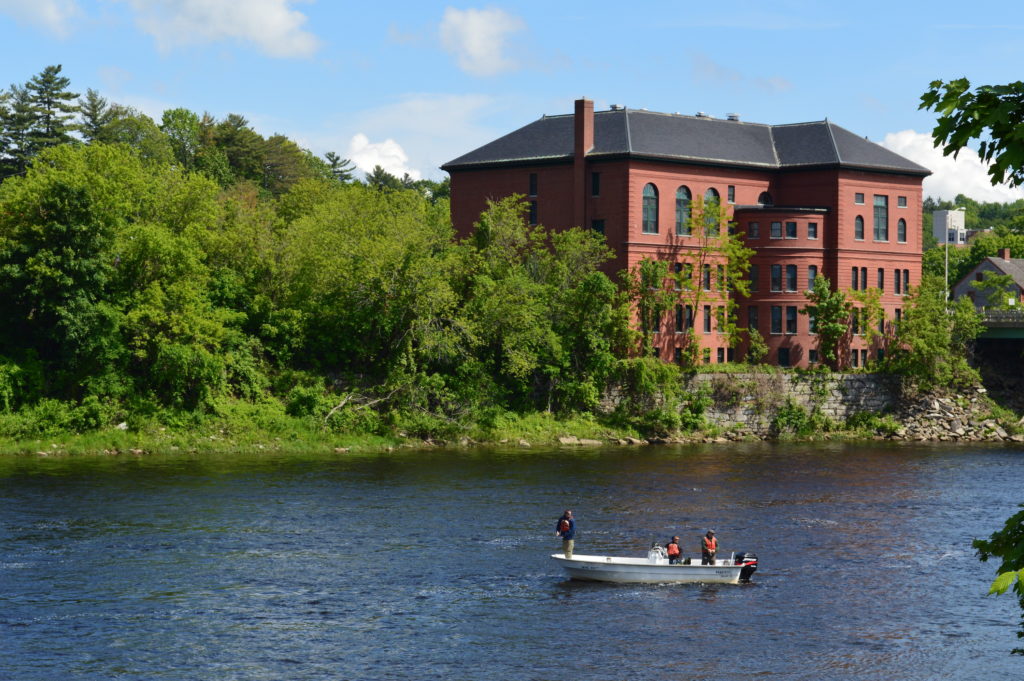 We checked in with Pete Didisheim, Advocacy Director with Natural Resources Council of Maine. He confirmed, "The Forks is a great little town. Fantastic whitewater rafting through the Kennebec Gorge. A spectacular drive to the area on Route 201, especially with fall colors. Take a hike to Moxie Falls, go fly fishing, or look for a Moose – this is a wonderful area of Maine, with water at its heart."
Local conservation groups are working further downriver to restore a free-flowing Kennebec in order to save endangered Atlantic salmon and other sea-run fish.
You said:
"Whether you are an adrenaline junkie or a 4-year-old toddler that loves looking for fossils this community is welcoming, exciting, and pure magic"
"Having been a part of this happy place for almost 40 years, and having rafted all over the world, I can safely say river people and the incredible culture they inhabit are the best examples of human cooperation to be found on this planet."
"The Forks is like no place else. Going to The Forks is like going home."
Richmond, VA
Richmond, Virginia on the James River is hailed for its amazing urban whitewater, with class III and IV rapids. The river offers outdoor recreation for people of all ages and experience in the forms of more mild rafting, swimming, and walks along the river.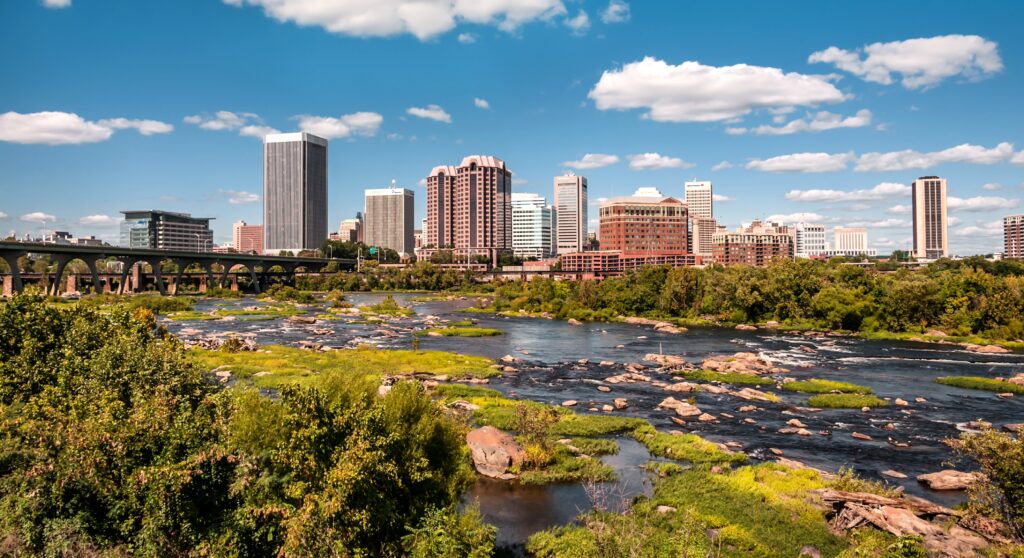 Fun fact: in 2012, Richmond was a winner of Outside's Best River Towns in America contest, conducted via a partnership with American Rivers.
Community members hold great fondness for the river, and groups organize for its maintenance and conservation. For instance, The Conservation Fund has recently purchased land along the James for the purpose of river conservation and protecting the area from development. This move, part of a partnership with Capital Region Land Conservancy, James River Association, and the City of Richmond, will also add new public river access and bolster youth education programs.
You said:
"I grew up a mile from this historic river & it will always be a part of my life."
"The falls of the James River at Richmond offer the best urban whitewater on the planet."
"Community members have made tremendous progress towards making the James a clean, safe, and accessible river for everyone to enjoy."
Pittsburgh, PA
Three rivers: the Allegheny, Monongahela, and Ohio, come together as they pass through Pittsburgh. Because of this connection, Pittsburgh is the perfect place for gentle strolls with open expanses of river views. The city also hosts the Three Rivers Arts Festival annually, celebrating the culture and history of Pittsburgh. The festival grants the opportunity to browse art while appreciating the city's scenery.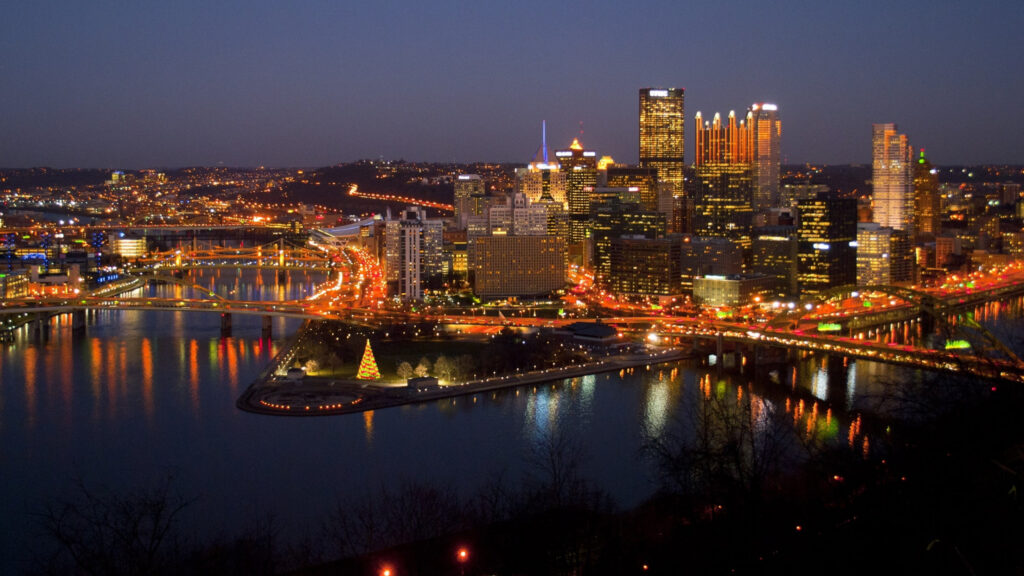 You said:
"I have been all over the world and always came home to Pittsburgh to live and to work. Many people have boats and spend their free time on the rivers."
"These rivers are the Allegheny, Monongahela and Ohio. Each river brings its own hometowns favor and history. Once a year for seven to ten days there is a Three Rivers Festival to celebrate all that is Pittsburgh history, culture and future promises."
Macon, GA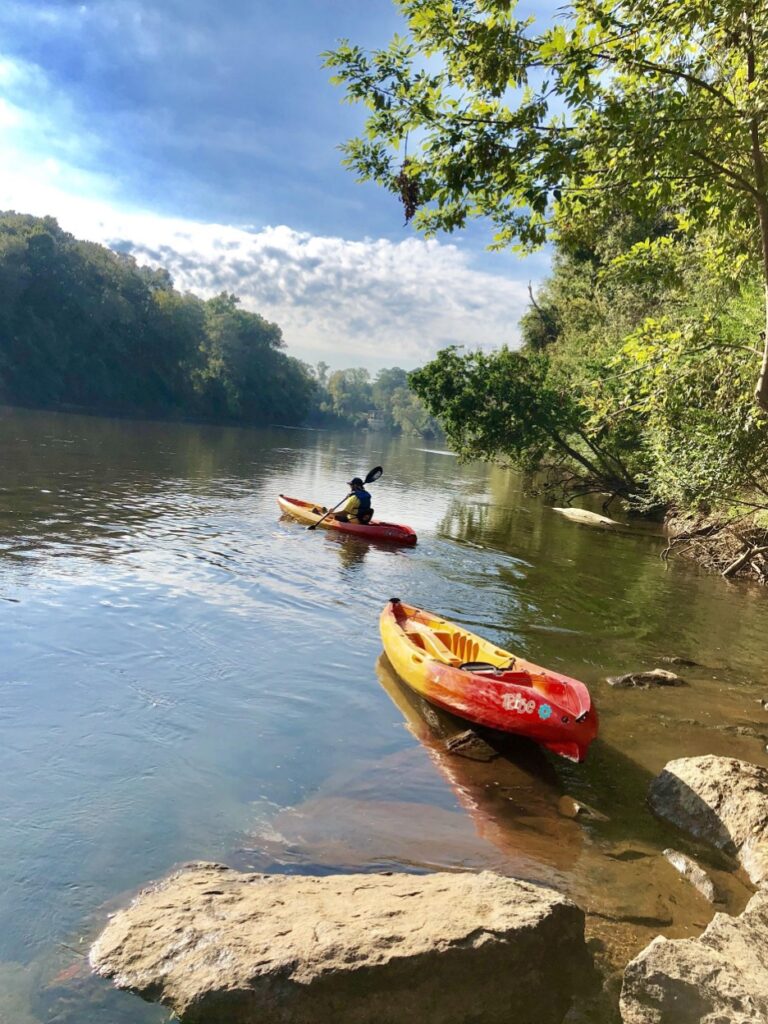 Located on the banks of the Ocmulgee River, one of the most fascinating parts of Macon is the Ocmulgee Mounds National Historical Park. Here you can learn about thousands of years of human life in the area, and the important role that the Ocmulgee River has played in history. The park and the river serve as wonderful learning opportunities for residents and visitors alike. As a bonus, the area is also home to beautiful walking trails, and recreation like kayaking or wildlife spotting is popular on the river.
You said:
"Macon is known for its music. Otis Redding singing "Sitting on the Dock of the Bay", has a memorial to him on the Ocmulgee Water Trail."
"Macon and Bibb County are most fortunate to have the Ocmulgee River as a main feature to enjoy and appreciate. It is a learning tool for students and grownups on how to use and take care of it."
"The Ocmulgee ("Bubbling Waters") River is rich in history and has played a major part in the development of Macon and the surrounding area."
Bend, OR
Bend is a popular destination for its outdoor recreation on the Deschutes River. Activities include kayaking, tubing and swimming, and walking or biking on paths along the river. The river holds great importance to the community.
You said:
"The Deschutes River defines our landscape and much of our community character."
"It makes Bend, Bend."
"Great downtown area with access to the river. What could be better?"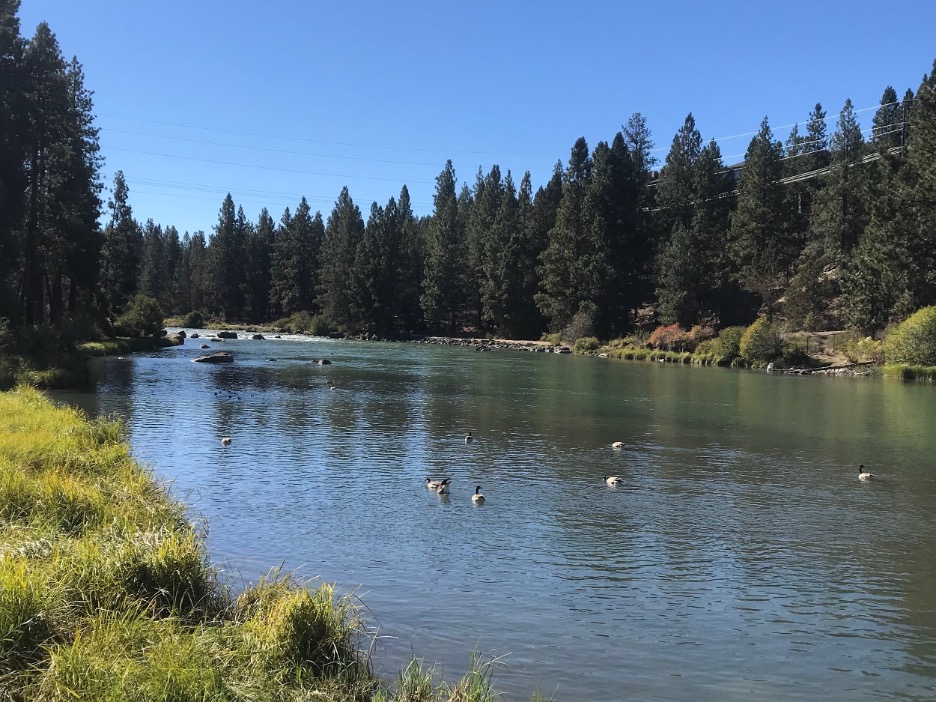 In addition, Oregon had a number of Best River Town submissions along the Willamette River including Portland, Corvallis, Eugene, and Independence.
Missoula, MT
Missoula was certainly one of the less surprising responses on the list. Located at the junction of the Clark Fork, Black Foot and Bitterroot Rivers, it is well-known for its recreation, including rafting, kayaking, and local exploration for those interested in nature, history and geology. The area is also an excellent spot for family gatherings and picnics.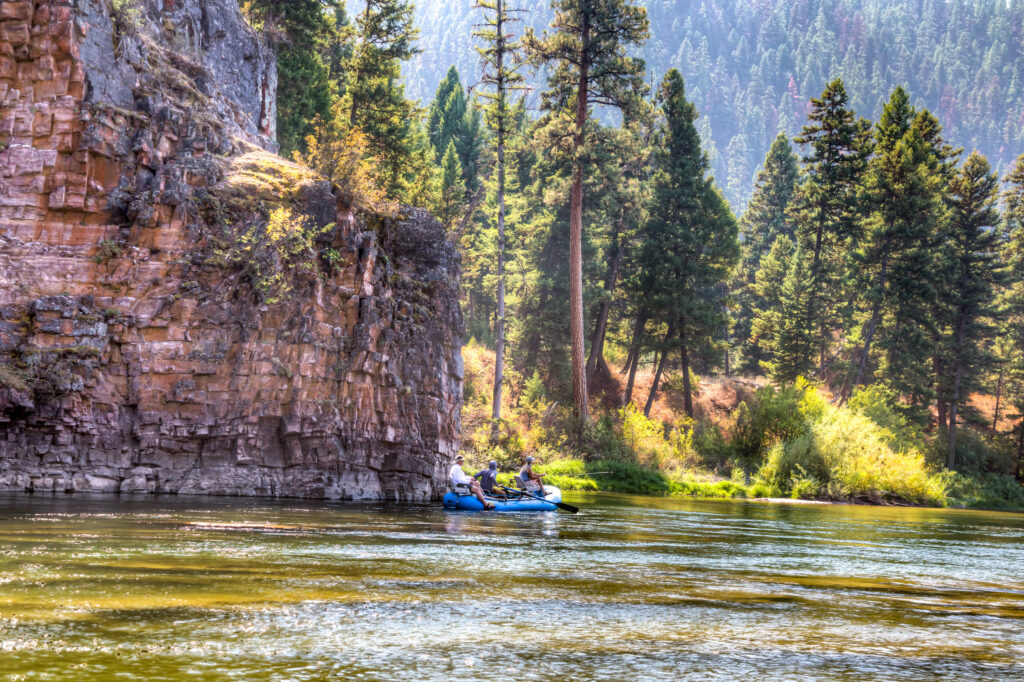 You said:
"A gem of Montana."
"World-class fishing, rafting with unmatched beauty. Plenty of family gathering & picnic locations. Pristinely clear water and pine-fresh air. Nearby points of interest for history buffs, geologists, naturalists, and archeologists."
"These are some of America's best trout rivers and are also outstanding float and kayaking waters with some of the best scenery anywhere. The town loves the rivers and they make the town special."
Disclaimer
In sharing the results of our research on America's best river towns, we hope to shine a light on communities that not only thrive because of their local rivers, but strive to give back to them. While we are not advocating for travelling to these locations, should you choose to do so, we hope you take into account these towns' community engagement efforts with their rivers. If you visit, we hope you acknowledge those efforts through responsible tourism and respectful, sustainable engagement with the rivers.