Biden Administration Takes First Step Toward Flood Resilience
President Joe Biden's first week in office brought a dramatic return for clean water and common-sense flood protection.
President Biden took steps to make Americans more resilient to climate change and the increasing floods that many communities are facing by signing an executive order that directs federal agencies to considering reversing harmful environmental actions taken under the previous administration. In addition to restoring National Monuments like Bears Ears and Grand Staircase-Escalante and revoking the permit for the Keystone XL Pipeline, this sweeping executive order reinstated the Federal Flood Risk Management Standard — a key step toward improving protection and management of the nation's floodplains.
In our 2021 Blueprint for Action, American Rivers called on the Biden-Harris Administration and Congress to reinstate the standard, which requires federally funded infrastructure to be built to a higher standard that is safer and more resilient to floods. It also urges all federal agencies to use nature based solutions wherever possible.
Higher flood standards mean safer, more resilient communities.
The United States has been wrestling with increasingly severe floods for decades. As flood damage rises, so does the federal cost of flood response and recovery. In 1977, President Jimmy Carter took steps to protect federal taxpayer investments, public safety and river health from flooding when he signed an executive order that required federal agencies to avoid actions or development in the 100-year floodplain whenever practical.
By 2015, it had become clear that the so-called "100-year flood" was no longer an adequate measure of flood safety if communities were to be resilient to the more frequent and intense floods brought by climate change. As a part of his Climate Action Plan, President Barack Obama established the Federal Flood Risk Management Standard. This standard required that federal projects must be able to handle a larger flood and steps were taken to make sure that agencies had as much flexibility as possible to use a standard that works for their projects. The standard offers three options:
Climate-Informed Science Approach: Agencies use the best-available science to determine future flood conditions — design infrastructure and buildings accordingly.
Freeboard Evaluation Approach: This approach takes the 100-year flood and adds 2 feet of "freeboard." Infrastructure and buildings must be able to handle this larger flood. For critical facilities like hospitals, the standard is raised to 3 feet of freeboard for an added margin of safety.
500-Year Elevation Approach: This approach requires that infrastructure and buildings be able to handle the 500-year flood, i.e., the flood that has a 0.2 percent chance of occurring in any given year.
Encouraging nature-based solutions.
In an important move for the health of rivers, the standard also states that, "Where possible, an agency shall use natural systems, ecosystem processes, and nature-based approaches when developing alternatives for consideration." This key policy was the first interagency instruction to all federal agencies that they should use nature-based solutions in floodplains whenever possible.
Nature-based solutions to flooding — such as restored wetlands, reconnected floodplains, natural floodways and natural vegetation — are generally more resilient, sustainable and cost-effective than traditional static, concrete strategies alone. They also beautify and provide quality of life and economic benefits to communities.
Nature-based solutions have been growing in popularity and support from communities across the nation in recent years thanks to their ability to solve multiple challenges for communities. For agricultural areas trying to reduce excess nutrient runoff into rivers and streams, restoring floodplains can improve water quality and give rivers room to safely flood. Upgrading undersized culverts and bridges to accommodate a larger flood also improves passage for fish and other river critters. And breaching levees can allow fish to access spawning and rearing grounds, while the flooded floodplain captures carbon and recharges groundwater supplies. Nature-based solutions can even bring economic benefits and revenue to local cash-strapped communities.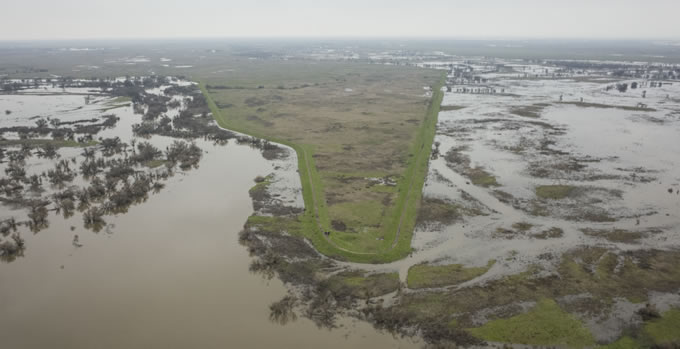 An error gets corrected.
Despite the clear benefits of the Federal Flood Risk Management Standard to communities across the country, the previous administration revoked the standard in 2017. Just days later, Hurricane Harvey hit the Gulf of Mexico, bringing devastating flooding to Texas communities.
By reinstating the Federal Flood Risk Management Standard, the Biden-Harris administration is sending a clear signal that science is a priority, and that administration will aggressively push to ensure that American communities are increasing their resilience to flooding and climate change. This is a start for President Biden, but it is just the first step toward implementing equitable, integrated flood management and prioritizing nature-based solutions in states and communities across the country. American Rivers is eager to work with the Biden-Harris administration to take additional steps to improve protection and management of the nation's floodplains.