Lessons Learned From A Levee Victory
Stopping the Elm Point levee proposal is a great win for people and the environment!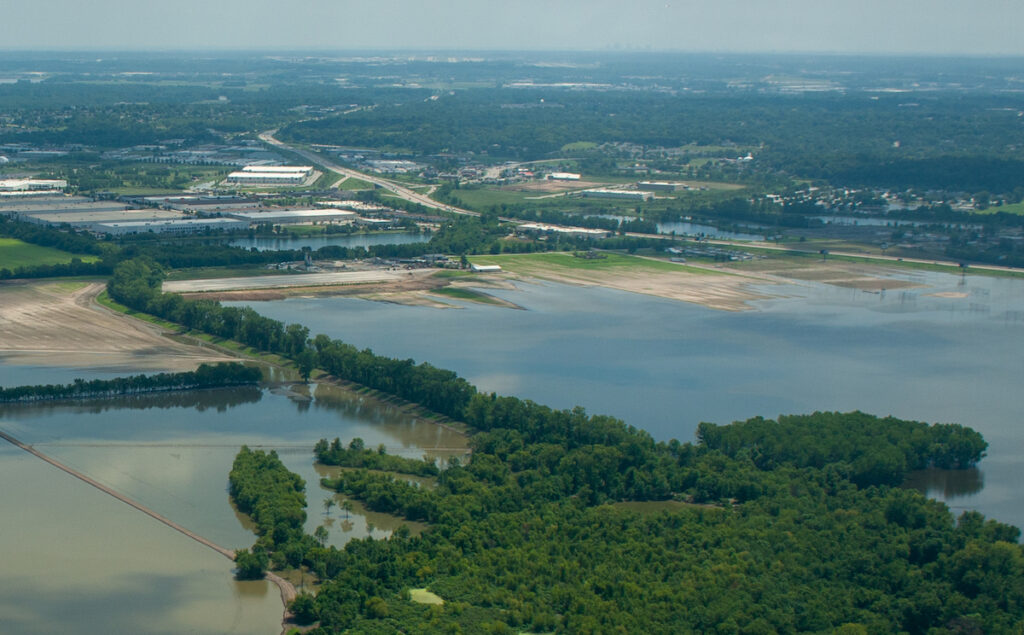 This is a guest blog by David Stokes, Executive Director of Great Rivers Habitat Alliance.
The City of St. Charles, Missouri, sits between the Missouri and Mississippi rivers within the peninsular county of the same name. Like almost all cities and counties within major floodplains, St. Charles has experienced significant flooding events in recent years. Many of their flooding problems have been caused by irresponsible floodplain developments in neighboring cities and counties.
In early 2020, the City of St. Charles announced it was embarking on two new studies for major levee projects to "protect" parts of the city. The proposed Elm Point levee within the Mississippi River watershed is a typical "build it and they will come" floodplain development project intended to take undeveloped land out of the floodplain (as defined by FEMA) via a new 500-year levee to allow for major commercial development after the levee is built. These types of floodplain developments have been a common occurrence in the St. Louis-region, leading to increased flooding, environmental damage, abuse of tax subsidies, and further harms.
The other proposal, the Frenchtown levee alongside the Missouri River, is slightly more defensible. In this case, existing residents and businesses have seen increased flooding, and the city is trying to help address the situation. While a new, 500-year levee is not the proper answer (and will only make flooding worse for someone else nearby), the people of the Frenchtown neighborhood do deserve help.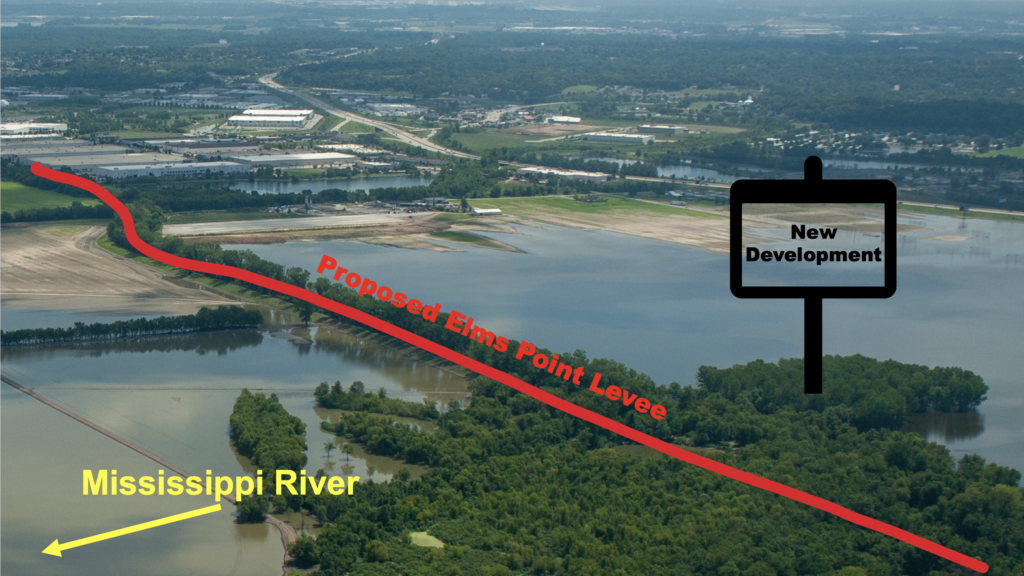 Great Rivers Habitat Alliance became concerned as soon as we heard about these proposals. We raised our objections to community groups, local media, and to St. Charles city and county officials. Our objections focused on these projects being just the latest additions in the ongoing regional levee race that has resulted in water being higher and flooding being worse for all our communities. This levee race costs enormous amounts of money, harms the environment, damages vital habitat, and threatens public safety by creating larger and faster floods.
In July, we were informed by Mayor Dan Borgmeyer of St. Charles that the city was cancelling the Elm Point levee study. While they are continuing with the Frenchtown study, it was a great win for the environment that the Elm Point levee proposal has been cancelled. It was also a relatively fast win. For non-profits used to drawn out policy fights that can last for years (including one our organization had with the neighboring city of St. Peters, Missouri, from 2005 to 2011), convincing a local government to cancel a bad proposal this quickly is uncommon. How did it happen and what can we all take from it?
I think the most important lesson is the importance of routinely following the agendas of local governments in the regions your organization may cover. We learned about these two studies in their embryonic stages just after they had been proposed. Too often, activists hear about projects of all types well after the backers have performed much of the behind-the-scenes work, including consulting fees, preliminary engineering work, etc., that can cost significant money. Spending that money makes it more difficult for a government to just cancel a project. We learned about and began objecting to the Elm Point levee early on, making it easier for the city to listen to our arguments and end the project before expending taxpayer money.
Another lesson is the importance of building good relationships with local officials. In our meeting with city officials, local media, and other groups, we always kept our objections professional and never let it devolve into a personal dispute. Since the decision to end the project, I have given credit where it is due – and will continue to do so – by properly praising Mayor Borgmeyer and other city officials for this great decision. We want a good relationship with the Mayor so that we can be a part of the conservation and debate about the Frenchtown levee. The pressures from developers to pave over America's floodplains never ends. All we can do as activists is be prepared to fight for our beliefs as effectively as we can.
---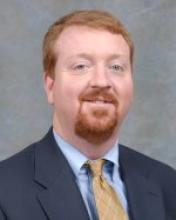 David Stokes is a Saint Louis native and a graduate of Fairfield (Conn.) University. Stokes has been the executive director of Great Rivers Habitat Alliance (GRHA) since 2016. He focuses his efforts on preserving the Confluence floodplain of the Mississippi, Missouri, and Illinois rivers from harmful development. Prior to joining GRHA, he was an assistant to Saint Louis County Councilman Kurt Odenwald from 2001 through 2006. Stokes was a policy analyst at the Show-Me Institute from 2007 to 2016. He currently serves on the University City Commission for Access and Local Original Programming (CALOP) and is a past president of the University City Library Board. Stokes was the 2012 representative to the Electoral College from Missouri's First Congressional District. He lives in University City, Missouri with his wife and their three children.