Clean water in a time of coronavirus: tackling the crisis in California
California's drinking water crisis has reached new proportions with the risks posed by COVID-19.
The COVID-19 crisis is bringing into the spotlight the disparities and hardships that our most vulnerable communities face every day. People of color and economically disadvantaged communities have long been known to be disproportionately impacted by pollution and suffer higher rates of many health problems, and it is no surprise that recent headlines report they are also dying from COVID-19 at higher rates.
In California's most productive agricultural regions, the Central Valley and Central Coast, our essential farmworkers continue to work the fields to bring food to our tables as most of us shelter in our homes. Farmworkers have always worked under tough conditions, often in regions with poor air quality, extreme heat, and exposure to harmful pesticides. Many of them have no health insurance and no paid sick leave, and the majority are undocumented and thus do not qualify for federal aid under COVID-19 relief packages. Now, Trump is threatening to reduce the minimum wage for farmworkers, at a time when other essential workers are receiving hazard pay.
In many areas of the Central Valley and Central Coast, decades of intensive agriculture has resulted in groundwater that is too polluted to drink, and wells that have gone dry from over-pumping. More than one million people in these regions lack a source of clean water in their homes. This is a hardship even in the best of times, but it puts communities at extremely high risk during this time of crisis. Families that must normally buy their drinking water at stores are now often not able to find any in stores, or they lack the funds to buy it. When they have to visit multiple stores in search of drinking water, they put themselves at higher risk of exposure to COVID-19.
For many years, front line organizations such as Community Water Center, Self-Help Enterprises, Clean Water Action, and Leadership Counsel for Justice and Accountability have been advocating for clean water for these communities. They were instrumental in passing the 2012 Human Right to Water bill (AB 685) by the California legislature, which states that "every human being has the right to safe, clean, affordable, and accessible water". Since then, these organizations have taken the lead on advocating for stricter controls on agricultural pollution, as well as the passage of the Safe and Affordable Drinking Water Fund (SB 200) in 2019.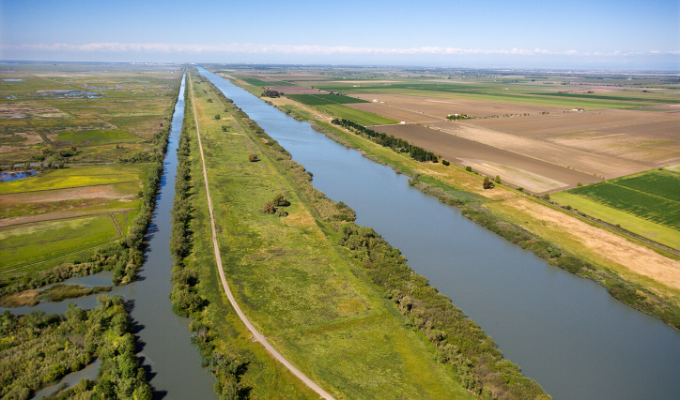 Despite these efforts, once groundwater is depleted or polluted it takes decades to recover, and there has been limited progress in providing clean water to the communities who desperately need it. Now, the drinking water crisis has reached new proportions with the risks posed by COVID-19. American Rivers joined with over 50 others organizations in sending a letter to the CA Senate and Assembly budget committees requesting emergency water distribution and delivery programs to ensure that all in need have access to drinking water, as well as other measures to increase water access.
In the meantime, local organizations are working on the ground to provide relief. The Self-Help Enterprises Emergency Services Program Team is distributing bottled water to communities and homes that lack clean water in Kern, Kings, Tulare, Fresno, Madera, Merced, Mariposa, and Stanislaus counties. The Sierra Health Fund has launched the San Joaquin Valley Health Fund COVID-19 Response Cluster to support vulnerable families, individuals, and the organizations supporting them.
American Rivers Central Valley staff are collaborating with these critical on-the-ground organizations and we are committed to supporting their efforts in environmental justice, and achieving clean water for all.