Dam Safety for Downstream Safety: Revisiting the Oroville Dam Spillway Failure
In the face of aging infrastructure and climate change, we need to be more proactive about making updates to the structures we rely on.
It's been three years since our nation's tallest dam, Oroville Dam, partially failed, forcing downstream evacuations, environmental damage, and costly emergency repairs. In the wake of the main spillway failure, a host of environmental groups (including American Rivers), the public, and governmental agencies responded. The takeaway was clear: dam safety across the United States needs to be improved. As America's infrastructure continues to age and faces new threats posed by our changing climate, we need to be more proactive about making updates to the structures we rely on for public safety and resources.
Aging Infrastructure, Changing Climate, Increased Risk
"70% of the nation's dams are over 50 years old. [They were] built with the best engineering and construction standards at the time; however, as the scientific and engineering experience has increased, many dams are not able to safely accommodate our current prediction of large floods and earthquakes" (American Society of Civil Engineers). The dams in the US collectively earned a 'D' on the ASCE report card released in 2017 (you can view the report here). Dams were not individually 'graded' in the report card, but Oroville is one of 15,498 (17% of catalogued dams nationwide) that have been identified as high-hazard potential dams, meaning that they pose a significant threat to human life or property if they fail.
Downstream Communities and Ecosystems
As the high-hazard grade would imply, this dam's failure had serious ramifications for communities and ecosystems downstream. The Association of State Dam Safety Officials (ASDSO) stated that, "The Oroville Dam spillway incident was caused by a long-term systemic failure to recognize and address inherent spillway design and construction weaknesses, poor foundation bedrock quality, and deteriorated service spillway chute conditions." It is now clear that the spillway was built on unstable bedrock (Independent Forensic Team Report Oroville Dam Spillway Incident) and as a result the concrete separating the bedrock and thousands of gallons of water per second rushing over the spillway was worn paper-thin over its years of use. This resulted in the concrete coming off the hillside in large chunks as the water eroded it away. Meanwhile, the emergency spillway's efficacy had never been tested, so when it was forced into use, it too eroded the hillside. The Department of Water Resources (DWR) was left with no choice but to order the evacuation of the three counties (188,000 people) that would be impacted in the case of a complete dam failure.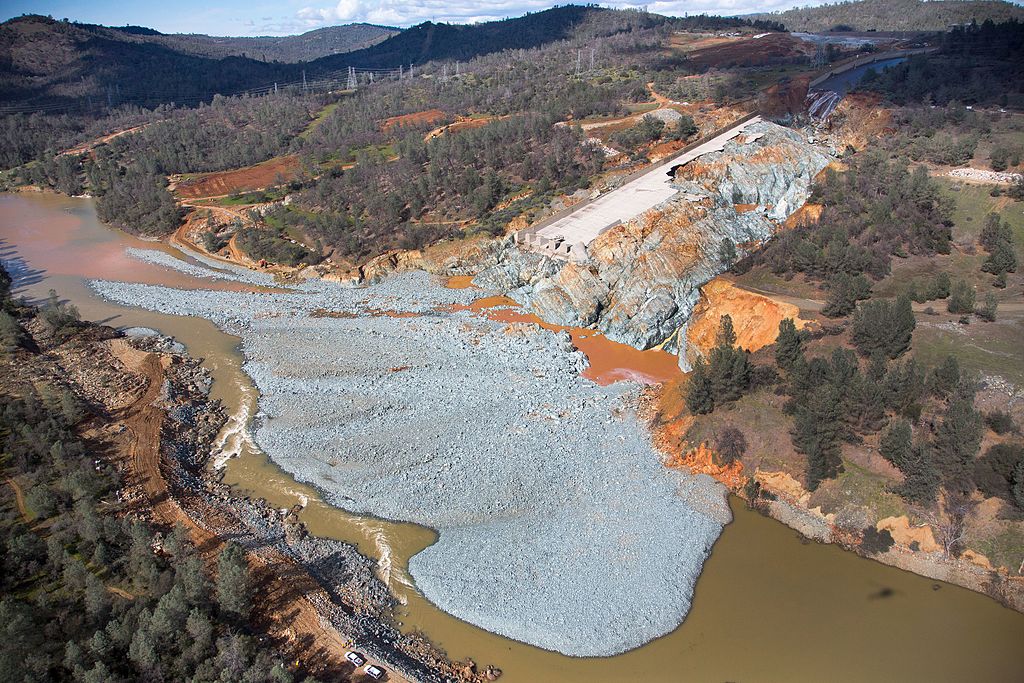 The spillway failure in 2017 was more than a scare, it had negative impacts on downstream communities, ecosystems, and the dam owners; the evacuation displaced thousands of people, negatively impacted the ecosystem by washing tons of sediment downstream, and cost DWR over $1 billion to repair (which does not include the economic impacts on the community). Salmon and steelhead fisheries were already impacted by the construction of the dam, which blocked them from reaching their natal spawning grounds. After the spillway failure, sediment from the hillside choked out miles of habitat and anything living there.
Updating Infrastructure in the Face of Climate Change
Since February 2017, DWR has completed the reconstruction of the main spillway so its foundation is better anchored into the bedrock, reinforced the emergency spillway with concrete (though it still is not safe to rely on that spillway regularly), among other projects. Oroville Dam is looking stronger, but there's still a lot of work that needs to be done to reduce its public safety risk. It is not alone: thousands of dams need to be dramatically updated or run the risk of failure.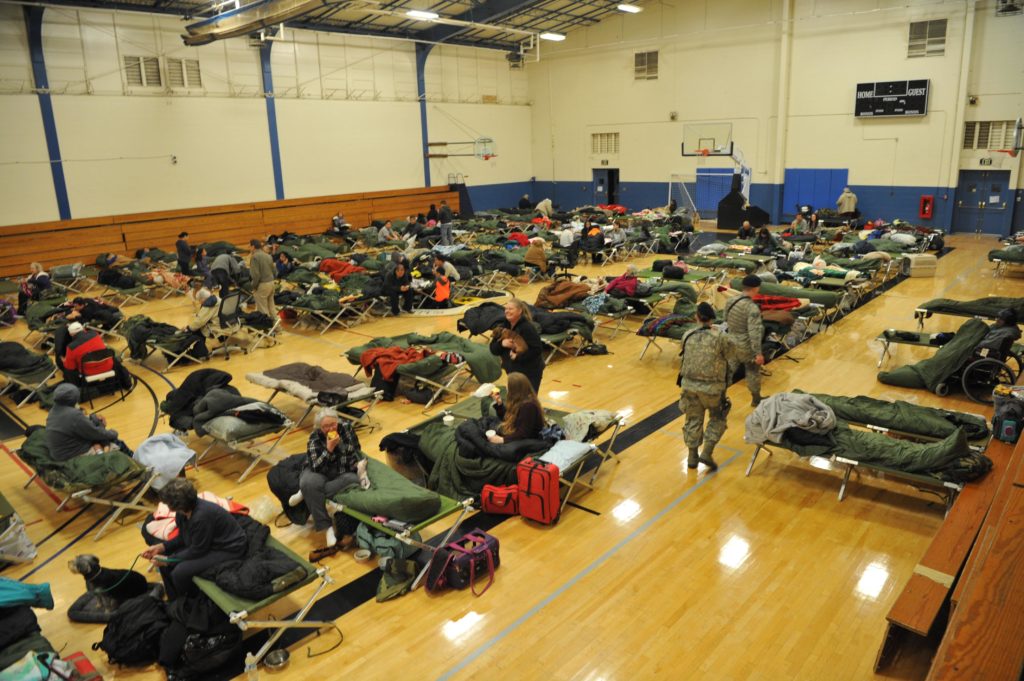 Updating our infrastructure is important, but it's critical that it's done in a way that is relevant to the context we live in: a changing and increasingly variable climate. More extreme weather events such as floods or drought have become commonplace. These climatic variations put increased strain on the infrastructure in terms of ability to function during extreme weather events (i.e. hydroelectric power generation during droughts and ability to safely store water in a Probable Maximum Flood). Even since DWR reconstructed both spillways on Oroville Dam, the release capability still falls short of the standard for a Probable Maximum Flood situation, putting the dam and the people and ecosystem downstream at risk (Independent Forensic Team Report).
A New Approach to Dam Safety
The bad ASCE report card grade proves that we need to be proactive about monitoring dams to avoid disasters like what happened in 2017, especially when the environment in which they exist is changing as well. At the same time, dam safety departments nationwide are insufficiently funded and staffed and cannot keep up with thousands of dam inspections that need to happen annually. To alleviate some of the pressure on under-resourced agencies, some states are now requiring private dam owners to either pay for their inspections through annual fees or directly hire qualified engineers to complete inspections and submit inspection reports to the states. These approaches dramatically increase the capacity of dam safety offices and hold owners accountable, therefore increasing the overall safety of dams.
American Rivers is a leader in creating innovative solutions for water storage. For dams whose impacts exceed their benefits, American Rivers has long advocated that the most effective approach to dam safety is dam removal.